Cash-Strapped Booker Campaign Faces Dire Straits: 'We Don't See a Legitimate Long-Term Path Forward'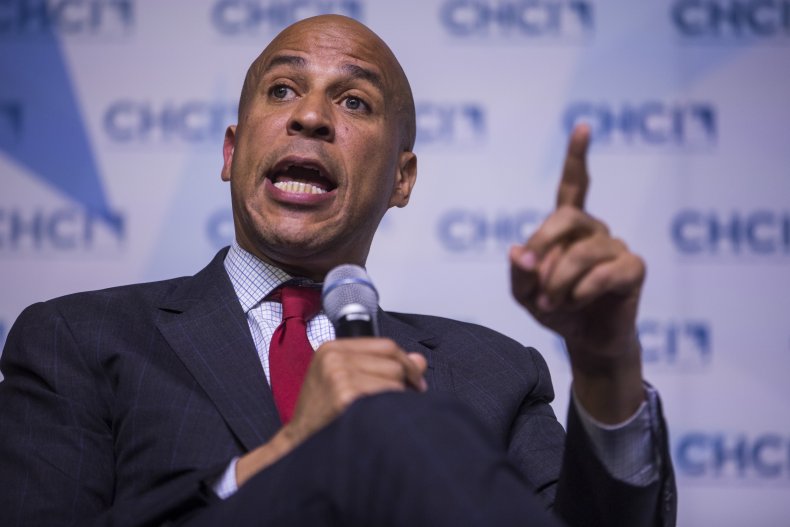 Senator Cory Booker has acknowledged the dire financial straits facing his struggling presidential campaign. In a tweet Saturday morning, the New Jersey senator said his bid for the Democratic nomination is now "at a crossroads."
"We need to raise $1.7 million by September 30 to be in a position to build the organization we need to compete for the nomination—and we can do it—but if we don't, we don't see a legitimate long-term path forward," he wrote.
The admission was prompted by a report from NBC News, which obtained an internal memo by campaign manager Addisu Demissie warning staffers of no "legitimate long-term path forward" without a swift cash infusion.
Though NBC News did not provide attribution for the source of the apparent leak, Booker appeared to take credit for publicizing his campaign's financial status, writing that "it's an unusual move for a campaign like ours to be this transparent."
Booker ended the second quarter of 2019 with around $5 million cash on hand, according to disclosures filed with the Federal Election Commission. The amount was comparable to Beto O'Rourke, whose campaign has a similarly sized coffer and who polls around the same level as Booker, ranging from 0 to 4 percent.
Demissie himself acknowledged the existential challenge that the Booker campaign's shaky finances present to their chances of success.
"We literally cannot wait for support to come later," Demissie wrote in a Medium post Saturday morning, apparently in response to the NBC News report. "Voting might not begin until February, but the choices that Democrats will have then are being determined right now, and Cory needs your help today."
During the second Democratic presidential debates in Detroit, Booker was largely seen as having delivered something of a standout performance. Evidently the praise did not translate into a polling bump for the senator, whose support following the debate did not reflect any increase in interest in his campaign.
This stands in stark contrast to his 2020 competitor Senator Kamala Harris, who, after her breakthrough performance during the first debate in Miami, saw her poll numbers surge over the following weeks.
In his plea for financial support, Booker made an oblique reference to the perspective that his candidacy brings to the ballot. He is one of the few people of color running for the nomination, and one of the only candidates who hails from an area plagued by gun violence, which has become one of the hallmarks of his campaign thus far.
"If you're all in for me, I can't thank you enough," he wrote, "But if you haven't settled on a candidate & still think my voice belongs in this race, if you believe the Democratic field should include someone like me, I want you to understand the field may narrow & pay attention to this too."