A Michigan man is facing several years of prison time after admitting to leaving threatening voicemails for New Jersey Democratic Senator Cory Booker and claiming he was preparing to shoot the 2020 presidential candidate.
Rick Lynn Simmons, 52, of Kentwood, Michigan, faces up to five years in prison, several years of supervised release and a $250,000 fine for threatening Booker in several phone calls last fall. Simmons admitted last week to law enforcement he had made the calls from a cellphone to Booker's Camden, New Jersey office, NJ.com reported. He made the calls during the same few weeks in which the Florida "MAGA bomber" was sending explosive devices to critics of President Donald Trump.
Simmons used a racial epithet to refer to Booker in at least one of the calls.
The U.S. Attorney's Office for Western Michigan issued a statement saying Simmons would be sentenced on June 5, after he pleaded guilty to one count of interstate communication with threat to injure.
In several voicemails, Simmons illustrated his intention to shoot Booker with a 9-millimeter firearm, and claimed his wife would join him in the "guns blazing" shooting threat.
"I'm just doing my guns a-blazing pal. I got a 9 millimeter I'll put in your f***ing face, you [expletive]. You wanna, you wanna challenge me?" Simmons said on the voicemails, according to his federal indictment. "Come on, you bring it on buddy. Just me and my wife and we got guns a blazing, you wanna come in here?"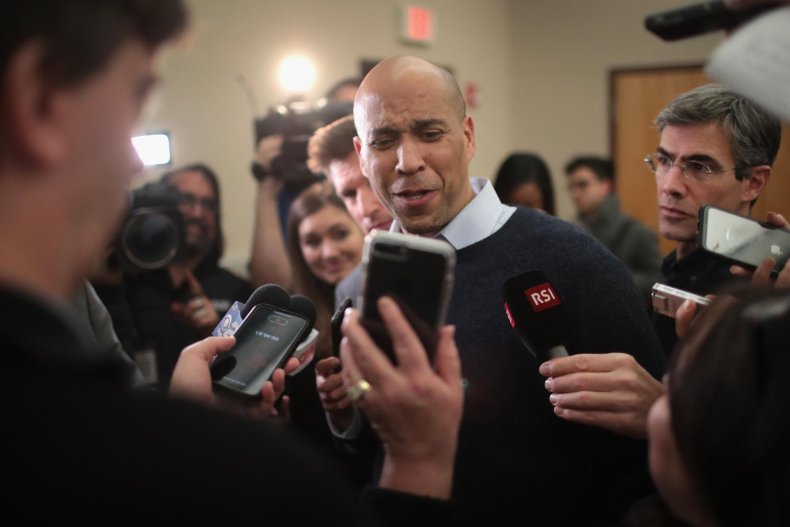 Federal prosecutors said Simmons made the calls from a cellphone inside his Kent County, Michigan, home on October 26.
The phone calls were not the only threats Booker received last year. A 56-year-old Florida man named Cesar Sayoc, who was dubbed "MAGA bomber," sparked a nationwide mail-bomb scare that targeted prominent Democrats, including Booker. The explosive devices were sent primarily to left-leaning politicians who have been critical of Trump. The U.S. Attorney's Office said such threats were not tolerated, regardless of one's political affiliation.
It's unclear if any specific action prompted Simmons to make the phone calls.
"No individual, whether a public official or a member of the public, deserves to field threatening messages designed to dehumanize, intimidate and terrorize," U.S. Attorney for Western Michigan Andrew B. Birge said in a statement to NJ.com this week.
Booker announced last month that he was officially campaigning to become the Democratic candidate and challenger to Trump in the 2020 presidential election. The New Jersey Democrat has long touted commonsense gun control laws and has been a frequent target for criticism by figures affiliated with the National Rifle Association.
Booker's office did not immediately respond to Newsweek's requests for comment Monday morning.