Cory Booker poked fun at Pete Buttigieg's maligned racial justice plan by amplifying a satirical article published by the comedy newspaper The Onion Wednesday.
The Onion article in question, titled "Cory Booker Taken Aback To Find Dozens Of Pictures Of Himself On Buttigieg Campaign Flyers," depicts a bewildered Booker confused as to why he's all over Buttigieg's campaign fliers as he and Buttigieg "aren't that close." It concludes with Booker "stating" he was glad he didn't appear on the fliers "nearly as many times" as fellow Democrat Kamala Harris.
"It's weird because I've never even been to Kenya," Booker tweeted, attaching a link to the article on The Onion's website.
Buttigieg's plan to bridge the divide between law enforcement and African American communities, called the Frederick Douglass Plan for Black America, has drawn ire from those who say it underlines Buttigieg's disconnect from his black constituents. South Bend, Indiana, the town Buttigieg is mayor of, sports a police force that is 88 percent white, a racial statistic that doesn't match the makeup of South Bend, where African Americans are 26 percent of the town's population.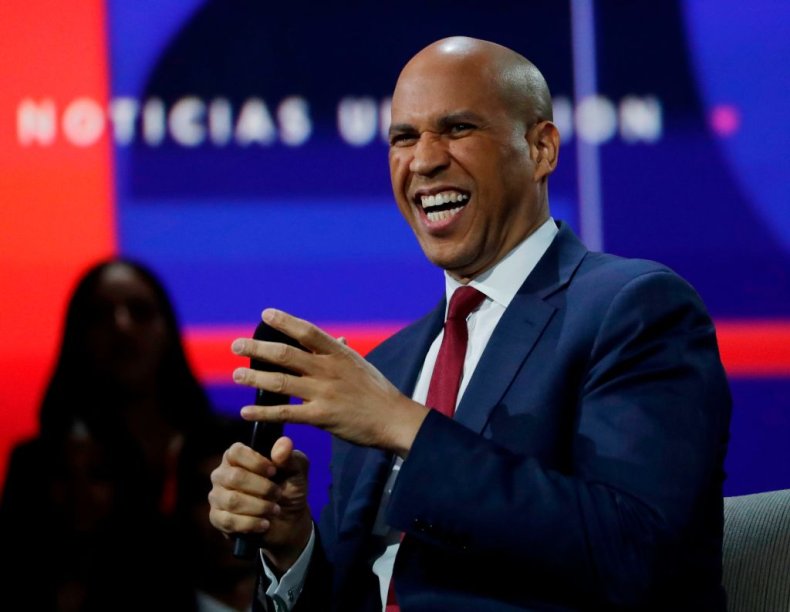 The controversy only grew after Buttigieg's campaign used a stock photo of a Kenyan woman on the Douglass Plan page on his website.
The Intercept also uncovered a list of 400 South Carolina residents whom the Buttigieg campaign said supported the Douglass Plan and who later said that was mischaracterized by Buttigieg's campaign as their support for his candidacy. Johnnie Cordero, chair of the state party's Black Caucus, called the use of his name on the plan "entirely presumptuous" and said he was never expressed support for it.
The picture was removed, and Buttigieg's campaign manager, Sean Savett, apologized for the gaffe while adding that using stock photos on political websites is a "standard practice across many campaigns."
Kamala Harris, too, has spoken out against Buttigieg's gaffe. "I'm sure someone agrees that was a big mistake... he's going to have to answer for that... I don't have words to describe it," Harris said at a press conference. "They deserve to be represented not as a stock photo, but as who they actually are."
While Mayor Buttigieg's poll numbers have improved in Iowa and New Hampshire, his polling with black Americans remains low, with just 2 percent of surveyed African Americans saying they'd vote for Buttigieg in a recent Economist poll. Joe Biden led that poll with 42 percent of the vote.