Cory Booker Fundraising Off Calling for William Barr to Resign: AG 'Lied to Us... He Needs to Step Down'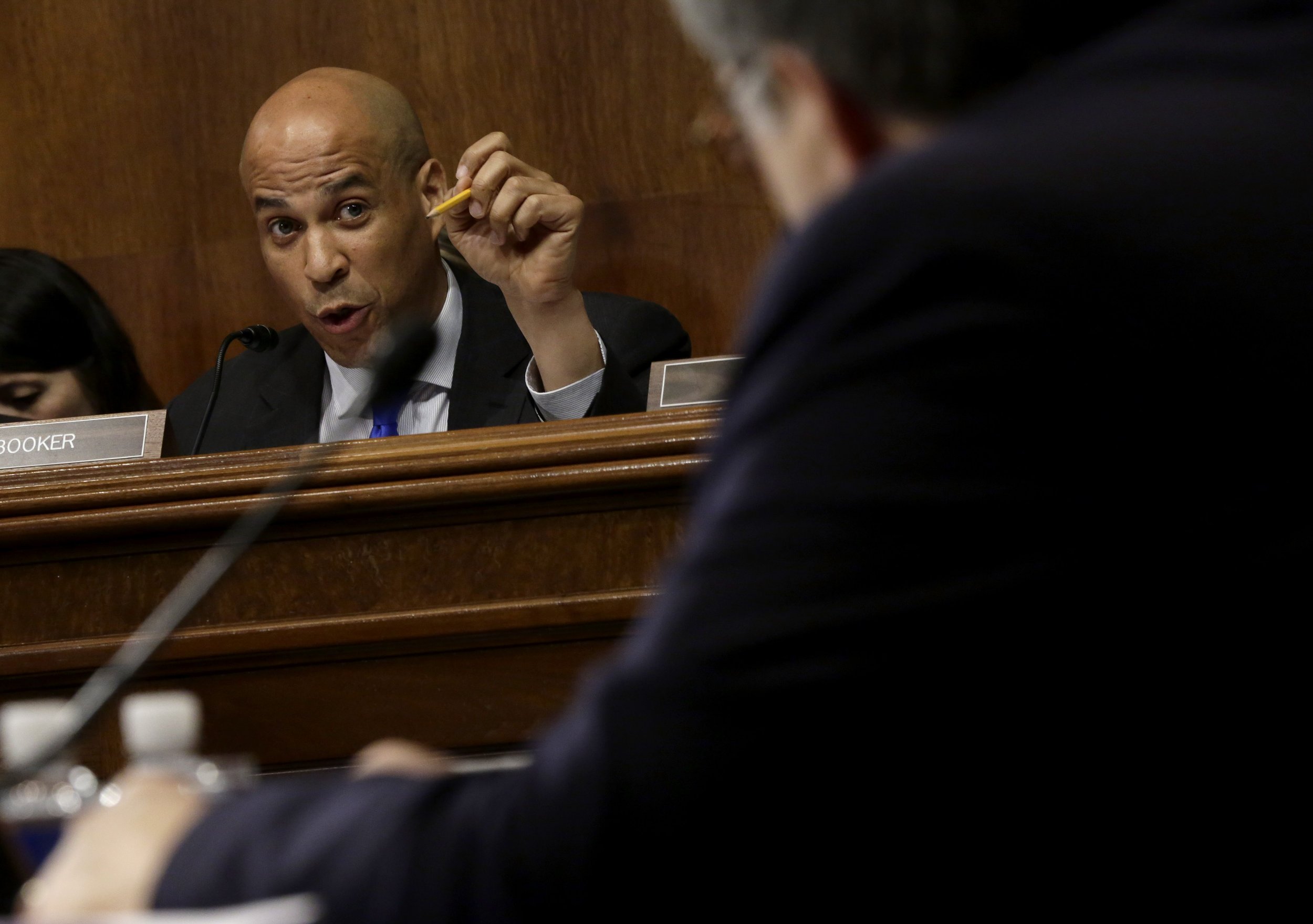 Sen. Cory Booker (D-N.J.), who officially announced his 2020 presidential bid early in February, is fundraising off calling for Attorney General William Barr to resign over his handling of special counsel Robert Mueller's Russia report.
"Attorney General Barr answers to the American people—not to President Trump—and over the past 24 hours it's become clear that he lied to us and mishandled the Mueller Report. He needs to step down. Add your name if you agree," Booker tweeted on Wednesday afternoon, alongside a link to an apparent petition on his campaign website calling for Barr to step down.
Once a visitor enters their name, email address and zip code to join the petition, they are then redirected to the "next step" in the process: A campaign donation to Booker. "This campaign isn't about just beating Donald Trump. It's about bringing big, bold ideas forward and including more people in our democracy to solve our toughest problems," the page reads. "But Cory can't do it alone. Will you chip in to our campaign right now?"
Hours before Booker posted the fundraising effort, he questioned and condemned Barr for "normalizing" President Donald Trump's behavior during a Senate Judiciary Committee hearing in Washington D.C. earlier on Wednesday.
"As I take a step back at this, I just really think we're at a very sobering moment in American history, that there is a considerable amount going on when you actually take time and read this whole report, that shows that we're sort of at a crossroad, and I fear that we're descending into a new normal that is dangerous for our democracy on a number of levels," Booker said to Barr during the hearing.
"This 448-page report that has a deep litany of lies and deceit and misconduct, of the president of the United States instructing people to lie and to be deceitful, evidence of people trying to cover up behavior that on its face is morally wrong, whatever the legal standard is," he added. "I fear you are adding normalcy to the point where we should be sounding alarms as opposed to saying that there's nothing to see here."
The New York Times and the Washington Post on Tuesday reported on the existence of a letter Mueller sent to Barr complaining about his summary of the Russia investigation in late March, saying in it: "The summary letter the Department sent to Congress and released to the public late in the afternoon of March 24 did not fully capture the context, nature, and substance of this office's work and conclusions."
"There is now public confusion about critical aspects of the results of our investigation," Mueller added in his letter sent days after Barr released his four-page summary of the special counsel's findings. "This threatens to undermine a central purpose for which the Department appointed the Special Counsel: to assure full public confidence in the outcome of the investigations."
Barr's handling of Mueller's report has drawn immense criticism, with many Democrats, legal scholars and other political figures arguing that the summary, which was released almost a month before Mueller's redacted report was made public, midled public option and warped Americans' understanding of the findings in the special counsel's report.