Who Is Cory Booker's Girlfriend? Rosario Dawson Says She Feels 'Like I'm Dating Captain America' Ahead of Democratic Debate
New Jersey Senator Cory Booker will go head-to-head with nine fellow presidential hopefuls during the third Democratic debate in Houston on Thursday. Booker's girlfriend, actor Rosario Dawson, may not attend the debate due to her own busy schedule, but she'll likely be supporting her boyfriend from a distance nonetheless.
Although Dawson also missed the first two Democratic debates—she was filming USA Network's upcoming movie Briarpatch in New Mexico at the time—she was reportedly on hand Monday at Booker's Women for Corey event in New Jersey.
Since the duo went public with their romance earlier this year, the typically private 40-year-old has been more open in sharing her love and support for Booker. "I feel like I'm dating Captain America," Dawson told a Variety reporter at the Briarpatch premiere on September 7.
"I mean he's just such an amazing, brilliant, kind, empathetic, beautiful, loving human being," she continued.
Read on for more about Dawson below.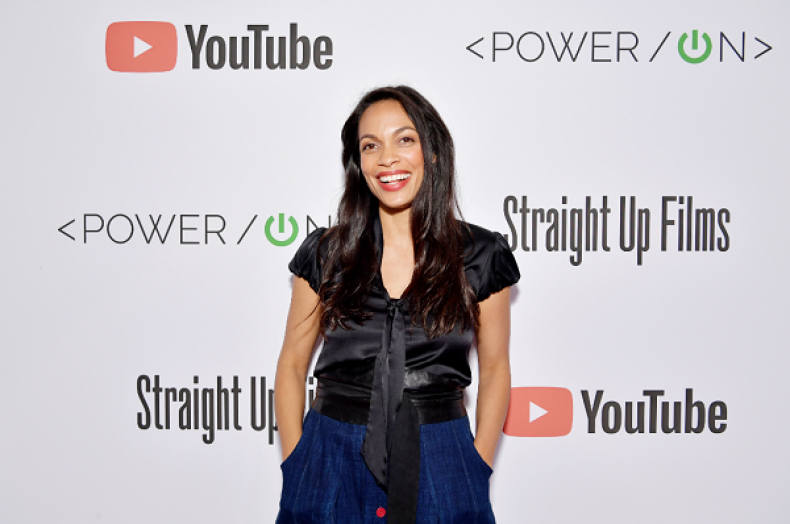 Acting was her first love
New York native Dawson wears many hats. Throughout her career she's worked as a singer, producer, comic book writer and fashion designer. However, it was acting that initially thrust her into the spotlight. Her first big break came when she landed a role in the 1995 hit film Kids. In the years since, she's appeared in several blockbusters including Rent, He Got Game, Men in Black II, Percy Jackson & the Olympians: The Lightning Thief, Daredevil, Avengers and several other titles.
She has a daughter
A lifelong dream of Dawson's was to become an adoptive parent, and she accomplished that goal in December 2014 when she became the mother of a young girl named Lola. "My dad is not my biological father. So when I was younger and they let me know that I wasn't blood-related to that whole side of my family...I was like, 5," she explained in a 2018 interview with Us Weekly.
"Growing up in the neighborhood that I grew up in, I was like, 'Oh, so then I could be like some of my friends who have single-parent households. Like, that could be me.' So I remember I told my mom at 5 that when I got older I was gonna adopt and I was gonna adopt older."
She is politically active
Although Dawson hasn't publicly advocated for her boyfriend's presidency, she has a long history of using her voice and platform to support progressive candidates. During the 2016 presidential election, Dawson often used her social media accounts to endorse Green Party candidate Jill Stein. She also previously promoted Vermont Senator Bernie Sanders and has publicly denounced the two-party system in American politics.
She met Booker years before they began publicly dating
Dawson and Booker were first introduced at a political event for Maryland gubernatorial candidate Ben Jealous in October 2017. They had a second encounter at another event, which was when Booker finally got the nerve to ask for her number. "So, we met again, and I had one of those really awkward experiences. I'm a United States senator, and I had to get up the courage to walk up to her and ask for her phone number. And this doesn't make me nervous, but that made me nervous," he said during a CNN Town Hall in March.
In January rumors of their romance began to mount after the duo were spotted at the Broadway show Dear Evan Hansen. Booker hinted at dating "somebody really special" during an interview with The Breakfast Club in February. Then in March, Dawson confirmed she was that someone to TMZ.
The title of Mrs. Booker may be in her future
Although the pair have only publicly dated for a few months, wedding bells could be ringing soon. During a June appearance on RuPaul Charles' talk show, Booker hinted at possibly being a married man by the time the next presidential inauguration rolls around. "Well first of off, the swearing-in isn't until the 21st of January 2021. You never know what could happen between now and then," Booker said when Charles pointed out he'd be the first unmarried president since James Buchanan took office in 1857.