Cory Booker Meets Donor Requirement for Next Democratic Debate, But His Poll Numbers Still Too Low
New Jersey senator and 2020 Democratic presidential candidate Cory Booker has raised enough money to qualify for an appearance at the Iowa Democratic debate in January, but has yet to achieve a high enough ranking in the polls to earn a place on the debate stage.
Because of new rules set in place by the Democratic National Committee (DNC), it may be even more difficult for Booker and other candidates to make it to the next Democratic debate.
Booker has already received financial donations from at least 225,000 separate individuals but is only ranked at 2 percent in a recent poll from The New York Times. That places Booker in eighth place, setting him below entrepreneur Andrew Yang and Minnesota Senator Amy Klobuchar.
Booker was conspicuously absent from the Democratic debate in December because he was unable to gain a 4 percent ranking in polls recognized by the Democratic National Committee (DNC), the minimum percentage required to be allowed into the debate.
Requirements for entering the Iowa debate in January are ever stricter under new rules instituted in December by the DNC. In order to qualify, Booker and other candidates must achieve either a 5 percent ranking in four separate polls or 7 percent in South Carolina, New Hampshire, Nevada or Iowa-based polls.
To meet the fundraising threshold, candidates must show that the campaign "has received donations from at least (1) 225,000 unique donors; and (2) a minimum of 1,000 unique donors per state in at least 20 U.S. states, U.S. territories, or the District of Columbia. Qualifying donations must be received by 11:59 P.M. on January 10, 2020," according to a statement from the DNC.
So far, only former Vice President Joe Biden, South Bend, Indiana Mayor Pete Buttigieg, Klobuchar, Senator Bernie Sanders (I-Vt.) and Senator Elizabeth Warren (D-Mass.) have qualified for the January debate.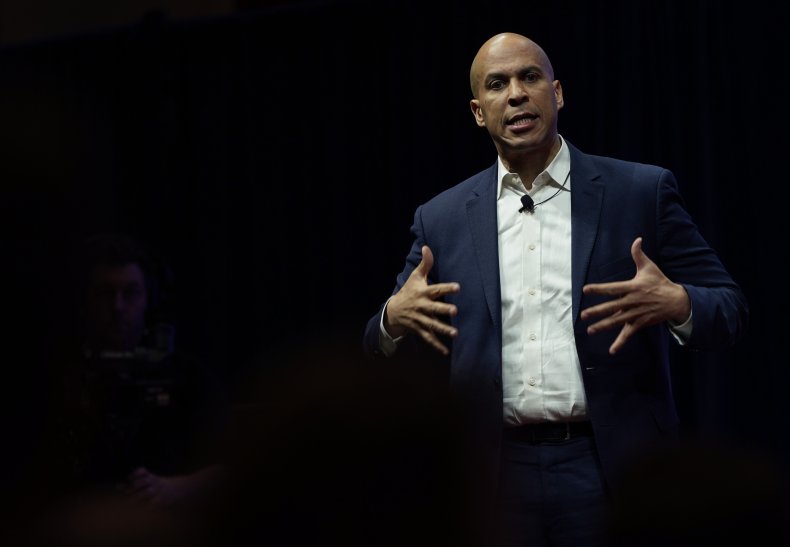 In a fundraising memo published Friday on Medium, Booker's campaign manager Addisu Demissie called the DNC's new rules "misguided."
"The January debate in Iowa is a key opportunity to engage with voters and build our momentum at a time when caucus-goers and early state voters are tuning in, often for the first time, and paying attention to the debate and preparing to make final decisions about whom to support," Demissie wrote. "And with the debate thresholds announced so late, we need to do everything we can now to make sure Cory is on that stage."
In an effort to qualify for the January debate, Booker's campaign will start a massive advertising campaign in Iowa at the end of December.
"We'll begin with a six-figure TV buy in the Des Moines and Cedar Rapids markets to make sure we are getting our message out to the largest concentrations of Democratic caucus-goers," Demissie said. "We'll also continue digital advertising across the state."
Newsweek reached out to Cory Booker's campaign but did not receive a response in time for publication.