Cory Booker Calls Trump 'Elderly, Weak Specimen,' Rejects Testosterone Urge to Punch President
New Jersey Senator Cory Booker said despite President Donald Trump being an "elderly, out-of-shape man," Democrats are in a "moral moment" and can't stoop to his level of pithy name-calling and "body-shaming."
The 2020 Democratic Party candidate for president said he was approached by a former fellow Stanford University football player at a recent Iowa campaign rally who asked him to "punch Donald Trump in the face." He replied by telling the burly man, "Dude, that's a felony, man." Booker, speaking on Late Night with Seth Meyers, used the anecdote to illustrate how civility can defeat Trump in 2020, although he peppered in several insults about the 73-year-old president's unhealthy weight, strength and stamina.
Booker called Trump a "physically weak specimen" as the crowd cheered and a visibly bothered Meyers asked to move the conversation away from physical insults.
"And you know, Donald Trump is a guy who, you understand, he hurts you," said Booker. "And my testosterone sometimes makes me want to feel like punching him -- which would be bad for the elderly, out-of-shape man that he is if I did that."
Booker said bigotry and demagoguery has always existed in American politics, but that notorious Southern Civil Rights era politicians including George Wallace, and Bull Connor weren't defeated with "bigger dogs and bigger fire hoses," but instead by "artists of activism" who drew upon the American sense of morality.
"How did we beat them before? First off, don't mistake strength for -- 'to be strong you need to be mean,'" Booker said. "We need to be as a party, in this moral moment, we need to talk about not what we're against, but what we're for.
Booker launched a charm offensive in March by saying his campaign would beat Trump's hate with love. On Monday, the New Jersey senator laid out the case for Democrats to employ "courageous empathy" and "civic grace" despite the difficulty of dealing with a president who uses the opposite political tactics.
"That's [Trump's] tactics," Booker continued. "And you don't beat a bully like him fighting him on his tactics, on his terms, using his turf. He's the body-shamer, he's the guy that tries to drag people in the gutter. This is the moral moment in America, and to me, what we need from our next leader – especially after the time of moral vandalism that we're in right now – is we need a leader that's not going to call us to the worst of who we are, but call us the best of who we are."
Booker said the country has "one of the most shameful criminal justice systems on the planet" and that was what drove him to run for Senate after serving as the mayor of Newark from 2006 to 2013. He complained many in the Democratic Party just want to beat Donald Trump in 2020, but he said the priority should be to aim higher.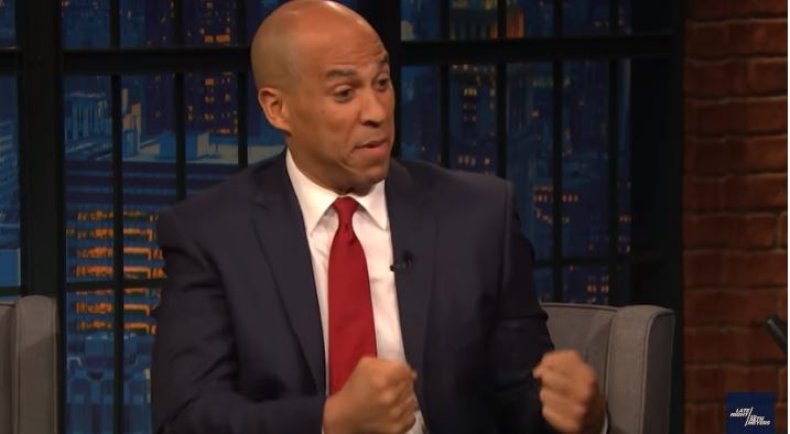 "If we make this election all about him -- that's a small man, one office -- that's not what I want this election to just be about," he continued. "We will beat him, I will beta him, but we need more of a movement election ... to create new American majorities, I'm not talking about Democratic majorities, but the fact of the matter is we actually agree about a lot more than we disagree on."
Fellow 2020 presidential candidate Joe Biden has also threatened to physically fight Trump, saying in March 2018 he'd "beat the hell out of him."
During the 2016 presidential election, Trump claimed Democratic opponent Hillary Clinton "doesn't have the stamina" to be president. Conservative news media and Trump's supporters repeatedly questioned the health of Clinton, often pointing to a video of her purportedly "fainting" at a 9/11 memorial ceremony just weeks before the election -- an accusation he denied.