Cory Booker Says Next Five Years Will 'Determine the Next 50 Years' of American Politics, 'We've Got to Change Course'
In a lengthy interview with Pod Save America, 2020 presidential candidate Cory Booker called for voters to look beyond removing President Donald Trump from office in regards to the upcoming election.
The goal, Booker said, should be to seek to change the entire "broken" political system in America with grassroots campaigns rooted in activism and finding creative solutions to some of the United States' most pressing problems.
Booker cited campaigns that he worked on, including some presidential elections, saying that he would visit black communities and the politicians and campaign workers would be criticized for only coming to the area during "election time."
"And we wonder why we have 50 percent voter turnouts and we think it's a great thing when it gets up to 60 percent," Booker said. "Because we're not speaking to people where they are, and we've seen the Democratic Party and the Republican Party screw us."
Booker added that in his time as mayor of Newark, New Jersey, he was told to work within the established system, advice that he ignored to push for building green spaces and public parks within a city that had become "the butt of jokes on national TV."
"I also knew that we had to change the frickin paradigm," Booker said. "If I couldn't change the whole system and get people to reawaken a moral imagination about urban places then we — it wasn't just working within a broken system, which I will do — but it's about changing people's view which is the same way I view this election right now. If this election is just about one office and one guy and everybody thinks we did it we got rid of Trump and go right back to doing the stuff that we were doing."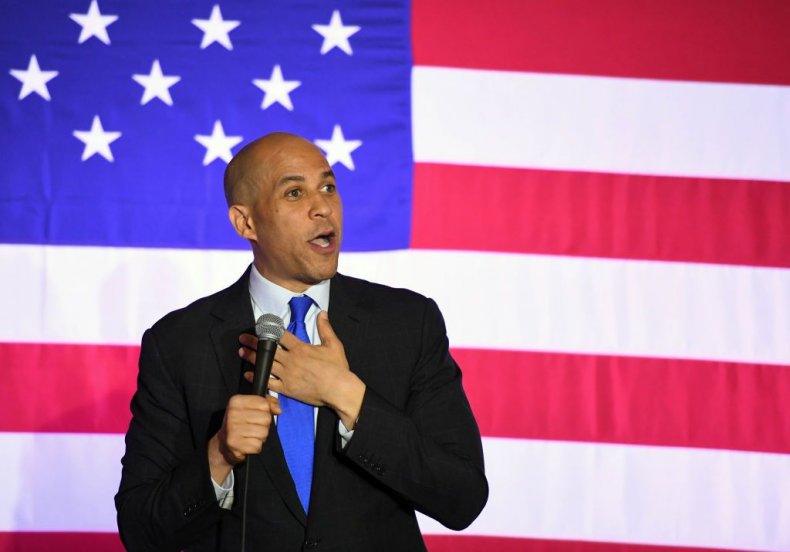 Booker went on to say America's "slice and divide culture" is used to pit Americans against one another, such as rural farmers and urban factory workers.
"We're all caught in the same broken system. And it's the fact that we have the delusion of separateness, the dangerous delusion that we are separate from each other, that is undermining our whole civic space and our ability to solve problems. And so what I'm telling people in this election is... not only do we need to beat Donald Trump, but the way to beat Donald Trump is not to do Trump-like tactics," he said.
While Booker conceded that he wants to defeat Trump and plans "on the first day with my pen" to restore transgender military service and reverse other decisions made by the president, he isn't running "just for that."
"I'm running to wake up the moral consciousness of our country, to confront injustices and understand that the only way we've ever solved mass injustice in this country ... by creating broader coalitions of people, Republican and Democrat," Booker said.
"If we can't start breaking through these lines that divide us and affirm the common bond, I think we're gonna be stuck in a broken politics for a long time. I think the next five years of our politics in America is going to determine the next 50 years of our politics and we've got to change course," he added.
"We preach tolerance in America. We're a tolerant nation," he said. "And to me, I think the problem is tolerance. Number one: it is a cynical aspiration of the entire country, but I'm more concerned about the fact that we've grown too tolerant with the suffering of our neighbors thinking that that somehow is not affecting directly your life."
Booker later said no problem with American democracy can't be solved with the same system. "What I mean by that is that our democracy is not a spectator sport to get more people in the game," he said. "Please don't make this a small election about one office and one guy.