Twitter Erupts At Cory Booker's 'Side Eye' After Beto O'Rourke Switches to Spanish During 2020 Debate
Senator Cory Booker of New Jersey gave former Representative Beto O'Rourke some major "side eye" on Wednesday evening after the former congressman from Texas switched to Spanish in his response to the first question he was asked during the first 2020 Democratic primary debate.
Many Twitter users were quick to take notice of Booker's side glance, as the MSNBC cameraman panned out capturing the reaction. Images and videos of the moment were shared by many as users quickly began sharing their own quips.
"Cory Booker giving Beto O'Rourke the side eye when he starts answering questions in Spanish just won the Internet," Twitter user Andrew H. Scott wrote.
Samantha Bee, the late night host of Full Frontal, also captured the moment, tweeting, "When your friend comes back from study abroad #DemDebate."
"The side eye seen round the world: Cory Booker glares at Beto O'Rourke as he answers first debate question in Spanish," another person quipped.
"Cory Booker looking at Beto O'Rourke while he speaks Spanish like 'This f***in' guy,'" Twitter user Matt Fuller wrote, sharing a screenshot of Booker's side glance.
"My friends when I do my British accent," another person tweeted, sharing individual screenshots of Booker as well as Senator Elizabeth Warren of Massachusetts eyeing O'Rourke.
Several others shared a range of gifs and memes, mocking Booker's look at his opponent.
"Nobody said there'd be Spanish on the final exam," one meme of Booker's side eye said.
It was a sentiment jokingly shared by 2020 Democratic Candidate Andrew Yang, who will take the stage Thursday night. "My Spanish is terrible," the entrepreneur tweeted.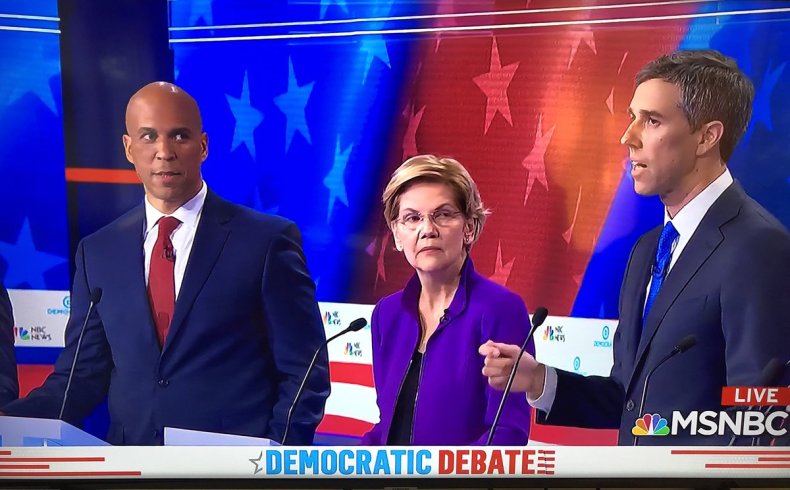 O'Rourke had switched to Spanish when he was asked whether he would support a 70 percent top corporate tax rate. Although the question could have been answered with a simple "yes" or "no," the former representative went into an explanation of how wealthy Americans are not paying their fair share, without answering the question directly.
"This economy has got to work for everyone and right now, we know that it isn't. And it's gonna take all of us coming together to make sure that it does," he said in English, before switching languages. "We need to include every person in the success of this economy," he continued in Spanish.
"But if we want to do that, we need to include every person in our Democracy," he said. "Every voter, we need the representation and every voice, we need to listen."
Some suggested O'Rourke had bombed in his response, saying that's what Booker's look was actually about. "Cory Booker watching Beto faceplant on his first debate question is all of us," one person wrote on Twitter.
Later, Booker also spoke Spanish in response to a question on immigration.