Cory Booker Opens Up About Transgender Family Member: 'I Don't Have All the Answers When it Comes to Trans Youth'
In an interview released today by the National Center for Transgender Equality (NTCE) Action Fund, Democratic presidential hopeful Cory Booker discussed his personal connection to the trans community.
Speaking with NCTE founder and executive director, Mara Keisling, the New Jersey senator said the epidemic of anti-trans violence should have Americans "concerned and, frankly, outraged."
"There are so many areas where just your physical safety, if you're a trans American, is under threat in this country right now. And I won't tolerate it."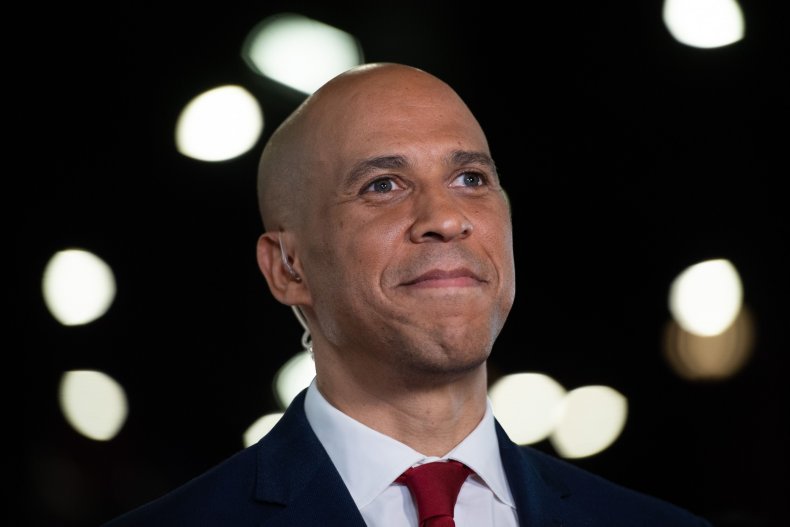 Booker, 50, also talked about the trans people in his family for the first time, and underscored the power of the next generation to effect change.
"My brother's child, my 'nie-phew,' which is a combination of niece and nephew, is a trans activist," he said. "[They have] helped their uncle be someone who is more aware of specific issues facing trans youth in schools today."
Booker said it was his brother's child and New Jersey trans advocate Babs Siperstein—his "activist inspiration"—who taught him that America needed leaders who can say "I don't have all the answers when it comes to trans youth but I'm willing to elevate folks to let them sit as peers with me" to find solutions.
"I hope that one day very soon—let's call it maybe less than two years—that... my nie-phew and other great trans leaders in the youth community have a seat at the White House to talk about issues."
Booker is one of the few candidates to bring up LGBT issues during the presidential debates: At the June 26 forum in Miami, as Rep. Tulsi Gabbard was stepping back from her earlier opposition to marriage equality, Booker complained, "We do not not talk enough about trans Americans, especially African-American trans Americans, and the incredibly high rates of murder right now."
In 2018, at least 26 transgender Americans were the victims of fatal attacks, the majority of them transgender women of color. In 2019 more than a dozen trans people have been reported killed—again, almost all women of color.
The threats aren't just physical, though. Earlier this month, the Department of Labor proposed allowing federal contractors to discriminate against LGBT workers if it was based on their religious beliefs. The measure would roll back a 2014 executive order from President Obama barring discrimination on the basis of sexual orientation or gender identity.
In advance of a case coming before the Supreme Court in October, the Department of Justice has also called on the Equal Employment Opportunity Commission to reverse its stance that anti-trans employment discrimination is prohibited under Title VII of the 1964 Civil Rights Act.
And activists are still trying to fight Trump's ban on trans service members, first announced via a series of tweets in 2017.
But Booker told Keisling it was important not just to stem the president's attacks but to move the needle forward for the approximately 1.4 million transgender Americans.
"The discrimination from insurance companies [and] discrimination from employers who want to use religious exceptions and deny people fundamental basic healthcare is unacceptable to me," he said. "It shows you how much further we have to go to stop the backsliding of this administration. But more importantly to advance and gained ground until we have equal health care access for all."
Fellow Senators—and White House hopefuls—Bernie Sanders (I-VT) and Kirsten Gillibrand (D-NY) also made their pitch to trans voters and allies in the forum.
Gillibrand called coming out as trans "an act of courage"—and touted her support for comprehensive protections for LGBT Americans—including "banning conversion therapy, allowing an 'X' gender marker for... birth certificates [and] driver's licenses," and inclusive healthcare, safety and anti-discrimination measures.
Like Booker, Gillibrand also personalized her message, recalling a trans teen in her community and expressing how angry, as a mother, Trump's rhetoric made her.
"My fury at our president just grew exponentially because he was demeaning and demonizing this young boy in my own school community." If elected, she said, "I will protect transgender kids as if they were my own children."
More Transform the White House videos from additional candidates will be rolled out as primary season continues, Action Fund media director Gillian Branstetter told Newsweek.
"Transgender people across the country are moving closer to full equality with every person we meet and every mind we change," Keisling said in a statement. "Yet we have endured attack after attack from an administration intent on leaving us unprotected and erasing us from public life. Transgender people have shown the strength of our resilience across the country; now we must show the power of our voice at the ballot box."