Cory Booker's Gun Control Plan Is Ambitious, but Is It Constitutional?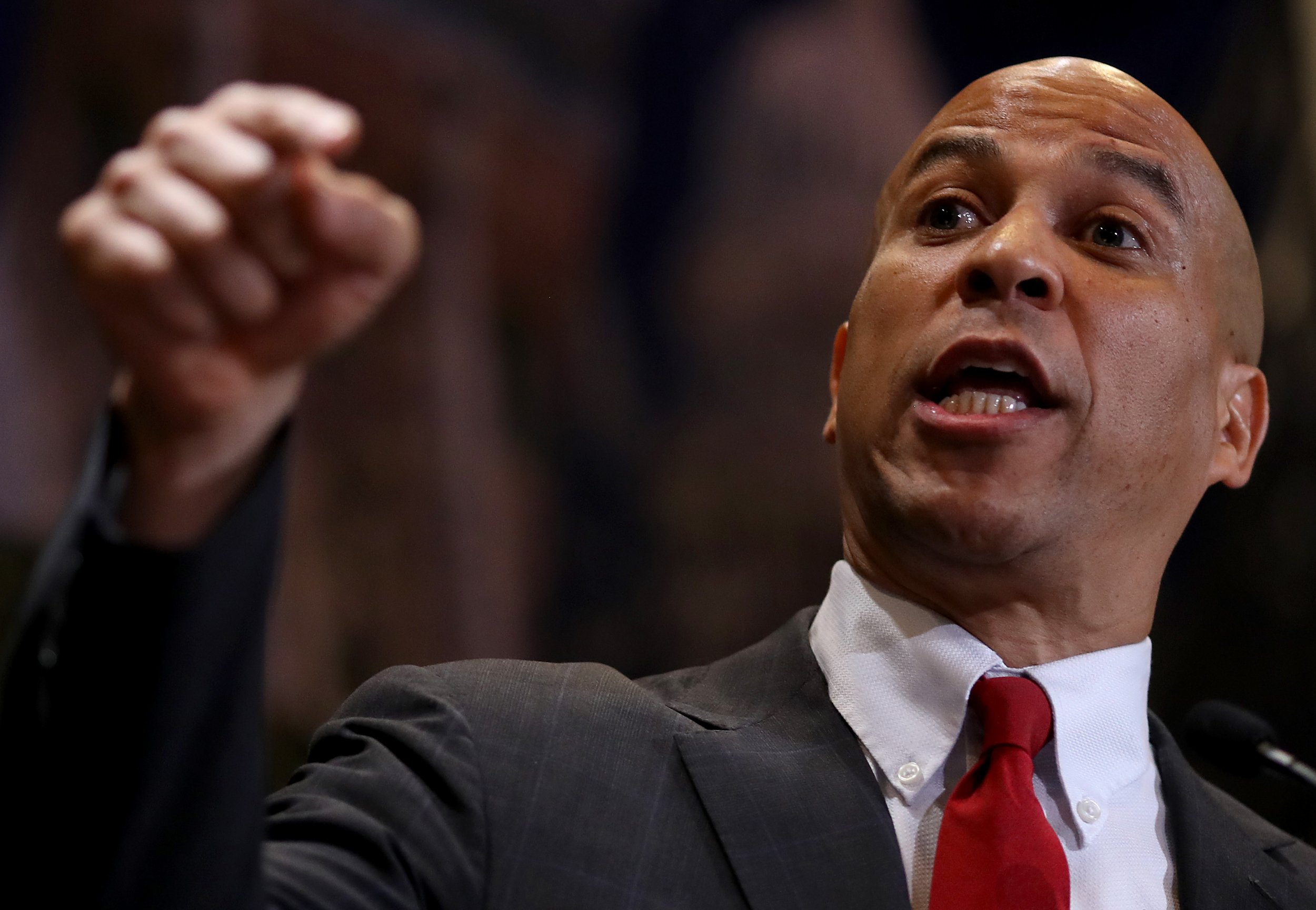 Presidential candidate Cory Booker unveiled a suite of proposals on Monday aimed at tackling the growing epidemic of gun violence. The senator from New Jersey touted his reform package as "the most sweeping gun violence prevention proposal ever advanced by a presidential candidate."
But the proposals would incur significant opposition from Republican lawmakers and organizations like the National Rifle Association, the latter of which frequently challenges gun regulations in court. According to one gun law expert, Booker's plan is likely to have mixed success complying with courts' interpretation of the Second Amendment.
Booker's wide-ranging plan features three main pillars: keeping guns out of the hands of criminals; restoring civil liability in lawsuits against gun manufacturers; and greater scrutiny of the National Rifle Association. The first pillar is his most sweeping proposal, containing a host of measures that would transform gun ownership in America.
One measure would establish a federal requirement that gun-owners obtain a license, similar to that used to drive a car, and give states flexibility in implementing their licensing programs. As part of the process, individuals would have to submit to a background check and pass a gun safety certification course.
While previous attempts to regulate gun usage have been repudiated by federal courts, Jake Charles, executive director of the Center for Firearms Law at Duke University, told Newsweek that the licensing proposal "would likely comport with current Second Amendment doctrine."
"Many states have licensing or permitting requirements, and courts have generally upheld these against Second Amendment challenges," he said, adding the caveat that "some courts have struck down licensing regimes" which place a presumption against access on prospective gun owners.
Booker also called for gun purchases to be limited to one per month per customer, which has a thornier path to legality.
Charles noted that "several states also have regulations limiting the number of handgun purchases per month," though, a federal appeals court in Washington, D.C., "struck down the district's one-handgun-per-month ban as violating the Second Amendment." The court's ruling in that case only applies to its appellate jurisdiction, leaving similar laws in California, Maryland, New Jersey and New York City on the books.
Booker, who unveiled the proposals as part of his candidacy for the Democratic presidential nomination, cited his background as Newark's mayor as a reason for his hard-charging approach to gun violence reform.
"This is a personal fight for Cory," the rollout of his reform package reads. "His perspective is rooted in his experience living in Newark, NJ, and working to stem the tide of violence for the past 20 years—as a tenant organizer, on the city council, as mayor, and as a senator."
A more contentious part of his plan would make use of executive orders to accomplish at least some part of this gun reform agenda.
"Beginning on Day One in office, Cory will take executive action to build on ongoing efforts and take concrete steps forward," the plan announces.
Republicans widely criticized President Obama for taking executive action on climate change and other initiatives when he could not get Republicans in the House or Senate to work on bipartisan reforms. President Trump has similarly been lambasted for acting alone in seeking to ban travelers from predominately Muslim countries from entering the U.S., among other divisive initiatives. Like his predecessors, a President Booker would almost certainly encounter a flurry of lawsuits should he take a parallel approach to curb gun violence with executive action.
When President Donald Trump issued a declaration of national emergency to build a wall along the U.S.-Mexico border without congressional approval in February, many Democrats saw an opening to use similar tactics in pursuit of policies they viewed as urgent, such as the gun violence epidemic.
"If the president can declare an emergency on something he has created as an emergency, an illusion that he wants to convey, just think about what a president with different values can present to the American people," House Speaker Nancy Pelosi said at a press conference on the anniversary of the Parkland shooting. "You want to talk about a national emergency? Let's talk about today."
"Senator Booker's proposals would be on firmer constitutional footing with congressional action," Charles observed. "The answer to [these conflicts] relies on hotly contested issues of executive power and the scope of the president's power when issuing executive orders."
For example, Charles pointed to a current federal statute that prohibits regulators from adopting a national firearm registry, but noted that, just as when the President Trump's Department of Justice successfully moved to ban bump stocks, some regulatory reform could be achieved within the current legal framework.
Of the proposals most likely to realize Booker's aim of reducing gun violence, Charles took note of the senator's plan to expand the use of so-called Extreme Risk Protection Orders.
These orders, issued by a court after a petition from a concerned party, allow the police to temporarily confiscate a gun owner's weapons in certain urgent circumstances. The orders "have shown success at decreasing suicide rates in states that have adopted them," according to Charles, adding that this approach has seemed "palatable to both sides of such a contentious debate."
The greatest number of gun deaths every year results from suicides, so any proposal that addresses this form of gun violence could have a disproportionate impact.
Booker is also pushing for a number of garden-variety measures that aren't as likely to encounter resistance from Congress or the courts. These include proposals to invest in community-based violence intervention programs and mandatory reporting requirements for lost or stolen guns.
However, his calls for an investigation into the NRA's tax-exempt status and the restoration of civil liability for gun manufacturers, who are currently immune from most civil suits, promise to generate significant pushback from congressional Republicans and gunmakers.
In response to a request for comment, NRA spokesman Lars Dalseide told Newsweek: "It's sad that politicians vying for the gun control lobby's endorsement would rather score political points than improve public safety. If they were serious about making communities safer they would propose solutions that focus on the underlying issues and punish criminals instead of the law-abiding. This extreme gun control manifesto lacks facts, solutions, and common sense."
Sabrina Singh, a spokesperson for Booker's campaign, said that the aim of the reform package "is to make it harder for people who should not have a gun to get one."
"Cory [Booker] is ready to take the fight to the NRA - period," Singh told Newsweek. "His plan - including requiring a license to purchase a gun, universal background checks, banning assault weapons, and closing the Boyfriend Loophole - calls on the IRS to conduct an investigation into the NRA's exempt tax status. No wonder they're so concerned."
This article has been updated to include statements from both the National Rifle Association and Senator Booker's presidential campaign.