Who Is Cory Fleming? How Friend of Alex Murdaugh Fits Into Trial
The Alex Murdaugh trial continues to grow ever more complex, with questions arising over friend and former lawyer Cory Fleming and his involvement in the case.
The 54-year-old Murdaugh is accused of fatally shooting his wife Margaret "Maggie" Murdaugh and their 22-year-old son, Paul Murdaugh.
The pair were both killed on June 7, 2021, with authorities confirming that Alex Murdaugh called police to say he had found their bodies at their South Carolina home. He has pleaded not guilty to the killing of the two family members.
On Wednesday the jury involved in the case saw a lengthy interview involving Alex Murdaugh with investigators.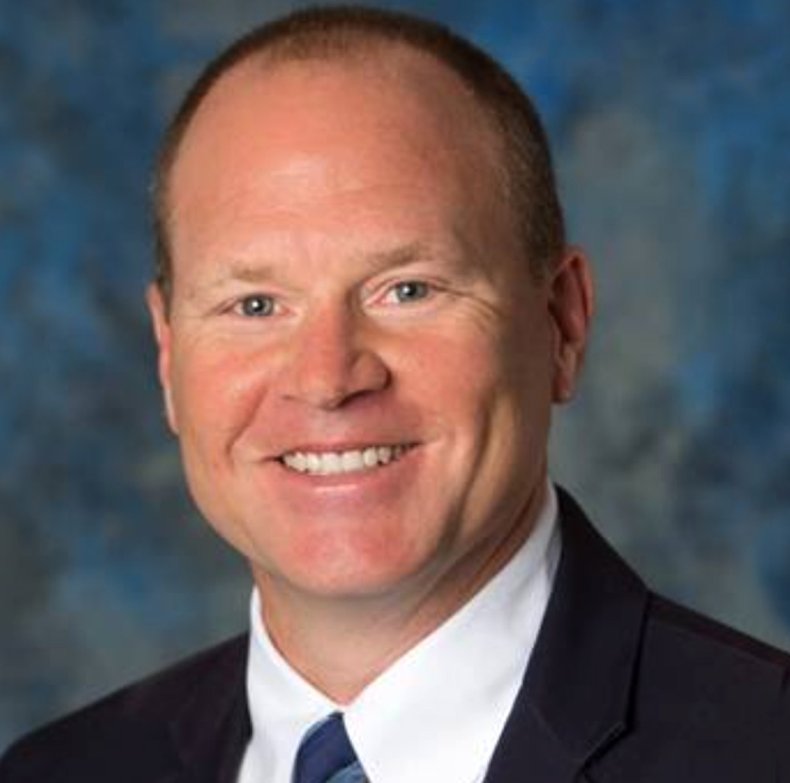 This clip was of his third interview with law enforcement following the double murders and was conducted on August 11, 2021.
As well as Alex Murdaugh and the two investigators, friend and Beauford attorney Cory Fleming was also in the interview room.
On October 8, 2021, the South Carolina Supreme Court suspended the law license of Fleming. He was later charged in connection to Alex Murdaugh's theft of client settlement funds.
The charging document alleged that Fleming played a role in helping Alex Murdaugh pocket settlement money that was intended for the family of a housekeeper of Alex Murdaugh who died in 2018.
Gloria Satterfield was the housekeeper in the Murdaugh home who died in an alleged accident on February 26, 2018.
A settlement was eventually reached between Satterfield's estate, Fleming and the insurance carrier connected with the lawsuit.
Attorneys Eric Bland and Ronnie Richter, who were representing the Satterfield family, issued a statement in October 2021, before Fleming had been suspended.
"Mr. Fleming and his firm agreed that the Estate will be paid back all legal fees and expenses Mr. Fleming and his law firm received from the $4,300,000 they recovered for the Estate in connection with the claims asserted against Alex Murdaugh for the death of Gloria Satterfield," the statement read.
"Mr. Fleming stepped forward and did the right thing by the Estate. Mr. Fleming and his law firm maintain, they—like others—were victims of Alex Murdaugh's fraudulent scheme."
Regarding the latest double murder case developments, WJCL News reporter Brooke Butler took to Twitter to highlight some of the key takeaways from the interview video on her Twitter page and Cory Fleming's relevance.
She tweeted:" Cory Fleming, a fellow attorney and Alex Murdaugh's friend, was in the room for this interview.
"Fleming said, 'Maybe I am mistaken, I thought we were here to get an update on the case."
"I am not comfortable with you asking [Alex] questions as a suspect."
In another tweet she added: "Alex Murdaugh told the investigator he would do 'anything to help'.
In the interview, Owen asks Murdaugh to go back over everything that happened the day Paul and Maggie were killed."
In another tweet, Butler wrote: "Alex told agent Owen that he, Paul and Maggie had dinner together the night of the murders. When Owen asked about Paul and Maggie being at the kennels, Alex told them, "I don't know how that went. I stayed on the couch and I dozed off."
In one snippet from the interview, that has begun to circulate on social media and has been viewed more than 10,000 times, Fleming and agent Owen discuss why much information hadn't yet been released to the press.
Fleming can be heard saying: "Why are you going to tell a bad guy what you got," to which the agent replies that no one wants to know more about the incident that resulted in the murders than Alex Murdaugh and himself.
Newsweek has contacted Alex Murdaugh's lawyer, Jim Griffin, for comment.