Who Is Cosmo Dinardo? Pennsylvania Man Who Killed 4 Talked About 'Killing People'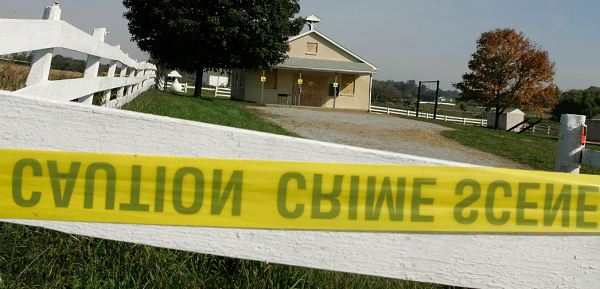 Prosecutors brought down murder charges on two men Friday for their roles in the deaths of four other men who went missing in Pennsylvania recently. Bucks County Police had apprehended one of the suspects, Cosmo Dinardo, just two days earlier after authorities traced one of the victim's vehicles back to property owned by Dinardo's family. On Thursday, Dinardo confessed to having a hand in the deaths.
Dinardo's lawyer, Paul Lang, wouldn't say if Dinardo actually killed any of the victims but said his client admitted to "his participating or commission in the murders of the four young men."
It is unclear if the second suspect, Sean M. Kratz, who was arrested Friday, has a lawyer. A court filing said he is facing three counts of homicide, inflicting serious bodily injury and abusing a corpse for his role in the deaths of three of the victims. Dinardo, who is facing about 24 charges altogether, was also charged with four counts of homicide and another four counts of conspiracy involving a criminal homicide.
During a press briefing, prosecutors alleged it was Dinardo who killed the first man that went missing on July 5, 19-year-old Jimi Patrick, who attended the same high school as Dinardo. Police discovered Patrick's body buried in a 12-foot grave on property owned by Dinardo's family along with other human remains suspected to belong to the three other victims, Dean Finocchiaro, 19, Mark Sturgis, 22, and Thomas Meo, 21, all of whom went missing within a few days after Patrick.
Dinardo is said to have a long-standing history of severe mental illness and court documents said he had been previously involuntarily committed to a mental health institution following an incident with a shotgun.
"I can tell you on multiple different occasions, on multiple different accounts, from different people including myself—Cosmo has spoken about weird things like killing people and having people killed," an acquaintance, Eric Beitz told Philly.com. "Everybody you talked to about this guy, you hear he's mentally unstable."
Dinardo had also been charged earlier this year for gun possession, which he was arrested for just on Monday, according to a Pennsylvania ABC affiliate. He was held on a 10 percent of a $1 million bail, which was posted on Tuesday, before being arrested again Wednesday for stealing a vehicle that belonged to Meo.
Police managed to connect Dinardo to the killings after he was found trying to sell Meo's 1996 Nissan Maxima to a friend just one day after Meo went missing on June 7. The young man's car was later located on a separate property owned by Dinardo's family where they also discovered keys and the vehicle's title hanging on a wall inside the property's garage.
Prosecutors said during a bail hearing following his arrest Wednesday that Dinardo, who suffered from a head injury following an all-terrain vehicle accident a year ago, had been diagnosed with schizophrenia. He is currently being held on a $5 million bail.
In a statement issued by the family's lawyer earlier in the week, Dinardo's parents said they were cooperating with the investigation.
"As parents, Mr. and Mrs. Dinardo sympathize with the parents and families of the missing young men and they are cooperating in every way possible with the investigation being conducted by law enforcement," the statement said.
Dinardo will avoid a death penalty sentence in exchange for his confession. However, prosecutors have not yet said exactly how many years in prison Dinardo and Kratz are currently facing.