Watch The Lovely Moment an Author Sees Someone Cosplay as One Of His Own Characters For The First Time
In 2017, games streamer and video host Jeremy Dooley, of the Achievement Hunter gaming channel, self-published his first novel Go Nitro: Rise of the Blades. A video currently burning up social media captures the heartwarming moment when a fictional work grows beyond its author and takes on life of its own, as Dooley is confronted for the first time with someone cosplaying as one of his Go Nitro characters.
"Oh my god, you're Reactor, I didn't even notice!" Dooley says in the video, putting his hands behind his head in an expression of shock and delight as a cosplaying woman comes up to greet him. "It looks so good!"
Fellow Achievement Hunter host Ryan Haywood asked Dooley if this was the first cosplayer he'd seen of his own characters.
"This is the first one I've ever seen," Dooley responds. "So cool!"
The video, which topped the uplifting subreddit r/MadeMeSmile on Thursday, appears to capture a moment from the 2018 RTX convention, a gaming and internet culture convention hosted in Austin, Texas and created by Achievement Hunter production company Rooster Teeth, which transformed the long-running Red vs. Blue web series into a sprawling media empire. Achievement Hunter is Rooster Teeth's video gaming division and an ongoing series highlighting how to earn the in-game achievement trophies built into most Xbox games.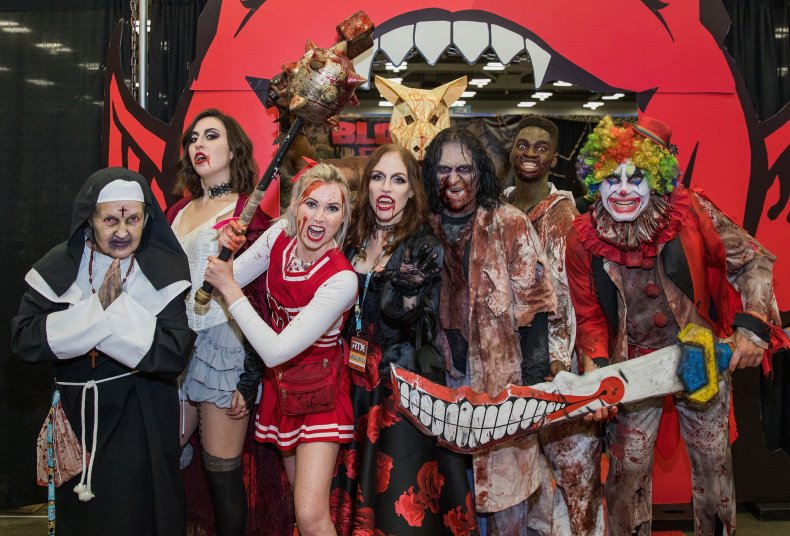 The cosplayer dressed as Reactor is Twitch streamer ColumbiaSkies, who responded to the virality of the convention video by urging her new Twitter followers to donate and sign petitions in support of the ongoing protests against police brutality prompted by the May 25 police killing of George Floyd.
In May 2019, Dooley released both a second edition of Go Nitro: Rise of the Blades and also its sequel novel, Go Nitro: To Stand Divided. The Go Nitro series follows super-powered biohumans known as The Nitros, who are pitted against The Blades, a deadly gang of thieves leading an assault on the far-future Lattice Light City. The character Reactor is an ultra-powerful Nitro with the ability to generate orbs of explosive energy from her hand.
Dooley has described plans for a third Go Nitro novel, so while the viral video captures the first time he met a fan cosplaying his characters, it's certain to be far from the last.
Go Nitro: Rise of the Blades and Go Nitro: To Stand Divided are both available now on Amazon. Or you can check out Dooley streaming games like Minecraft and The Legend of Zelda: A Link to the Past on the Twitch channel DooleyNotedGaming.