Cost Estimate Cleared Way for House to Pass Build Back Better, but Senate Obstacles Remain
After months of negotiations and a record-breaking filibuster, House Democrats on Friday passed the Build Back Better bill, a centerpiece of President Joe Biden's economic agenda and one they hope will go a long way in shoring up voter support in 2022, when their majority is on the line.
"It's a hell of a deal," Representative John Yarmuth, a Kentucky Democrat who chairs the House Budget Committee, told House members before the bill's passage.
"We are elected to make a difference and to make the lives of the people we serve better. Enacting this legislation will be a momentous achievement for Congress, and, more importantly, it will change lives, it will save lives and deliver on the promise of the American dream for generations to come," he said.
The $1.7 trillion social and climate spending package was approved in a 220-213 vote, with Democratic Representative Jared Golden of Maine the only member who voted against the party line. After receiving a much-awaited report from the Congressional Budget Office (CBO) on Thursday afternoon, Democrats brought the bill to the floor for a quick vote. But House Minority Leader Kevin McCarthy stalled its progress with a record-setting eight and a half-hour speech.
"Never in American history has so much been spent at one time," McCarthy said during his speech, which began at 8:38 p.m. Thursday and ended early Friday morning.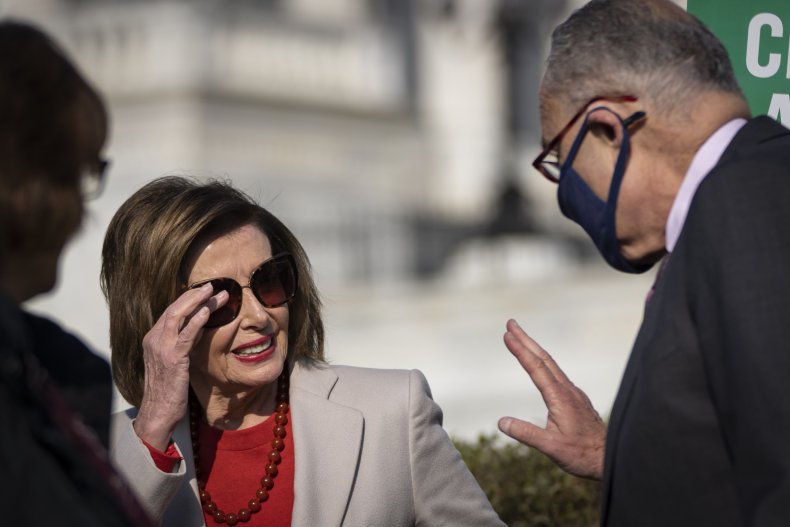 The CBO estimated the bill would add $367 billion to the federal deficit in the 2022-2031 period, a number largely in line with the White House's own estimates. Several moderate Democrats were awaiting the CBO report before making their decisions, and its release cleared the way for the bill's passage.
"This is why we even run and serve in Congress, to pass legislation like this that impacts people's everyday lives, to transform our material reality," Representative Alexandria Ocasio-Cortez, a New York Democrat, told reporters after the vote. "It's very rare that you vote on legislation that is as impactful as this."
But it would be premature for Democrats to declare victory, as the bill faces an uncertain fate in the Senate, where their slim majority leaves no room for dissent. Senator Joe Manchin, a conservative Democrat from West Virginia, has become a particular hurdle to the bill's passage in the upper chamber and has held multiple meetings with Biden and other administration officials on his concerns.
In addition to guaranteed paid family leave, which would be a first in the U.S., the bill as approved by the House provides for universal prekindergarten programs, allows the government to negotiate lower prescription drug costs, extends a tax credit for families with children, adds new health care coverage for Medicare recipients and contains initiatives aimed at tackling the climate crisis.
Yarmuth, who said that the bill is meant to help working families and marginalized people, called it "the most consequential legislation for American families since the New Deal."
Republicans disagree. More so than any other piece of Biden's agenda so far, Build Back Better has been a political lightning rod for Republicans, who say it goes too far in expanding government and will cost taxpayers too much.
McCarthy and his GOP allies have argued that Biden wasn't elected to be a new Franklin Delano Roosevelt, who transformed the federal government's role in the 1930s when he signed a number of social programs into law, including Social Security.
House Representative Jason Smith, a Missouri Republican who is the GOP's top member on the Budget Committee, characterized the bill as an "absolute disgrace."
"It's beyond belief how terrible this moment is," he said on the House floor. "It's embarrassing to the people of the United States what is going on."
Biden and the Democrats have never needed Republican buy-in with the bill, as their House and Senate majorities could pass it using reconciliation, a process that allows certain legislation dealing with the budget to pass in the Senate with a simple majority rather than the usual 60-vote threshold.
But infighting among Democrats stalled its progress and exposed fissures that could threaten the party's public standing heading into a tricky 2022 midterm season. Its passage in the House is one step back toward party unity, but it still has a long way to go. The bill is expected to undergo further alterations in the Senate before it passes. Leaders will privately negotiate resolutions, and any final changes must be approved in each chamber.
Democratic leaders have been walking a tightrope trying to navigate the varying priorities of their party's disparate factions.
Senate Majority Leader Chuck Schumer, a New York Democrat, pressed his members Thursday to keep "working on this important legislation until we get it done," but without offering a definitive timeline.
"We've come a long way this year as we've lifted our country out of the depths of these crises—but the challenges, of course, aren't over. Americans right now want us to lower costs for things like health care, prescription drugs, child care," he said on the Senate floor. "We have a responsibility to pass legislation that will cut costs and improve American lives."
Democrats had tried to push through the sweeping spending package as a partner to the bipartisan $1.2 trillion infrastructure bill that Biden signed into law this week. But they ultimately untangled the more moderate bill from the Build Back Better plan.
Manchin will be a key figure in the negotiations going forward, but he hasn't tipped his hand. He has indicated that he might want to wait until the new year to see whether inflation concerns are resolved, telling reporters this week that he has "a lot of concerns" about the bill. Just a day later, he told reporters that he wouldn't stop an expedited vote before lawmakers go on their Christmas recess.
"I'm not in charge of the timing. Whatever they want to do is fine with me," Manchin told reporters at the Capitol, while still declining to offer insight on how he plans to vote. "I'm still looking at everything," he said Thursday, speaking about whether he would agree to move forward with the debate.
Senator Kyrsten Sinema, a moderate Democrat from Arizona who is also seen as a key vote on the Build Back Better plan, has similarly kept her position on the bill shrouded in mystery. She often tells reporters that she refuses to "negotiate through the press."
"If you're in the middle of negotiating things that are delicate or difficult...doing it in good faith directly with each other is the best way to get to an outcome," Sinema told Politico in a rare, 35-minute interview this week.
House Speaker Nancy Pelosi, a California Democrat, told reporters Thursday that she isn't worried about the Senate's possible changes.
"It will still be transformative and historic," she said. "I don't fear that."
House Democrats broke out in cheers on Friday after the final vote on the bill had concluded and Pelosi announced its passage.