Cost of Merck COVID-19 Pill: How Treatment Compares to Vaccines, Monoclonal Antibodies
Merck's COVID-19 oral antiviral pill would be a cheaper solution to outpatient therapeutics than monoclonal antibody treatments, but it's still 17 times more expensive than getting vaccinated against COVID-19.
The Biden administration purchased 1.7 million courses of Merck's oral antiviral treatment in anticipation of it being authorized by the Food and Drug Administration (FDA). If authorized, it would be the first outpatient therapeutic that doesn't require a health care provider to administer and could help alleviate strains on hospitals.
Developed in collaboration with Ridgeback Biotherapeutics, it's a twice-daily treatment for a number of days. At a cost of $1.2 billion for 1.7 million treatments, adding the therapeutic to America's arsenal costs the U.S. government about $705 to treat one person.
Still cheaper than monoclonal antibody treatments, which cost the U.S. government about $2,100 per dose, it's significantly more than the cost of inoculating Americans.
Former President Donald Trump secured millions of doses of the vaccine ahead of proof that it was successful in an effort to cut down on delays delivering doses to the public. A two-dose inoculation of Pfizer's vaccine cost the government about $40, Moderna's cost about $30 for full vaccination, and Johnson & Johnson's one-dose vaccination was only about $10 per dose, according to the Congressional Research Service.
At those prices, treating someone with Merck's oral antiviral costs 70 times more than Johnson & Johnson's vaccine, 23 times more than Moderna's and 17 times more than Pfizer's.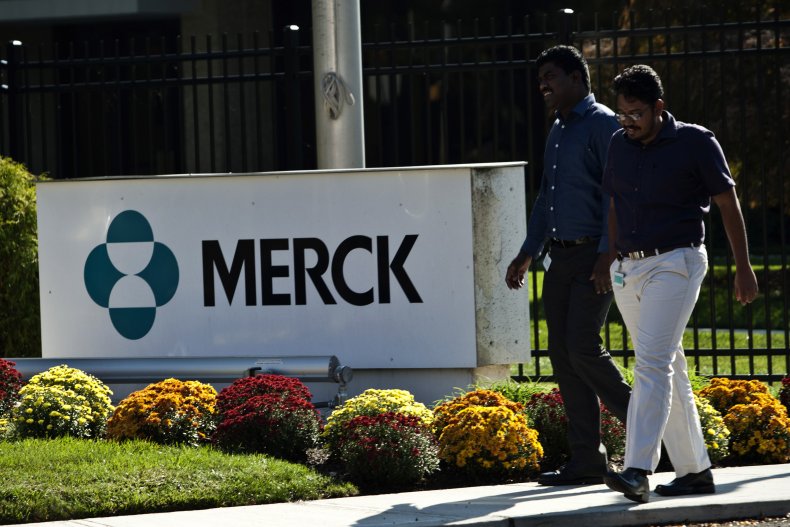 More than 180 million Americans are fully vaccinated against COVID-19 but despite about 65 percent of the country's population being inoculated, hospitals continue to be overwhelmed. The Delta variant's increased transmissibility fueled spikes in cases across the country, forcing thousands of people to the hospital to seek care, the bulk of whom were unvaccinated.
Vaccines have shown to be effective at helping prevent a person from being hospitalized with COVID-19. But Dr. Adarsh Bhimraj, a physician at the Cleveland Clinic's infectious disease department, previously noted to Newsweek that once a person contracts COVID-19, it's too late for the vaccines, making the need for outpatient therapeutics vital to America's pandemic response.
Keeping unvaccinated people out of the hospital frees up space for healthcare providers to care for people needing hospitalization for non-COVID reasons and, as Bhimraj said, there are always going to be people who can't be vaccinated or don't elicit a strong antibody response after getting vaccinated.
Antivirals aim to stop a virus from progressing, thereby keeping a person from getting seriously ill, and clinical trials showed Merck's oral antiviral cut hospitalizations or death by about 50 percent. If authorized, the pill would likely only be available to non-hospitalized adults who were at risk of becoming seriously ill from COVID-19, as that's who was studied in the trial.
The June agreement between the U.S. government and Merck is about half the amount of monoclonal antibody treatments the Biden administration purchased from Regeneron. Shown to reduce hospitalization or death by 70 percent in clinical trials, access to Regeneron's monoclonal antibody treatment has been expanded by several Republican governors who face low vaccination rates or imposed limits on public health measures.
Although potentially more effective at preventing hospitalization than oral antivirals, the benefit of a pill is that it doesn't require a health care professional to administer. Being able to pick the pill up at a pharmacy and administer it at home, combined with the feasibility of storing and transporting pills, could be beneficial to expanding access.
When it comes to the pandemic, the more tools in America's arsenal the better, but officials have cautioned people against seeing the treatments as a substitute for vaccines. Neither the Merck oral antiviral nor the monoclonal antibody treatment has reached the efficacy at preventing hospitalizations that any of the vaccines has shown. Treatments also do nothing to prevent the spread of the virus, which raises concerns about mutations arising that evade therapeutics and vaccinations.