From Abrams to Leopards: The Cost of Western Tanks Being Sent to Ukraine
On Wednesday, both the U.S. and Germany announced they would finally be sending the main battle tanks they have long been reluctant to commit to Kyiv's forces.
President Joe Biden confirmed in a media conference that Washington will send 31 M1 Abrams tanks to Ukraine, a figure large enough to equip a tank battalion.
Ukraine's resistance forces "need to be able to counter Russia's evolving tactics and strategy on the battlefield in the very near term," Biden said.
"They need to improve their ability to maneuver in open terrain. And, they need an enduring capability to deter and defend against Russian aggression over the long term."
Just hours earlier, German Chancellor Olaf Scholz confirmed Berlin would send 14 Leopard 2 tanks to Ukraine, as well as allowing other countries to commit their own Leopards to Kyiv.
The Kremlin's press secretary, Dmitry Peskov, quickly responded to Wednesday's announcements by saying "these tanks go up in flames like all the other armor."
"They cost a lot and all this burden will be primarily shouldered by European taxpayers. The Americans, however, as always. will at least lose nothing and most likely reap good profits," he continued, according to Russian state media.
The U.K. had previously committed to sending 14 Challenger 2 main battle tanks, and Poland promised to send Leopard 2 tanks to the Ukrainian front lines as part of an "international coalition."
M1 Abrams
But there is a price tag attached to sending what Biden called the "most capable tanks in the world" into combat in eastern Europe.
Although the total cost of a single four-person Abrams tank can change, the figure can top $10 million per unit when training and maintenance is factored in, according to data from Reuters. The tanks, part of a new $400 million package, will be purchased through the Ukraine Security Assistance Initiative.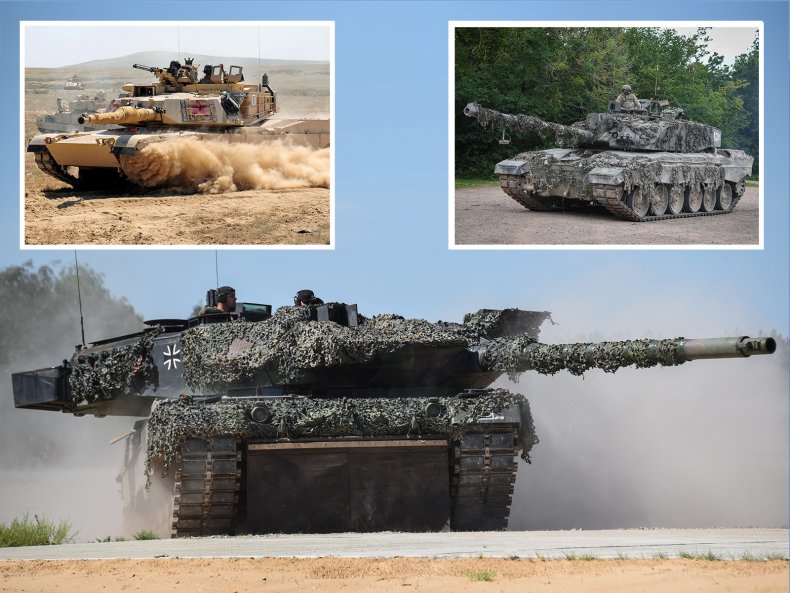 The Abrams are "extremely complex to operate and maintain," Biden said on Wednesday, meaning the U.S. will need to provide additional instruction and foot the costs associated with their upkeep.
This could include how the Abrams are fueled, and the 1,500-horsepower turbine engines run on jet fuel, National Security Council spokesperson John Kirby confirmed.
Several experts told Newsweek that the refilling of the so-called "fuel hog" tanks could pose a problem for their deployment in Ukraine, as the Abrams "needs an enormous logistics chain to supply it with fuel continuously."
Variants of the M1 Abrams weigh between 67.6 and 73.6 tons, with a maximum speed of 42 mph. The addition of these 31 Abrams tanks to the U.S. aid to Ukraine brings the total amount of security assistance provided since February 24, 2022, to more than $27.1 billion.
Leopard 2
The German-made main battle tank, first introduced in 1979, is widely used by 13 European armies. Military and defense experts have previously told Newsweek that the Leopard 2 would be the most appropriate main battle tank for Ukraine, as the standardized ammunition alleviates many supply chain worries.
The Leopard 2 A7+, the latest iteration of the Leopard 2 main battle tank, has a top speed of more than 43 mph, and a range of 280 miles, according to manufacturer Krauss-Maffei Wegmann.
German Chancellor Olaf Scholz said in a joint press conference with Iceland's Prime Minister Katrin Jakobsdottir that he could not confirm exactly how much the tanks would cost, but that "we will cover" the expenses.
Figures on the costs of different variants of the Leopard 2 tanks range, but largely fall around the $6 million mark.
Challenger 2
The U.K. will send 14 Challenger 2 tanks to Ukraine, Downing Street confirmed earlier this month. The replacement for the Challenger 1 tank has been used by the British Army since 1994.
Manufactured by BAE Systems and Land Armaments, a four-person crew can operate the 69-ton main battle tank for a road range of 340 miles.
Previous estimates for the price of a Challenger 2 placed the bill per unit at around $4.9 million, but Newsweek could not independently verify this claim.
The British Army is in the process of upgrading to fully-digitized Challenger 3 main battle tanks.
Several other countries, such as Portugal and Norway, have come forward to send Leopard 2 tanks to Ukraine, and France is considering whether to send its expensive Leclerc main battle tank. Paris has previously announced it will send AMX-10 RC "light" tanks to Ukraine.