4-Year-Old Has Birthday Party of His Dreams at Costco
A Costco in California shut down its food court so a 4-year-old could have his birthday there.
On August 16, Armando Martinez celebrated his "yearly renewal," as his parents called it, at the Costco in Norwalk, California. When guests arrived they were given name tags modeled after Costco's membership cards with the Armando's face on them.
Once inside they enjoyed a dance party and slices of Kirkland Signature brand pizza. Armando even got to run the sample station and gave away Doritos, his favorite chips.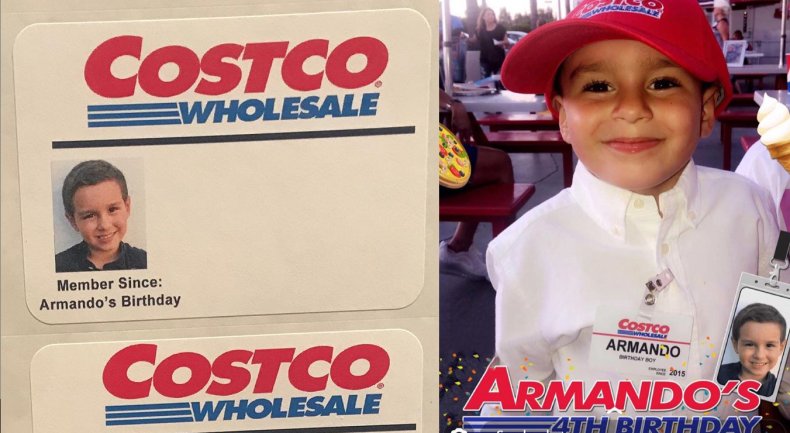 Guests also played various Costco-themed games, including guessing the prices of merchandise and taking a swing at a piñata with the Costco logo on it. The party was topped off with a classic $18.99 Costco cake and a rousing rendition "Happy Birthday" outside the store.
Armando's aunt Miriam Zakaria shared photos of the party with KABC, telling the station "He is obsessed with Costco."
On the Instagram account "Armando Loves Costco," started earlier this month, his parents post pictures of Armando enjoying himself at the big-box store—showing his membership card at the door, chowing down on free samples, relaxing on floor-model couches.
He's not the first kid to fall in love with the store: In 2017, the parents of 5-year-old Kimber Walker threw her a Costco birthday party at their home in Winston-Salem, North Carolina. Guests ate Costco pizza and Kirkland ice cream and got to design their own membership cards.
Kimber even got a special employee badge from a nearby store.
Founded in Seattle in 1983, Costco is now the world's second largest brick-and-mortar retailer after Walmart—and is the largest provider of wine, prime beef, rotisserie chicken and organic food. It employs more than 245,000 employees at 776 warehouses in the U.S., Canada, Mexico, Europe, Japan and Australia.
The first Costco in China opened today in Shangai, where crowds were reportedly so massive that the store had to shut down early. Police were called in to manage traffic jams nearby.
"The store has been clogged up with crowds," the company said in a text alert. "To provide you with better shopping experience, Costco will suspend business in the afternoon. Please don't come."