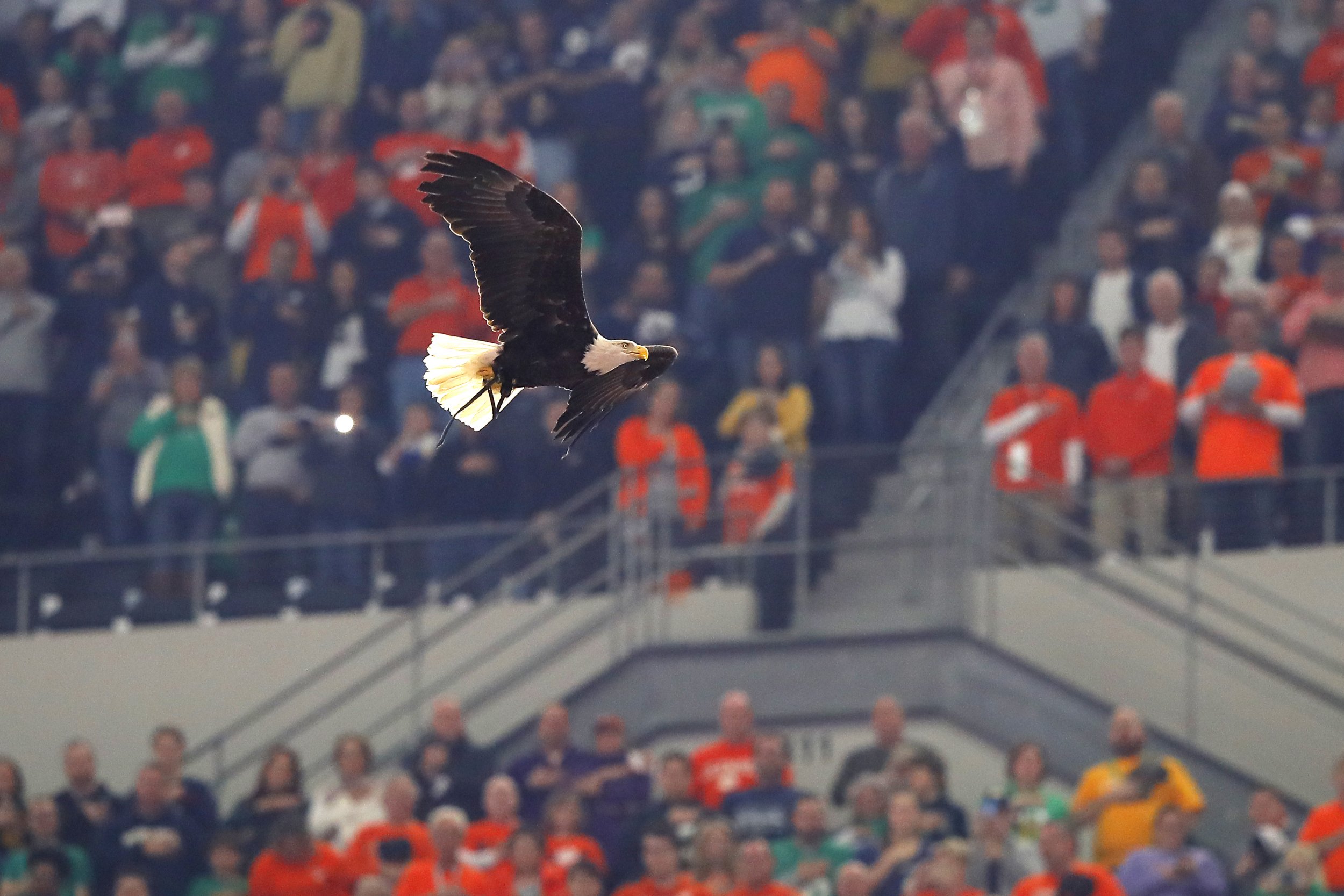 A bald eagle flying over the inside of the stadium at the college football playoff semifinals took fans by surprise when it suddenly aborted its mission to land on fans in the stands.
The eagle, named Clark, was trained to fly around the stadium during the 2018 Cotton Bowl between Notre Dame and Clemson on Saturday. The bird was expected to return to its trainer on the football field near the tail end of the anthem. But Clark abruptly changed his flight route and decided to finish his soaring session by landing on fans sitting in the stands at the AT&T Stadium in Arlington, Texas, according to the Fort Worth Star-Telegram.
After resting on the arm of one Notre Dame fan for a few moments, the majestic bird took flight but once again landed on the arm of a second Notre Dame fan instead of its handler, who was waiting for it in the end zone.
Handlers eventually managed to nab the eagle before the start of the 83rd annual Cotton Bowl game.
Although fans were delighted by Clark's rogue act, the bird managed to shake up at least one of the people he chose to land on. Yahoo Sports' Pat Forde, who attended the game, described the first fan as being "freaked out" by Clark's display.
"Clark toured the stadium and alighted up upon the shoulder of a freaked-out ND fan in a green T-shirt. He then moved to another section in the third level, corner of a stadium, and a different ND fan held up his arm like a pro and the eagle landed. Clearly the eagle favors the Irish," Forde recalled on Saturday.
Despite the eagle's apparent favoritism, Norte Dame failed to secure the win with the Clemson Tigers beating the Fighting Irish 30 – 3 and advancing to the championship.
The bald eagle was born in 2003 at the World Bird Sanctuary—a wildlife reserve in St. Louis that aims to preserve protect and inspire safeguarding of various bird species across the globe, according to its website.