Cotton Condemns MLB's 'Silence' on Cuba Protests After 'Strong Feelings' on GA Voting Law
Sen. Tom Cotton (R-Ark.) blasted Major League Baseball (MLB) on Thursday for being "silent" about Cuba while reacting to Georgia's restrictive voting law by moving its All-Star Game from the state earlier this year.
Cotton and other Republicans were furious after MLB reacted to the passage of the GOP voting bill by moving the 2021 All-Star Game from Atlanta to Denver earlier this year—a move that was reported to have cost Georgia $100 million.
Cotton compared the decision to the league not officially commenting on reports of the Cuban government cracking down on protesters this week.
"@MLB had strong feelings about ballot dropboxes in Georgia," Cotton tweeted. "But they're silent as Cuba's murderous regime cracks down on protestors."
Of the 906 MLB players on rosters at the start of the 2021 baseball season, the league says that 19, or about 2 percent, came from Cuba. Several of those players have recently indicated support for the protesters who have taken to the streets in the island nation they defected from.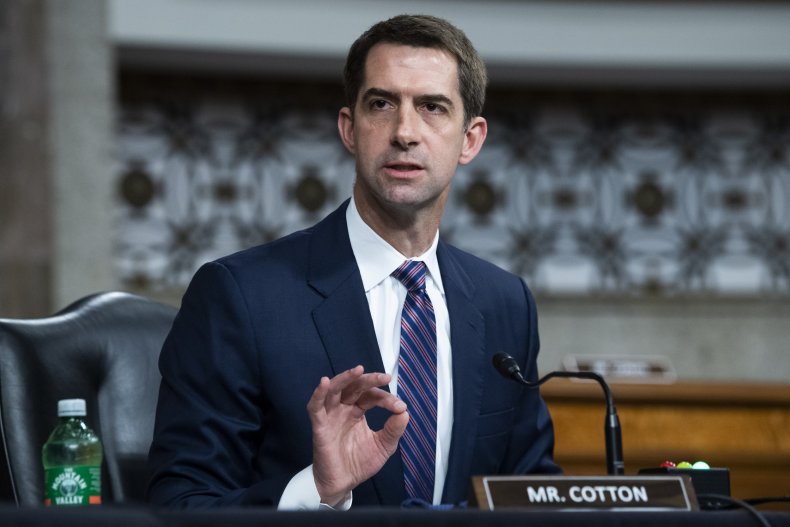 During this year's All-Star Game, which took place in Denver on Tuesday, Cuban players Aroldis Chapman and Adolis García wore hats reading "SOS Cuba" and "Patria y Vida," a phrase that translates as "homeland and life." Cuban Revolution leader Fidel Castro was known to use what is now the country's national motto "Patria o Muerte," which translates as "homeland or death."
"My message is that we have to keep fighting," Chapman told Our Esquina at batting practice before the game. "We cannot stop or be fearful. We have to go forward. Confronting what happens or whatever, we have to try to look for the liberty that every Cuban has dreamed about for many years."
MLB has made no apologies for its response to the Georgia voting law, which imposes new restrictions on ballot drop boxes, shortens the time allowed to request a mail-in ballot and requires voter ID for mail-in ballots.
The law also gives the Republican-controlled state legislature more control over elections and makes it a crime to give food or water to people waiting in line to vote, although poll workers can still choose to supply water.
The Republican National Committee ran a television ad complaining that "Democrats stole our All-Star Game to push their divisive political agenda" during the game on Tuesday.
The ad insisted that "politicians and corporations lied" about the voting law and that "Black communities got hurt the most" by MLB's subsequent decision, although "a majority of Black voters support laws like voter ID."
Newsweek reached out to MLB for comment.