Cougar or Mountain Lion? Image Leaves Internet Divided Over What You Call Wild Cat
A photo of a wild cat has the internet divided about what they call the creature: is it a mountain lion, cougar, puma, or panther? North Americans are discussing the colloquial names for the animal with answers ranging from red panther to catamount.
Elle M. on Twitter kicked off the discussion when they asked: "Ok because I'm curious: 1. what would you call this animal. Not whatever you think the 'proper' name for it is, but what you'd colloquially call it 2. where, broadly, are [you] from?"
Elle M. said that they call the pictured animal a mountain lion and that they are from New Jersey.
L'aalaw Eesh on Twitter said: "Cougar (1st) or Mt lion (2nd) and I'm from Alaska But! Fun fact: in my Alaska Native language (Tlingit), it's called haadaa dóosh, 'surrounds-us cat,' with apparent reference to their method of hunting by stalking around in circles, and recognizing they can and do hunt people."
Manolo Andrade said: "Puma or mountain lion. But in Southern California a lot of people know their locals, so we use the GPS number like my poor old boy P-22."
P-22 is an 11-year-old mountain lion who has lived in Griffith Park in Los Angeles since at least February 2012. In 2013, National Geographic published photos of the lion strolling the park at night, with the Hollywood sign as the backdrop, making him a star.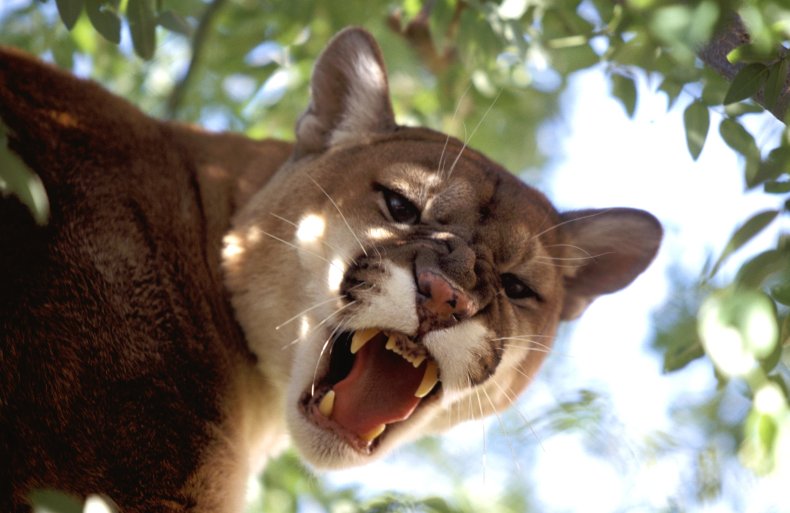 Chris Sims didn't have a real answer but instead joked: "1. That's quite clearly a 'holy hell I'm about to die I should have just stayed home where the worst thing you can encounter is a badger'. 2. England."
Some Twitter users said they called the animal a bobcat, but the general consensus seems to be that a bobcat is different from the animal known as a mountain lion or cougar.
However, it should come as no surprise that there are so many different names for the big cat. As pointed out by Twitter user Gabby Dennis: "The mountain lion/cougar holds the Guinness World record for the animal with the most names (over 40)"
Wildlife Waystation also shared this fact and said they are called: "Mountain Lion, Puma, Cougar, Painter, Purple Feather, Catamount, Screecher and Screamer, to name just a few."
But it doesn't end there. The Animal Files says that mountain lions are also called American Lion, Brown Tiger, Deer Cat, Deer Tiger, Florida Panther, Ghost Cat, Indian Devil, King Cat, Mexican Lion, Mountain Demon, Mountain Devil, Mountain Screamer, Painted Cat, Painter, Panther, Red Lion, Red Panther, Red Tiger, Silver Lion, and Sneak Cat.