Cougars marching band performs Husky fight song in rival band's absence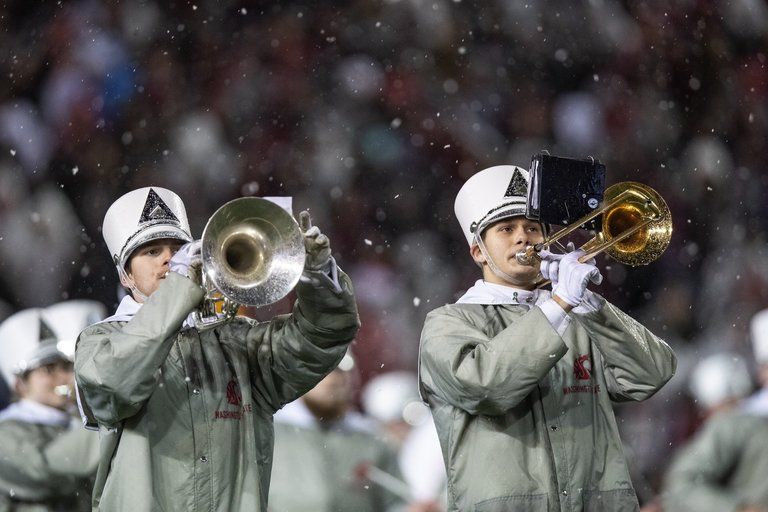 In a display of exceptional sportsmanship during a week bursting with thanksgiving, the Washington State University band played fierce rival University of Washington's fight song at the 111th Apple Cup Friday night.
After one of the Husky band buses flipped on Interstate 90 Thursday on the way to the cross-state rivalry game in Pullman, the Cougar Marching Band decided to forgo the competitiveness of the biggest game of the year in Washington collegiate athletics for a spirit of support instead.
Hitting icy roads a few miles west of George, Washington, the Husky bus flipped, sending 47 band members to the hospital. The University of Washington press release said two remained hospitalized Friday with "injuries that are not believed to be life threatening."
In the haunting absence of the 56-member Washington band in the stands, their musical counterparts dug right in when members expressed the desire to act in the face of adversity – even for their biggest rivals.
Cougar Marching Band Director Troy Bennefield told The Seattle Times his students wanted to stand in solidarity with their rivals.
"The Huskies are missing their band, and that's an important part of the game day experience," said Bennefield. "We want to honor the camaraderie and their dedication and show our sportsmanship."
He added that his band travels by bus frequently during the football season, so it was easy for his members to feel compassion after such an accident.
On the Washington Huskies Twitter feed, thanks were in order atop a video showing the Washington State band taking to the field to play "Bow Down to Washington," before kickoff.
"In the spirit of sportsmanship and good will towards our friends in the Husky band, we're honored to welcome our guests from the University of Washington by performing their fight song," said the stadium game announcer on the video.
Brent Edwards, Cougars marching percussion coordinator, music instructor and assistant director of the marching band, posted on Instagram with a video of his percussionists practicing UW's fight song:
"Teaching beats I never thought I would have to teach. Our thoughts are with the @huskyband as we go into today's #applecup. #respectyouropponent.
On the football side, the Huskies dominated the home-standing Cougars, 28-15 in a heavy snowstorm to win their 73rd Apple Cup.
The Huskies (9-3, 7-2) clinched the Pac-12 North title for the second time in three years. They advance to the conference title game against Utah on Nov. 30.
The Cougars finished the regular season with a 10-2, 7-2 record.