Some moderate Democrats fear that Senator Bernie Sanders' name at the top of the ticket on Election Day will pave the way for President Donald Trump and Republicans to make the race a referendum on capitalism vs. socialism.
But some Democratic strategists and former staffers of the independent senator's unsuccessful 2016 White House bid suggest that such anxieties are perhaps oversimplified, and the passion that exists among Sanders supporters could be the key to uniting the party behind a nominee and unseating the president.
"It's a false choice," Rich Pelletier, the national field director and deputy campaign manager for Sanders in 2016, told Newsweek. "Bernie has said that health care is a human right and that it should not be in the hands of profiteers. He's said we need a better system for rewarding the workers and the people who truly make our economy grow."
While the Vermont senator is a self-described democratic socialist who's calling for a "political revolution," supporters resist the notion that the liberal policies he backs, such as Medicare-for-All, the Green New Deal or overhauling America's economic structure to benefit the middle and lower classes, are socialist ideas. And even if they might be, Sanders and his backers argue such initiatives are well-liked and much-needed reforms to address broken sectors of society.
"We are living, in many ways, in a socialist society right now," Sanders argued at Wednesday night's tense Democratic debate in Nevada. "We have socialism for the very rich, rugged individualism for the poor." He cited tax breaks and subsidies for the nation's wealthiest individuals and corporations, like Walmart.
Still, fears from moderates are only exacerbated by Trump and Republicans' willingness to paint whoever the Democratic nominee is as a socialist, rhetoric that ignites the president's base—regardless of its accuracy. Republicans are draping a "radical socialist agenda" around the shoulders of all Democrats ahead of the election, and just because Republicans are doing so, Democratic insiders say, it does not dictate who their nominee should be.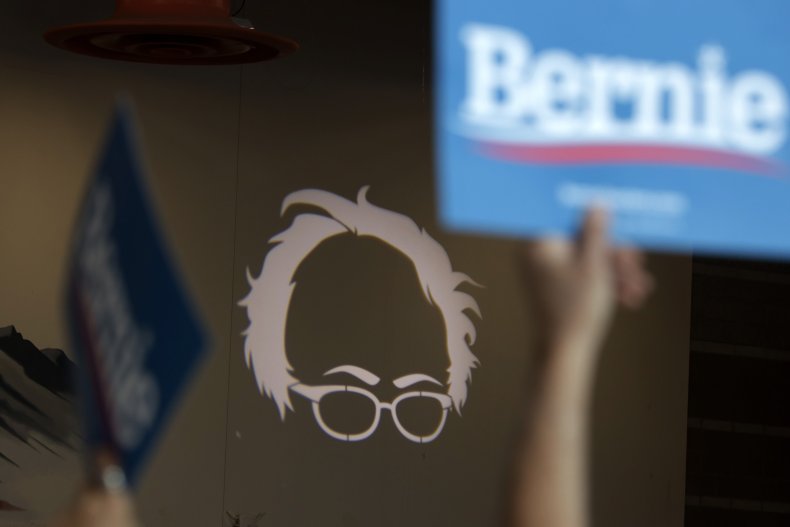 What should dictate their decision, said Democratic strategist Aisha Moodie-Mills, is simply whoever the voters decide to back and who they feel most confident will beat Trump.
"As Democrats, we do ourselves a disservice when we negate and tamp down the conversation around the Bernie movement to be something that is really negative because some people might be afraid of progress," she told Newsweek. "The energy of that movement is what has to drive and push the party, no matter who the nominee is."
Amid Sanders' rise in the polls and a strong early showing in the Democratic primary are the concerns that nominating a self-described democratic socialist could spell certain doom for down-ballot candidates.
There also exists the plausible scenario where a contested Democratic convention—in which no one candidate musters a majority of pledged delegates as the result of an overly crowded field—could bring chaos and drive a wedge in the party, such as by snubbing Sanders and instead coalescing around one of the more moderate candidates.
The likelihood of this happening increased exponentially Wednesday night when every candidate except Sanders on the debate stage said they would support a contested convention if the leading candidate only has a plurality of delegates and lacks a majority.
And despite Sanders' rise in popularity, polls continue to show the majority of Americans view socialism in a negative light. However, the same cannot be said for Democrats and progressives, roughly half of who said in an NPR/Marist poll released Wednesday they view the idea favorably.
"I understand the capitalism vs. socialism argument. It gets strengthened with Bernie Sanders," former head of the New York State Democratic Party Basil Smikle told Newsweek. "Trump thinks it helps his narrative in that he will talk about the economy doing better under him and challenging voters to support a Democrat who would undermine all of that and take money and resources out of your pocket."
A blue wave in 2018 allowed Democrats to flip Trump districts and longtime Republican strongholds to win back control of the House. The concern a Sanders nomination could undo those gains runs deep among vulnerable and moderate House Democrats.
But Moodie-Mills believes the alarm bells that such Democrats are ringing both publicly and privately are overstated.
"They won off the backs of the progressive energy of the Women's March and the Resist movement," she said. "They were beneficiaries of the enthusiasm and excitement that took hold around the country, among women particularly, but among Democrats who were very much in resist mode and wanted to topple the situation and usher in a new wave."
Sanders has acknowledged the discontent among some within the party about his performance thus far. He's tried to quell any fears that his candidacy and more liberal policies would cost Democrats at the polls, arguing the voter turnout his campaign spawns will aid down-ballot Democrats.
"When you vote, you grow the voter turnout and you bring working people into the political process and young people into the political process," he told Newsweek last week. "A large voter turnout is going to help everybody, from the top of the ticket to the bottom."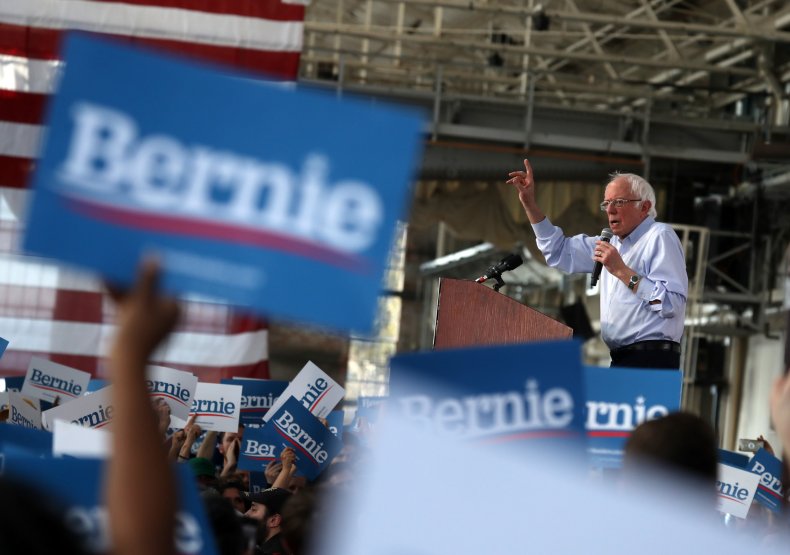 Though the belief that a capitalism vs. socialism argument made about Sanders' nomination could be easily batted away, there is a case to be made for those concerned about the unintended consequences, a former top staffer said.
At a campaign stop in Washington State on Monday, a Seattle City councilmember opened for Sanders by touting herself as "the socialist" and urged for a Sanders presidency because "we need a new party of and by working people."
"Understandably, you have someone who's had a unique relationship with the Democratic Party. You can understand how some folks have not necessarily warmed up to him because of that," Nick Carter told Newsweek.
He served as Sanders' political outreach director for his 2016 campaign and later joined Hillary Clinton's campaign as Vermont state director and national progressive outreach coordinator after she won the Democratic nomination.
However, Carter said any bitterness felt between Sanders supporters and the rest of the party goes both ways.
"At the same time, there does seem to be vitriol and animosity shown toward his campaign and his supporters that is unfounded," he added.
Smikle, the former No. 2 Democrat in New York and who also remains close to former New York Mayor Mike Bloomberg amid his presidential campaign, said he feels Sanders and Trump even have something key in common that could benefit Democrats with a Sanders-Trump match-up.
"There's a thread of Bernie's narrative that matches Donald Trump," Smikle said. "The system is rigged and the elites in government are not working on your behalf."