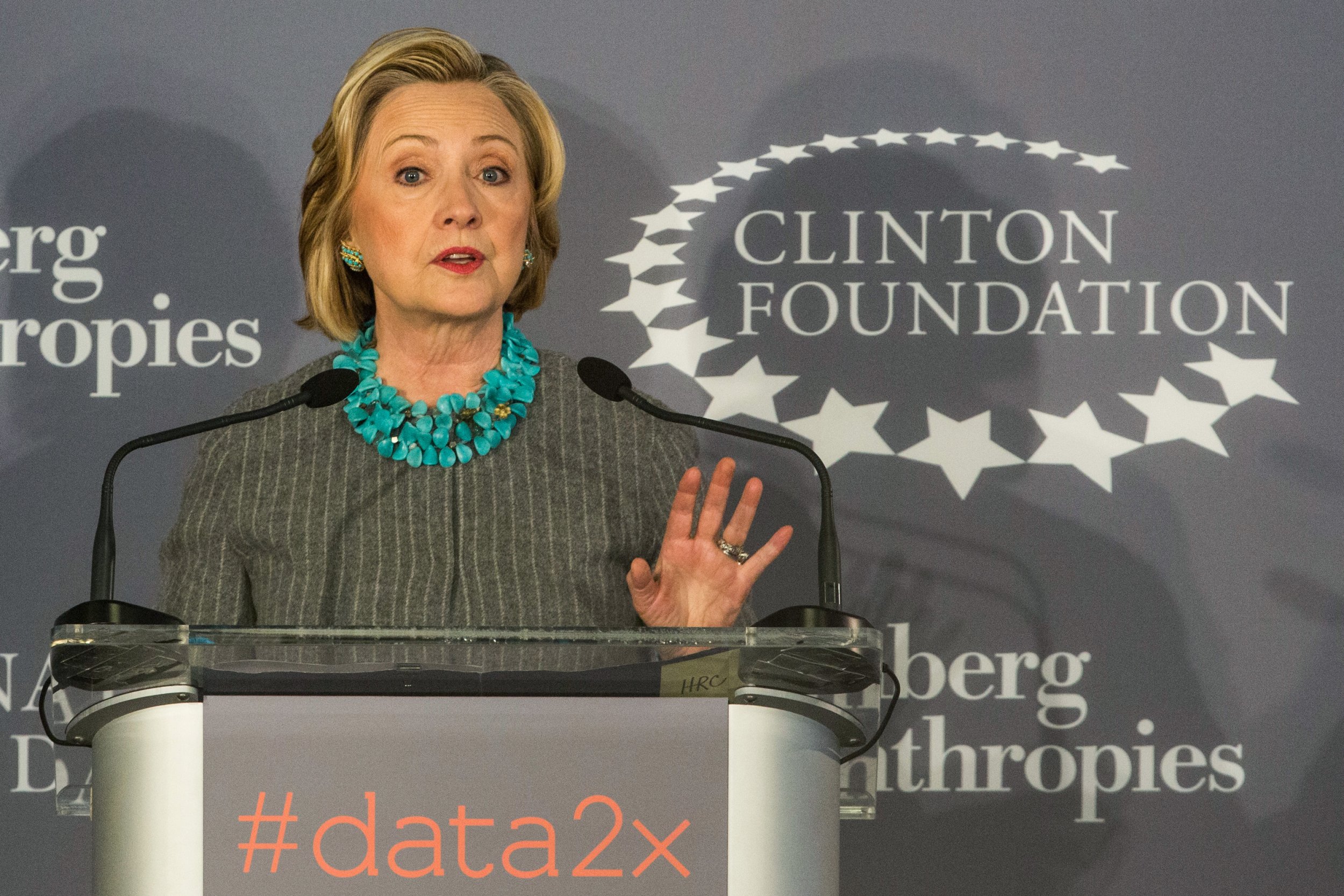 Even in the age of big data, some numbers pertaining to women are glaringly missing: numbers on global maternal mortality rates are incomplete, statistics regarding women and unpaid work are flawed and conflict-related gender-based violence figures are lacking.
To begin tackling this problem from the bottom up, Data2X—a joint project of the Clinton Foundation, the United Nations Foundation, the William and Flora Hewlett Foundation and the Bill & Melinda Gates Foundation that was first introduced in 2012—announced new regional and topical partnerships at a press event in New York City Monday. By partnering with a multitude of organizations, the Data2X platform says it hopes to start a "gender data revolution," which will allow policymakers to recognize problems more clearly and better create informed policy.
"I have been championing the rights of women and girls around the world and here at home for many years," former Secretary of State Hillary Clinton said at the event, "and I got tired of seeing...foreign leaders, business executives, even senior officials in our own government...smile and nod when I raised these issues… 'Oh right, I knew she was going to raise women and girls, I will just sit here and smile, it will pass, and then we'll talk about really important things.'"
Clinton said this scenario played out countless times over the years and inspired her involvement in the Data2X project. "You can't understand what the problem is if you don't have a good grasp of what the facts and figures are," she said.
The new partnerships will focus on six categories of data:
Civil Registration and Vital Statistics (CRVS)
Civil registration, which is the continuous recording of vital life events like birth, marriage and death, is incomplete around the world. To address missing records, Data2X is teaming up with organizations in Africa and Asia, like the United Nations Economic Commission for Africa and U.N. Economic and Social Commission for Asia and the Pacific.
Though the births of girls and boys are almost equally registered globally, ensuring women an individual legal identity by maintaining a quality CRVS system could provide a better account of early and forced marriages and help women retain their share of assets in the event of a divorce.
Women's Work and Employment
In partnership with the International Labour Organization, Data2X is redefining what is considered work to include unpaid work, including work for the home. Expanding the work framework will give the global community a better idea of how women contribute to the economy.
For example, Clinton said that data collection and analysis in India showed that women spend an average of six hours per day doing unpaid labor. If these women were to participate in the formal workforce at the same rate as men, she contended, India's gross domestic product would increase by $1.7 trillion.
Supply Side Data on Financial Services
Women face both financial service access and service gaps globally—they have trouble proving their business case and struggle to get the resources they need. But data pertaining to these experiences with financial services is not kept. "If you can't measure it, you can't manage it," former New York City mayor Michael Bloomberg told the audience.
Now, the Global Banking Alliance for Women and the Inter-American Development Bank are teaming up to incentivize collection of this data as a first step to close the gender gap in financial services. Proposals for how to support this venture will be presented at the Global Data Symposium in September 2015.
Women's Subjective Well-Being and Poverty
The lack of gender-segregated data has clumped women's poverty with household poverty, meaning the exact poverty numbers for women and girls is unknown. Data2X is joining with the Government of Mexico's National Institute of Statistics and Geography (INEGI), which already has a comprehensive approach to discovering gender differences in well-being. One of INEGI's tactics to understanding women's subjective well-being is analyzing Twitter feeds to determine who and where posts with positive sentiments are coming from.
Big Data and Gender
Data2X is collaborating with U.N. Global Pulse, U.N. Women and academic researchers to analyze cell phone data usage patterns to infer women's socioeconomic welfare, mobility patterns and financial activity. The project also plans to use remote sensors to reveal epidemiological trends and provide information on women's access to services.
Improved Gender Data on U.S. Foreign Assistance Programs
Not only does Data2X want more complete data to be included when setting the global agenda, but the project aims to inform U.S. development policy and investment. In conjunction with the U.S. President's Emergency Plan for AIDS Relief and Millennium Challenge Corporation, sex and age specific data will be released to ensure those most in need of aid are reached and to assess the impact of current U.S. assistance programs.
Data collection, Clinton said, could "build a case strong enough to convince the skeptics, based on hard data and clear-eyed analysis, that creating opportunities for women and girls across the globe directly supports everyone's security and prosperity, and therefore should be an enduring part of our diplomacy and development work."