Could The Boston Marathon Be Cancelled? The Race Follows Other Local Events Cancelled Because of Coronavirus
One day after the city of Boston announced the cancellation of its annual St. Patrick's Day Parade, nearby Cambridge cancelled the Ivy League conference basketball tournaments. The next big outing scheduled for Beantown, other than professional team sports, is the 124th running of the Boston Marathon.
The Boston Marathon is held every year on Patriots Day in Massachusetts, which is April 20 in 2020. While the coronavirus has led to cancellations and postponements of events all over the world, a large-scale event like the Boston Marathon has not been affected in the United States.
Not yet, at least.
The Boston Athletic Association issued a statement last week that stated the race would go on as planned, despite having more than 31,000 registered runners. About one-third of the runners represent more than 100 countries, MassLive.com reported. In addition, the race draws more than 1 million spectators who line the Boston streets to watch and cheer the runners.
The number of runners and spectators could dwindle because of some international travel restrictions already in place.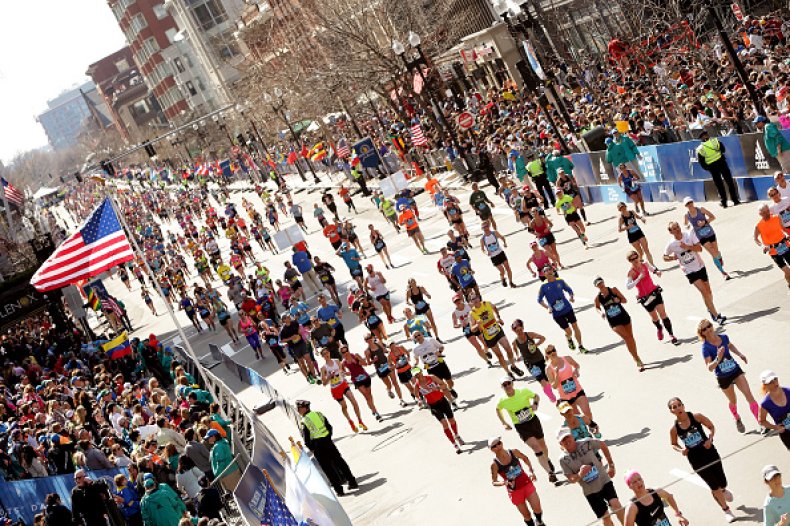 Then there was Boston Mayor Marty Walsh, who told a radio program that cancelling the race is not beyond the realm of possibility.
"The marathon is something we're having conversations about and looking at," Walsh said on The Greg Hill Show. "There's been 3 or 4 cancelled around the world.. We're not there yet, but we still have many conversations to have."
Of the 21 marathons or half marathons cancelled, or postponed, around the globe so far because of coronavirus, the majority of those have been in Southeast Asia or Italy, the Associated Press reported.
Paris postponed its half marathon, and the world half marathon in Poland was also postponed.
The coronavirus is also known as COVID-19, which was first detected in Wuhan City, which is in the Hubei Province of China. The virus has affected more than 118,000 people worldwide and is responsible for more than 4,200 deaths worldwide, mostly in China. The virus is starting to spread more rapidly within the United States, with 808 cases being reported, and 28 deaths in the United States, according to research by Johns Hopkins University. The virus has led to less people traveling through airports, or aspiring to be among large crowds.
The Boston Marathon has only been fully cancelled once in its illustrious history, with that one time coming in 1918, when race organizers held a military race instead of the traditional marathon.
Here are prominent marathons and half marathons canceled or postponed so far because of coronavirus:
Hong Kong Marathon (Feb. 9) canceled
Paris Half Marathon (March 1) postponed to September 6
Rome Half Marathon (March 8) canceled
World Half Marathon Championships in Gdynia, Poland (March 29) postponed to October 17
New Taipei City Marathon in Taiwan (March 15) canceled
Suzhou Half Marathon (China on March 15) canceled
Barcelona Marathon (March 15) postponed toOct. 25
Seoul (South Korea) Marathon (March 22) canceled
Rome Marathon (March 29) canceled
Paris Marathon (April 5) postponed to October 18
Milan (Italy) Marathon (April 5) postponed
Kyiv (Ukraine) Half Marathon (April 5) to have no foreign runners
Wuhan Marathon (April 12) canceled
Pyongyang (North Korea) Marathon (April 12) cancelled