Could Brazil Become South America's Next Dictatorship? Bolsonaro Stokes Fears by Appointing Fifth Military Man to Cabinet
Brazil's right-wing president-elect, Jair Bolsonaro, has further stoked fears of a return to authoritarianism after he appointed a fifth military man to his Cabinet.
On Monday, Bolsonaro announced that retired General Carlos Alberto dos Santos Cruz, who has no political experience, will be the minister in charge of political relations with Congress.
Santos Cruz joins other ex-military figures, such as the incoming deputy president, General Hamilton Mourão; Fernandodo Azevedo e Silva and Augusto Heleno, two generals in charge of defense and institutional security, respectively; and Marcos Pontes, an air force pilot who will be minister of science and technology.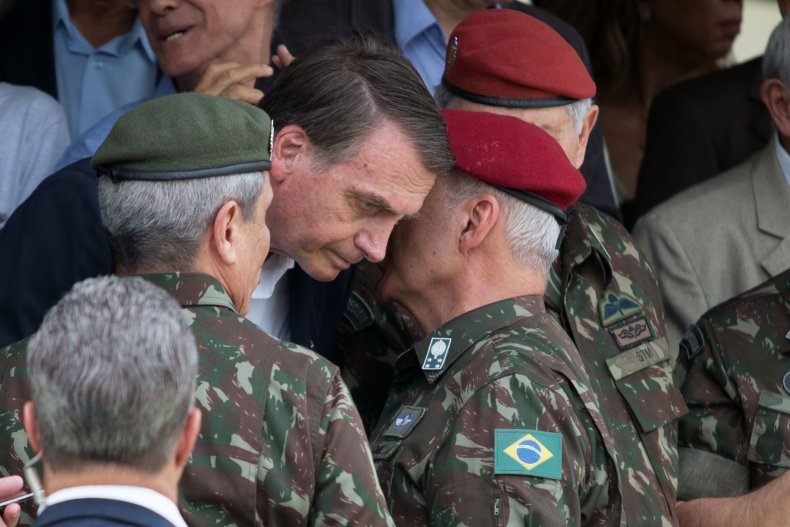 After winning October's national election, Bolsonaro will become, as of January 1, Brazil's first far-right leader since the 1964-85 military regime—a period he has repeatedly expressed nostalgia for.
"It was a wonderful time, when you could walk in the streets with safety and your family was respected," Bolsonaro has said of the military regime. He is a former army captain himself.
With the corruption scandals and a struggling economy, support for the usually dominant left-wing Workers' Party collapsed during the election. Bolsonaro ran against them on a platform of law and order, anti-corruption and free-market economics, with Trump-esque calls to "Make Brazil great!"
While Bolsonaro has toned down some—but certainly not all—of his incendiary rhetoric, his past remarks are a cause of concern.
He first became a member of Congress in 1991 and, over the course of his career, has repeatedly stated his desire for military rule—along with expressing a range of homophobic, misogynist and racist beliefs.
"Things will only change, unfortunately, after starting a civil war here, and doing the work the dictatorship didn't do," he declared in 1999, according to The New York Times. "If some innocents die, that's just fine."
There is evidence that nostalgia for military dictatorship is growing in Brazil, beyond Bolsonaro's election win. A 2017 poll found that an estimated 43 percent of the population wanted a temporary military revival, up 8 percentage points from 2016. Surprisingly, young people were particularly likely to be in favor.
In an interview with the Financial Times earlier this month, General Eduardo Villas Bôas, commandant of the Brazilian army, said the military would not return to Brazilian politics.
"The military has been absent from politics since 1985, after the end of the military government, and that's how it intends to maintain itself, independent of whether the president-elect is a retired captain from our Brazilian army," he said.
But Bolsonaro's latest string of appointments, added to his radical rhetoric, will do little to assuage the fears.
Correction: This article's title initially spelled Jair Bolsonaro's last name incorrectly. The article has been updated with the correct spelling.