Could Brian Laundrie's Parents Be Charged With Obstruction of Justice in Gabby Petito Case?
FBI agents searched the North Port, Florida, residence of Brian Laundrie's family on Monday, temporarily removing his parents from the home in the process and declaring the house a crime scene. The move came a day after a body was found that was believed to be that of Laundrie's missing fiancée, Gabby Petito.
Speculation regarding possible criminal charges for Brian Laundrie, who has been named a "person of interest," had already begun before the remains were found and his current whereabouts remain unknown.
Now, people are wondering if his parents could also possibly face charges like obstruction of justice, although thus far authorities have given no indication they committed any crime.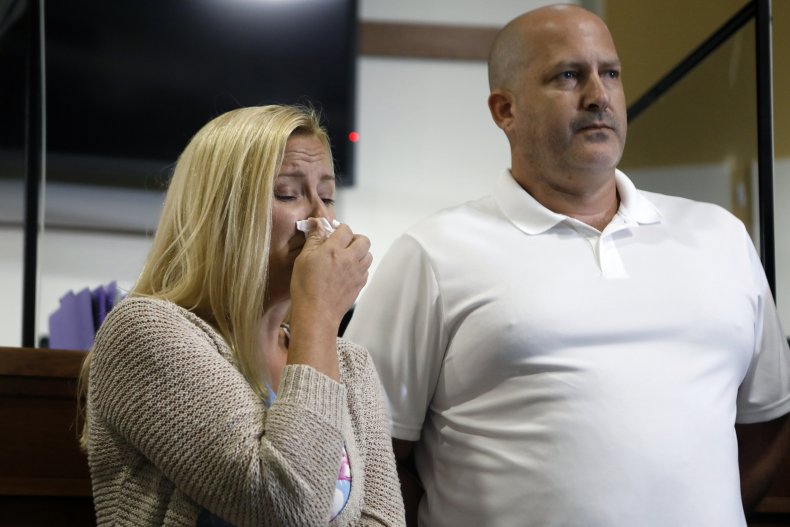 "The FBI is executing a court-authorized search warrant today at the Laundrie residence in North Port, FL relevant to the Gabrielle 'Gabby' Petito investigation," the Tampa office of the FBI tweeted on Monday. The office's Twitter account later said "[n]o further details can be provided since this is an active and ongoing investigation."
Authorities reported Laundrie arrived at his parents' home September 1, 10 days before Petito was reported missing by her mother. Police spoke with his parents—Chris and Roberta Laundrie—on September 17, during which time the Laundries said they last saw their son on September 14.
However, if his parents were being intentionally untruthful or withholding pertinent evidence in regards to what they know about Brian's current whereabouts or Petito's disappearance, they could have committed crimes, including obstruction of justice.
Nancy Grace questioned what the Laundries may or may not have known regarding their son and Petito. Though never saying she believed they committed any crimes, Grace said during a Fox News appearance, "I'm suspicious. Was he ever even in Carlton Reserve?"
"And here's something else for you to think about. Has anybody seen him at all since he got home on September 1?" Grace added. "How long has he really been gone? Remember the parents wouldn't let the cops in the home. They wouldn't let them see Laundrie or talk to him. Has he been gone this whole time?"
Isabelle Kirshner, a criminal defense attorney and partner at the firm Clayman & Rosenberg, explained to Newsweek more on how the Laundries could have committed obstruction.
"Lying to a federal agent is a federal crime," Kirshner said. "If for some reason they said, and again this is completely hypothetical, 'Do you have any weapons in the house?' 'No, we don't have any weapons,' and they search the house and they find weapons—that could theoretically be a crime."
"If the FBI asks, 'Do you know where your son is?' and they said no, and in fact they did...That is what's called a 1001 violation, which is lying to a federal officer for obstructing an investigation," she added. (Kirshner did not in any way imply or insinuate any crime was committed by the Laundries and only spoke in hypothetical terms.)
Should Chris and Roberta Laundrie be covering anything up about what they know, that could constitute obstruction of justice. However, they could also face potential charges of making false statements to additional accessory crimes, such as aiding and abetting or accessories after the fact if they knew or believe that their son killed Petito. Such independent charges could come if authorities feel they intended to assist Brian in hiding from police or concealing evidence.
Another possible, though somewhat unlikely, scenario, is the Laundries face a charge for the misdemeanor crime of "misprision of a felony." This offense, under federal law, makes it a crime to conceal knowledge of a felony.
However, for a misprision offense, there must be evidence of active concealment, and not simply a failure to report of someone's location. Historically, the charge is usually only brought against people with a special duty to report a crime, like law enforcement officials.
Fox News reported Monday that the Laundries were removed from their home and put in a van outside while the search was conducted. After about an hour, they were allowed back inside, according to the outlet.
Chris and Roberta Laundrie told investigators on Friday that Brian left last Tuesday morning for a hike at the nearby Carlton Reserve but had not been heard from since. Police said Monday they had "exhausted all avenues" in searching the Carlton Reserve.
Update 09/20/21 4:45 p.m. ET: This story has been updated to include comments from Nancy Grace during a recent Fox News appearance.
Update 09/20/21 5:30 p.m. ET: This story has been further updated to include comments from attorney Isabelle Kirshner.