A series of significant earthquakes and aftershocks in California this weekend have already resulted in significant property damage and disruptions across the region. Located within the reach of those quakes is the Coso Volcanic Field, but government geologists say the earthquakes have not triggered any indicators of eruptions to come.
According to an alert notice published Saturday afternoon by the U.S. Geographical Survey, the southern edge of the Coso Volcanic Field saw the start of an earthquake swarm — the term for a localized series of tremors within a relatively short time frame — at 9:19 p.m. PT Friday. The swarm was kicked off by a 5.4-magnitude quake that was itself an aftershock of the 7.1-magnitude quake that rocked the region earlier in the evening.
The Coso field is located east of the Sierra Nevada mountains in the northern portion of the Mojave Desert, about 100 miles northeast of Bakersfield and about 200 miles north of Los Angeles.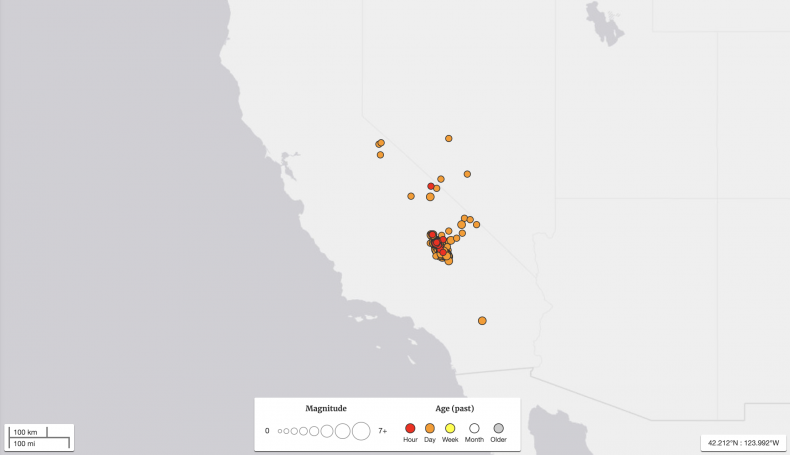 "An average of about 30 earthquakes per hour have been detected since," read the USGS alert, which said that most of the quakes were within the magnitude range of 1 to 3. The agency — which has kept the alert level at "Green," which indicates "Normal" conditions — said the quakes did not appear to set off any eruptions, and appeared unlikely to do so.
"No ground deformation indicative of volcanic activity has been detected, and there is no imminent threat of an eruption," noted the alert. "The California Volcano Observatory will continue to monitor the situation for any sign of volcanic activity and provide updates as warranted."
According to USGS, the Coso field covers about 150 square miles of ground in the region, with much of it located within the Naval Air Weapons Station at China Lake. The field is comprised of "lava domes, lava flows, and cinder cones erupted over the past 250,000 years." However, it has been about 40,000 years since the last eruption.
The L.A. Times reports that there had been — as of early Saturday afternoon — 1,400 aftershocks in the region following the larger quakes Thursday and Friday. The seismic activity has damaged buildings, roads and other infrastructure, and resulted in some fires. On the positive side, no deaths have yet to be linked to the quakes, noted the Times.
While California volcanoes did not appear to be at any heightened risk this weekend, recent earthquakes in Alaska did give the USGS reason on Friday to raise the alert level on Semisopochnoi volcano in the Aleutian Islands to "Yellow," indicating an "Advisory" status. This change was due to increased seismic activity.