Could China Suicides Hurt Apple's Image?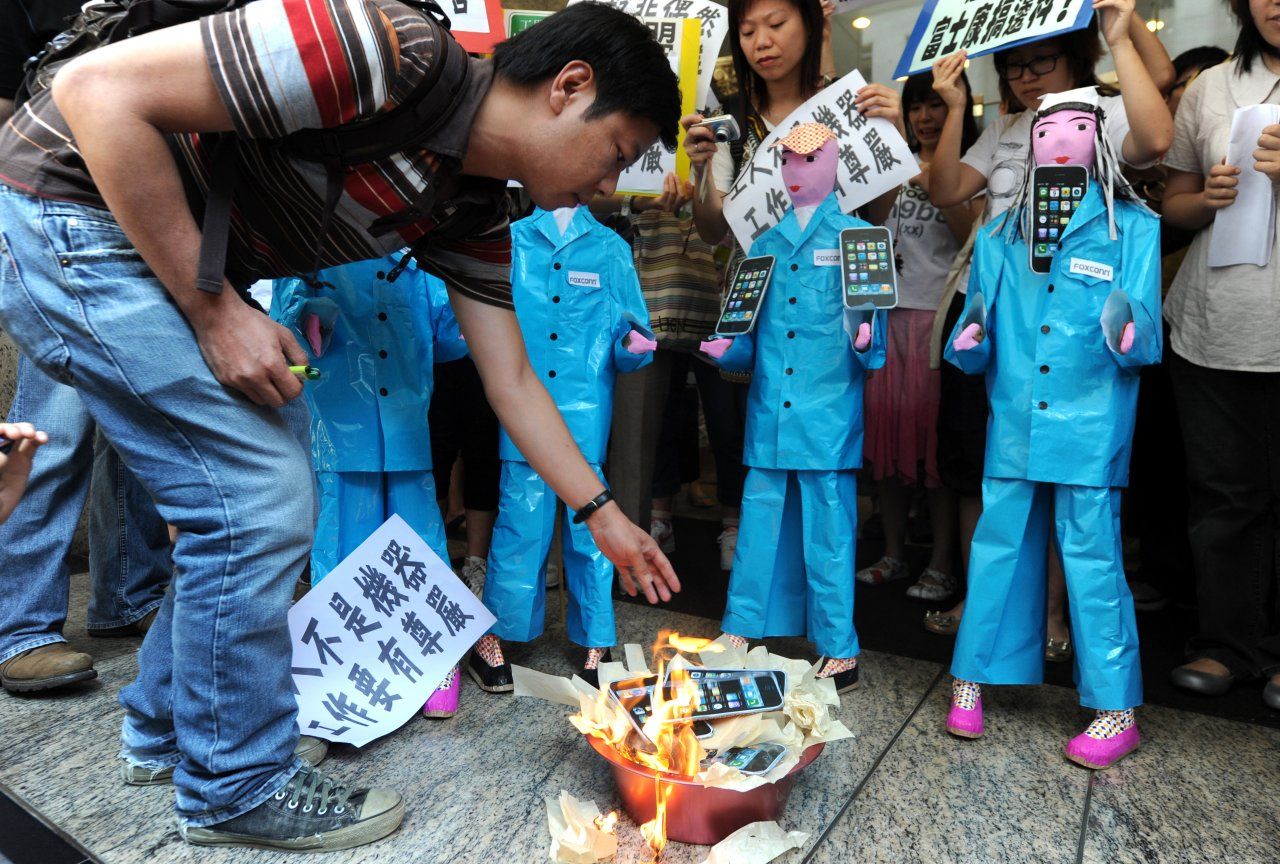 Western shoppers in general don't spend a lot of time thinking about the origins of their brand-name sneakers and electronic devices. But when a sweatshop controversy arises, it can mean trouble for companies like Nike and Gap.
So the spate of troubling suicides at Foxconn Technology Group, a major Chinese manufacturer of consumer electronics, presents a problem for companies like Apple, Hewlett-Packard, and Dell—and their gleaming, precision-engineered reputations. At least 10 workers have taken their lives this year, and another 20 have reportedly been stopped during attempts, at the massive Foxconn facilities in the southern Chinese city of Shenzhen. There, some 400,000 workers (roughly the same population as Miami) live in dormitories and manufacture products like Apple's iPhone, as well as components for Dell, HP, Sony, Nokia, and other major vendors.
Publicity over the deaths has been bad enough to bring Terry Gou, the billionaire CEO of Foxconn's parent company, to lead journalists on a tour of the plant Thursday to rebut charges that he operates a system of sweatshops. Just hours afterward, another employee leapt to his death, and one more was rushed to the hospital with slashed wrists.
The Foxconn suicides are a public relations crisis for everyone involved. As the company rushed to string safety nets around the buildings where workers live, Dell, HP, and Apple announced that they would each investigate working conditions at the supplier's facilities. Reports of conditions at the secretive company's facilities say that employees work long hours performing rote tasks to keep up with the pace of demand. Foxconn's campus has swimming pools and recreational activities, but workers say they are too tired to ever take part. Apple maintains that workers in its supply chain are limited to a max of 60 hours per week, including overtime. HP and Dell have similar supplier code-of-conduct statements.
The timing could hardly be worse. Dell is promoting its slick new Streak tablet, HP is reinvigorating its own tablet plans with a $1.2 billion acquisition of Palm, and Apple is just beginning to sell the iPad worldwide. They want consumers thinking about the bright new future their devices promise—not the masses of Asian workers who manufacture them for low wages.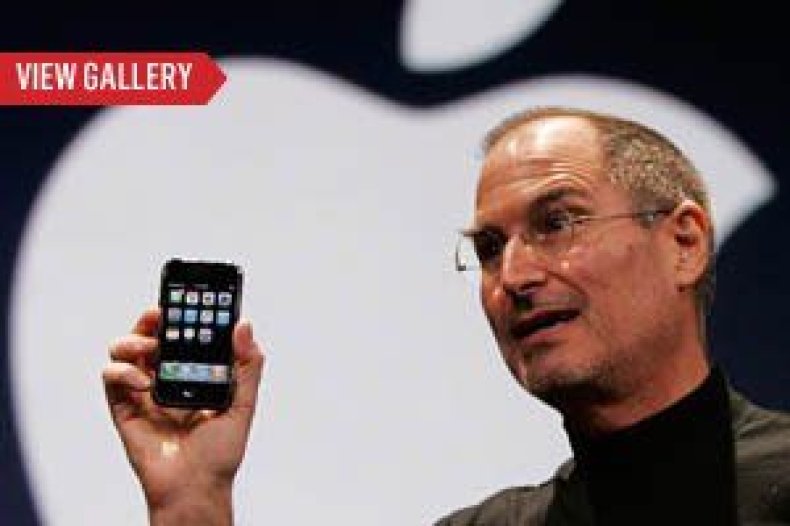 Instead of chattering about how the Android operating system will work on Dell's Streak, bloggers are wondering aloud if, given China's national suicide rate of between 13 and 15 per 100,000 (per the World Health Organization), a dozen or so suicides at Foxconn is actually below average. It's impossible to say, given the demographic differences between Foxconn's workforce and the Chinese population at large, and the difficulties of projecting the last few weeks onto a full calendar year. "If there are really 300,000 people who work at this place, then you'd expect to see many dozen suicides over the course of the year," Dr. Ian Cook, the director of UCLA's depression research program, tells NEWSWEEK. "The thing that gets everyone's attention is that they're all happening in such close timing." There's also the fact that the deaths have come on Foxconn property—primarily by workers jumping or falling from the tops of their dormitory buildings. These are not the images that Apple wants in consumers' minds as they contemplate purchasing an $829 3G iPad.
The dire situation of Foxconn workers first made headlines last July, when 25-year-old Sun Danyong leapt to his death after the company had investigated him—roughed him up, some said—as the source of a lost iPhone prototype. Apple issued a two-sentence statement.
Apple, Dell, and HP's actions appear limited. Aside from insisting on better conditions and more counseling for workers, the companies can't meaningfully change their business relationships with Foxconn—the supplier is just that big and manufactures components just that cheaply. "I'd be amazed if they could radically transform the system they have in place now," says Richard McCormack, editor of Manufacturing & Technology News and an expert on global supply chains.
Could Apple simply relocate its manufacturing to another country with a large pool of cheap labor, such as Brazil or India? "You just can't do it. You need this incredible base of knowledge," McCormack says. "The knowledge that's in an iPad, the knowledge of making all the parts that are in that product are spread everywhere in the world—but only a few companies are able to integrate it into one product." He said it has taken Apple two decades to build its supply chain and "lean manufacturing, just-in-time" model, and that as big as Foxconn is—some reports have its payroll as high as 800,000—there are many multiples of that number of people supplying its plants, mining metals, refining chemicals, making glass, and providing services like food.
Foxconn announced Friday that it would increase wages by 20 percent to boost morale and forestall the copycat effect that can follow well-publicized suicides. Meanwhile, the frenzy of coverage continues, from reporters in China and bloggers in the United States. The gadget site Gizmodo—already the object of Apple CEO Steve Jobs's fury for buying and publishing details about a lost iPhone prototype—was barely able to keep up with the pace of the suicides Thursday. "While we recently published news of the 12th Foxconn employee to attempt a suicide, and then immediately updated the story with news of a 13th jumper, those reports are already dated," Mark Wilson wrote, in an item illustrated with a TV news image of another worker sitting on the ledge of a roof. The blog Shanghaiist published what it said was a letter Foxconn is asking its employees to sign, "promising that they won't kill themselves."
As the world's largest contract electronics manufacturer, Foxconn's troubles affect a number of technology companies, but none more so than Apple. The maker of iPhones, iPads, and iPods awed the business world Wednesday when it edged past its longtime archrival, Microsoft, to become America's most valuable technology company, with a market capitalization of $222 billion. As The New York Times noted, this is despite Microsoft having greater net income ($14.6 billion to $5.7 billion) as well as cash and short-term investments ($39.7 billion to $23.1 billion)—"which makes the value assigned by the market to Apple, essentially a bet on its future prospects, all the more remarkable." That is why the Foxconn suicides can be so damaging, with so much of Apple's fortune tied up in perception. In Hong Kong this week, protesters are burning cardboard cutouts of iPhones.
What will happen in Shenzhen? "My hope would be that with all the attention that's being paid to the situation, to the workers, that this may engender some changes that will help," says UCLA's Cook. "But time alone will tell. Even in clinical practice, trying to predict suicide is one of the least reliable things for a doctor to predict."