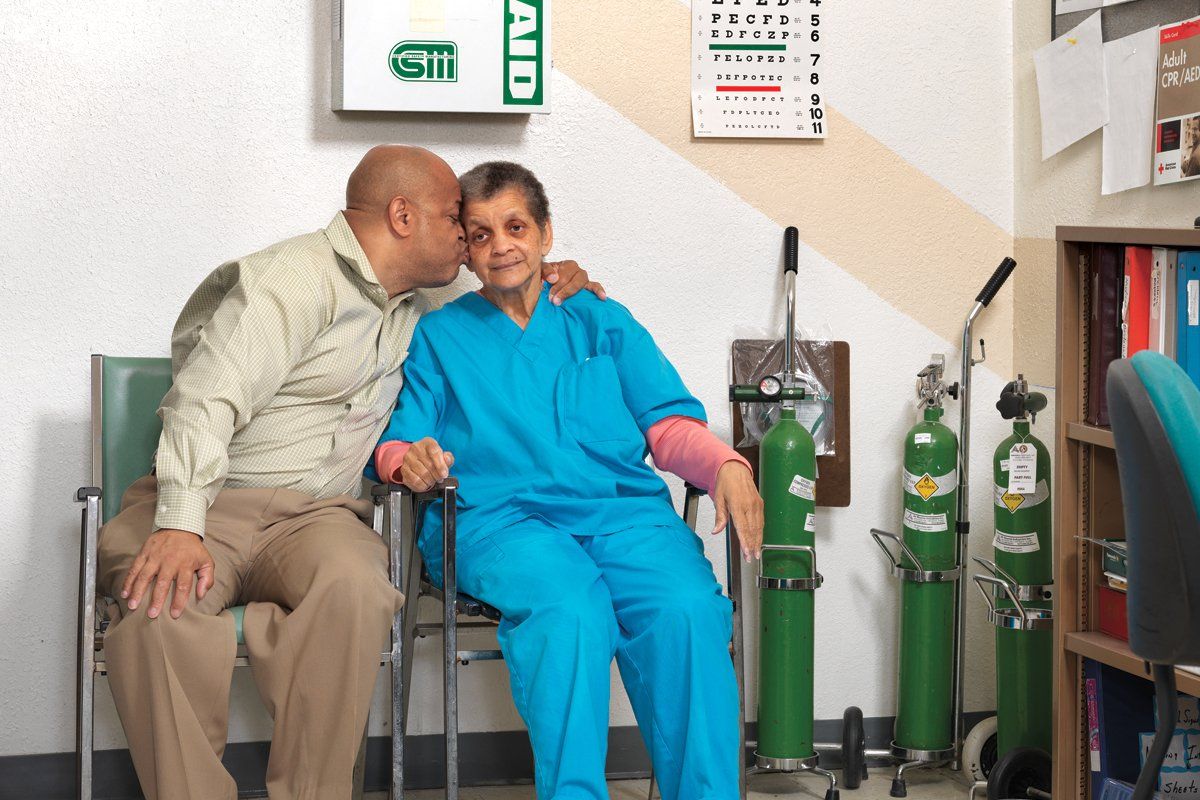 Toni Sevchuck knows that budgeting is about making tough choices: taxes vs. cuts, parks vs. prisons, health care vs. schools. But as California's austere new state budget goes into effect, the 47-year-old mostly deaf single mother is finding that her own options have run out. "I don't get to make choices," she says. "I don't have the money to make choices with."
The state's Medicaid program, called Medi-Cal in California, stopped covering dental care in 2009, so Sevchuck has had four molars pulled and is likely to lose a fifth. Last month her welfare and disability payments were cut by 8 percent each, leaving her with $1,160 in monthly aid, plus $200 a month in food stamps. After she pays her rent, she has $310 to pay all her other bills, including a $237 car payment. Each month most of her bills don't get paid. "It doesn't seem like a lot of money to most people," she says of the combined $44 reduction in her monthly checks. "But when you're in my boat, that pays your utilities."
Sevchuck's sense of dwindling options is being echoed across the state. You hear it from the 22-year-old senior at the University of California, Santa Cruz—the first in his family to go to college—whose tuition has risen 80 percent since freshman year. You hear it from the 49-year-old partial quadriplegic in Orange County who may lose the state-funded caregiver who allows her to stay out of a nursing home. And you hear it from the 55-year-old accountant in Inglewood as he braces for the end of state funding for the adult-day-care center where his 75-year-old mother, a retired schoolteacher with advanced dementia, spends her days. "Many of these cuts are hitting the same vulnerable people over and over again," says Lydia Missaelides, executive director of the California Association for Adult Day Services. "It's not sharing the pain, it's really piling on the pain."
As the nation's most populous state and the world's eighth-largest economy, California rarely does things by halves. Dreams are bigger and glossier here, and when they crash, they crash spectacularly. California's per capita foreclosure rate is the highest of any state outside of Nevada. Unemployment has reached a grueling 12 percent, nearly 3 points higher than the national average. And while nearly every state in the union faced budget deficits this year, California's was the nation's largest, at $26.6 billion. The resulting $15 billion in cuts came on top of the $22.5 billion axed in the previous two budget cycles. By way of contrast, the package of austerity cuts and tax hikes that sent rioters into the streets in Athens this spring totaled $40 billion over three years—and those cuts hadn't even gone into effect when the demonstrations started.
The numbers may be larger in California, but nearly every state in the union is reeling from the tenacious recession that put increased pressure on government services at the exact moment when there was less revenue available to pay for them. It's not just income and sales taxes that are down. Stock-market declines have whittled capital-gains-tax revenues. Foreclosures stifle property-tax income, as does a hunkered-down populace wary about building or buying new homes. At the same time, the federal stimulus funds that helped states cover the gap between revenue and expenses for the past two years are now running out, but the tax revenues they were meant to replace still haven't returned to pre-recession levels. In fact, economists don't expect to see revenues rebound before 2014. Piling on the uncertainty is the recent federal-debt-ceiling agreement that promises $900 billion in cuts over the next 10 years, cuts that could slash federal antipoverty programs like Head Start and the Women, Infants and Children nutrition program. No one knows exactly how the federal cuts will play out, but with the congressional deficit supercommittee seeking to identify an additional $1.5 trillion in cuts, it's clear that austerity is the new normal.
While there's plenty of pain to go around, no place has felt the pinch like California. The state's finances have been in upheaval since the 2001 recession, hamstrung by partisan gridlock, tax-averse voters, and an ever-expanding prison system that devours billions of dollars in funds each year. Budget gaps have been closed by borrowing and bailing wire, as clever accounting gimmicks substitute for sober belt-tightening or painful tax hikes. In 2010, Standard & Poor's was so alarmed by the state's financial fecklessness that it downgraded its bond rating to A-, the worst among the 50 states.
When voters brought Democrat Jerry Brown back to the governor's mansion last fall (he also served as governor from 1975 to 1983), he promised an end to the budget games. But in a nod to the state's still-thriving antitax movement, he also promised not to impose any new taxes without first putting them to a popular vote—something the state's Republican legislators have blocked. Stymied on the tax front, Brown balanced the budget by combining $15 billion in cuts with $4 billion in optimism. The idea was that the recovery would increase the haul from the state's existing income, sales, and corporate taxes. But so far, the rising tide has failed to flow, driving the state closer to $2.5 billion in automatic midyear budget cuts that will hit hardest in higher education, help for the disabled, and public safety.
"We're facing the unintended consequences of decisions based on a legacy of many, many bad decisions coupled with a lack of revenues, and that's of grave concern to me," says Starbucks CEO Howard Schultz, who recently lambasted the U.S. Congress for shuffling through the same partisan budget dance Californians know so well. "The social safety net is being cut not with a knife but an ax."
Anger over similar safety-net cuts helped feed five days of riots, looting, and arson in London this month, and some wonder if the same thing could happen here, where the gap between the haves and have-nots has been widening for decades. Those who have been hit hardest by the cuts are women, children, the elderly, and the disabled—groups unlikely to start ransacking their local 7-Eleven. But deep cuts to the state university system led to rowdy demonstrations last spring, and those who work with the inner-city poor point out that the triggers for civil unrest are usually only obvious in hindsight. "I'm worried about people getting so frustrated that they become angry and we have major disruptions," says Marqueece Harris-Dawson, president of the Community Coalition, a nonprofit neighborhood-organizing group in South Los Angeles, the epicenter of the Rodney King riots in 1992. "We have the same sort of problems London does. We are going to have to deal with it."
The sense of being squeezed from all sides isn't limited to the state's poor. It's true of its middle class as well, particularly those who were counting on California's storied public universities. Tuition and fees in the University of California system now top $13,000, more than double what they were in 2005, and if December's automatic cuts go through, tuition could rise even more steeply. Things are worse in the California State University system, where educational costs have doubled in four years, making it the fastest-growing tuition in the country. Aissa Canchola, a fifth-year senior double-majoring in political science and American studies at Cal State Fullerton, is trying to be the first in her family to graduate from a four-year college. Her parents were both postal workers (her father passed away her sophomore year), making the family's income too high to qualify for Pell Grants—so she has had to work 40 hours a week to cover her rising tuition and fees, now about $6,400 a year. But despite her hectic work schedule, she'll graduate with $22,000 in debt. "Not only am I going to be coming out with debt," she says, "but my opportunities for jobs are dismal in California with [just] my bachelor's degree."
The squeeze has even reached into the state's more affluent enclaves. Daniel Victor and Norma Silverman both teach on the same high-school campus in upscale West Los Angeles—he teaches English; she teaches government and history. Over the last three years, they've seen their combined income drop by about 25 percent. Part of the drop is owing to five forced furlough days last year, but the bulk is because of cutbacks in summer school and other extra classes that the two used to teach to supplement their income. "I can't even tell you how many thousands of dollars we've lost because of the cutbacks," Victor says. Meanwhile, the number of students in his AP English class has doubled—from 20 to 40.
Still, Victor knows he has the resources to weather the storm—a house, a job, savings. That can't be said for many of the state's elderly and disabled, who have seen the costs of long-term care eat away at their savings. Now comes a crushing blow. After years of last-minute reprieves, the state is poised to end its Adult Day Health Care benefit, an innovative program that allows those with significant medical or cognitive problems—brain injury, stroke, Alzheimer's—to spend their days in centers where they can receive physical and occupational therapy, emotional support, and plain old company. They're an alternative both to nursing homes and to a stultifying life as a shut-in, and they allow caregivers, many of whom are in the "sandwich generation" taking care of both children and parents, to work or care for kids during the day. But in December, Medi-Cal funding for the program is set to vanish. Without public funding (the federal matching funds would disappear, too), most of the state's roughly 300 Adult Day Health Care centers are expected to close, leaving 35,000 seniors and disabled Californians with a very uncertain future.
That terrifies Carl Hamiel, the accountant whose mother, Joann, the 75-year-old retired schoolteacher with advanced dementia, attends Graceful Senescence Adult Day Health Care in South Los Angeles. Hamiel, 55, runs a small business and owns his home. But his accounting practice took a big hit in the recession, and he has two small children to support, as well as being the sole caretaker for his mother. He doesn't have the money to pay for a full-time caregiver, so if Graceful Senescence closes he imagines he'll have to bring his mother with him to work and hope his clerical staff can look after her. "I would really, really hate to place her [in a nursing home]," he says, his voice breaking. "It's something I don't like to think about."
With Andrew Murr in Los Angeles