Could Democrats' Push for Police Reform Force a Government Shutdown?
Fresh off Congress' crushing failure to overhaul the country's policing practices, Democrats are about to force another debate on racial injustice.
But this time, the stakes are much higher: a potential government shutdown.
House Democrats are attempting to curb police brutality by including provisions of its police reform legislation in the federal government's yearly budget proposal—a back-door strategy frequently used by both political parties to force negotiations over divisive issues.
However, the move to tie the appropriations process to police reform could exacerbate lawmakers' ability to avoid a government shutdown and reach an agreement on annual spending that runs dry October 1. Congress has repeatedly struggled in recent years under President Donald Trump to keep money flowing and federal agencies running amid contentious policy disagreements, a procedure that will only become more strenuous in the shadow of the looming election.
"If Republicans want to shut down the government so police can choke people to death, they would have to explain that to the American people," Evan Hollander, a spokesperson for Democrats on the House Appropriations Committee, told Newsweek.
The funding bill, which is for fiscal year 2021 for the Departments of Commerce and Justice, the National Aeronautics and Space Administration, the National Science Foundation and other related agencies, would provide more than half a trillion dollars for criminal justice reform measures supported by Democrats.
That includes grants for greater accountability and transparency by investigating police department practices; improving police-community relations, law enforcement training and de-escalation tactics; and establishing civilian review boards.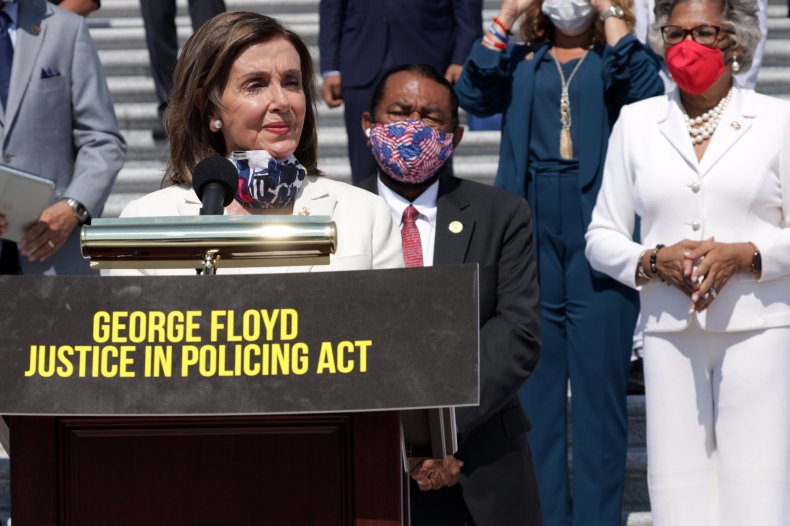 The legislation would also try to force police departments' hands by withholding funds from state and local governments that do not ban chokeholds, no-knock warrants for drug cases and police protections that prohibit internal misconduct probes.
Hollander said that Democrats' proposals in the spending bill "complements" the George Floyd Justice in Policing Act that the House passed last month along mostly party lines. And if the provisions cause a partisan impasse that leads to a government shutdown, he said, the blame should be on lawmakers from across the aisle.
Hollander added that "while Senate Republicans have blocked" the House legislation, Democrats are "looking for every avenue to secure much-needed police reform and accountability. That includes using the appropriations process to shape a more comprehensive, transparent and thoughtful approach to police use of force."
Representative José Serrano (D-N.Y.), who chairs the subcommittee whose jurisdiction includes the Justice Department, told Newsweek in an interview that Democrats' appropriations bill "takes many of the provisions from the George Floyd bill and tries to turn them into dollars and incentives for local governments to do the right thing."
"There are plenty of issues that could create a shutdown at any moment. Who knows," Serrano added. "A government shutdown is not what I'm hoping to see in any case."
Led by Senate Republicans' only Black member, Senator Tim Scott (R-S.C.), the GOP-controlled chamber was unable to advance its reform proposal last month after it was blocked by Senate Democrats, who said the measure failed to go far enough. Scott's legislation stopped short of banning chokeholds, did not address qualified immunity that protects officers from civil lawsuits and did not prohibit no-knock warrants.
The House this week is debating a series of appropriations bills. The one that includes police reform will be debated Wednesday by the Subcommittee on Commerce, Justice, Science and Related Agencies. It's expected to pass and advance to the full committee for final approval.
Congress will need to hammer out any differences the two chambers have on the federal budget and pass the series of spending measures by October 1 to avoid a government shutdown. Congress could also pass a continuing resolution, as it's done in years past, which would temporarily avert a closure and keep funding levels at their current rates to offer more time for negotiations.
The top Republican on the House Appropriations Committee, Kay Granger, has already expressed apprehension about the Legislative Branch passing its fiscal year budget on time.
"Unfortunately, we are only on our first day of subcommittee markups, and I already have serious concerns about our path forward," the Texas Republican said Monday. She cited disagreements that Republicans had with separate spending bills offered by House Democrats to fund various portions of the federal government.
A GOP spokesperson for the panel did not respond to Newsweek's inquiry.
House Appropriations Chairwoman Nita Lowey (D-N.Y.) said in a statement that as the country confronts "the twin crises of coronavirus and systemic racism, the American people are demanding action to build safer and stronger communities for all people."
This story was updated to include comments from Rep. Serrano.