Could Donald Trump Beat Chris Christie in 2024? What Polls Say About Potential GOP Rivals
Former New Jersey Governor Chris Christie and former President Donald Trump could once again face off for the Republican presidential nomination and polling indicated Trump could come out on top, just as he did five years ago.
Christie was among the first to endorse Trump when he ran for president in 2016, but the two have since gone from being strong allies to trading jabs. Neither man has committed to making a presidential run in 2024, but Christie has said he felt that Trump may not be the right man for the job and he won't back down from mounting his own campaign just because the former president decides to throw his hat into the ring.
Trump regularly has led polling on hypothetical matchups for the 2024 Republican nomination for president and earned 33 percent support in a Harvard CAPS/Harris poll in October. Nearly 70 percent of Republicans surveyed in a Morning Consult poll in October wanted Trump to run, as well.
While Trump commands the lead over the hypothetical picks for the 2024 GOP presidential nomination, Christie hasn't even made the list in many of the surveys. However, a September survey from John Bolton's Super PAC found Christie had significantly less support than the former president.
About one in four people surveyed said they would vote for Trump in the Republican primary and only about 7 percent said they'd support Christie. Although Christie still trailed Trump, the survey represented a 20 point drop from the support Trump saw in July, according to the Bolton Super PAC.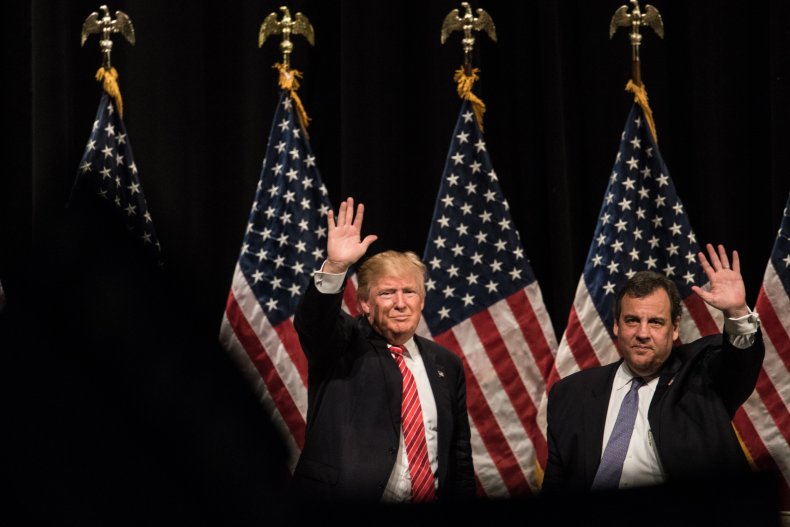 Months after Christie helped to prepare Trump for a debate against President Joe Biden, a mass of the former president's supporters descended on the Capitol on January 6, a moment that fractured Christie and Trump's relationship.
Having known each other for more than two decades, Christie "desperately" attempted to get in touch with Trump on January 6 to advise him on what his next moves should be and how he could quell the violence. However, Christie said he was unable to get in contact with the former president and instead told ABC News on January 6 that Trump doing anything less than telling people to leave the Capitol was an "abdication of his responsibility" as president.
Trump has drawn a line in the sand with many of his former allies over their criticism of his handling of the Capitol riot and Christie has since found himself in Trump's crosshairs.
"Chris Christie, who just made a speech at the Republican Jewish Coalition (RJC) in Las Vegas, was just absolutely massacred by his statements that Republicans have to move on from the past, meaning the 2020 Election Fraud," Trump said in a recent statement. "Everybody remembers that Chris left New Jersey with a less than 9 percent approval rating – a record low, and they didn't want to hear this from him!"
Christie responded to Trump's statement on Sunday, telling Axios in an interview that he won't get into a "back-and-forth" with Trump.
"But what I will say is this: When I ran for reelection in 2013, I got 60 percent of the vote," he said. "When he ran for reelection, he lost to Joe Biden."
While Christie may have had a more successful reelection bid than Trump, he struggled in the 2016 presidential race against the brazen New Yorker. Christie dropped out of the race after a lackluster performance in New Hampshire, where Trump won the primary with 35 percent of the vote. He's so far failed to gain traction in polls measuring the appeal of hypothetical GOP candidates.
Christie, like Trump, has been teasing a 2024 presidential run and recently said he hasn't committed or ruled out a potential bid for the White House. He previously said he's likely to make a decision after the 2022 midterms, adding that he won't "defer" his decision-making to anyone, including Trump.
The former New Jersey governor told the New York Times he didn't think Trump would be an effective voice in the GOP if he keeps his focus on the 2020 presidential election, which he believes was "stolen" from him. Christie said Trump's actions were designed to "instill fear" in other Republicans.