Could Donald Trump Beat Joe Biden, Kamala Harris in 2024? What the Polls Show
Former President Donald Trump may be gearing up for a 2024 presidential run and recent polls indicated a rematch between Trump and President Joe Biden or Vice President Kamala Harris could go in his favor.
Trump's been hinting at a 2024 presidential run since he left office and has all but said he planned to make a bid for the White House. Biden also intends to run for reelection in 2024 and if he does, it's likely the Democratic Party would throw its weight behind the incumbent president, but his falling approval rating could spell trouble for him in a head-to-head matchup with Trump.
Amid the continuing COVID-19 pandemic and America's withdrawal of troops from Afghanistan, Biden has seen his approval rating drop. While his average approval is still above where Trump's approval was at this point in his presidency, a new poll from Quinnipiac University found the two were on even footing.
"Battered on trust, doubted on leadership, and challenged on overall competency, President Biden is being hammered on all sides as his approval rating continues its downward slide to a number not seen since the tough scrutiny of the Trump administration," Quinnipiac University Polling Analyst Tim Malloy said in a statement.
A national Emerson College poll released in September gave Trump a slim edge over Biden in a hypothetical 2024 matchup. Favored to win 47 percent to 46 percent, Trump's edge was within the poll's margin of error of 2.7 percentage points, which indicated that if the election were held today, it could go in either candidate's favor.
While Trump had low approval ratings throughout his presidency, it's possible voters are seeing him in a different light after he left office. His approval rating in Iowa is higher than it was during the entire course of his presidency, according to a Des Moines Register poll, and a Harvard CAPS-Harris poll in September found voters were drawn more to Trump than they were to Biden.
When asked who was a better president, Trump or Biden, 51 percent of those surveyed picked Trump and 49 percent went for Biden. Trump had slightly more support as the better president among GOP voters than Biden had with people in his own party and independents were evenly split on who was better.
"The mounting issues on all fronts have led to the surprise conclusion that Trump is now seen as good a president as Biden, suggesting the honeymoon is being replaced now with buyer's remorse," Mark Penn, the co-director of the Harvard CAPS-Harris Poll survey, said.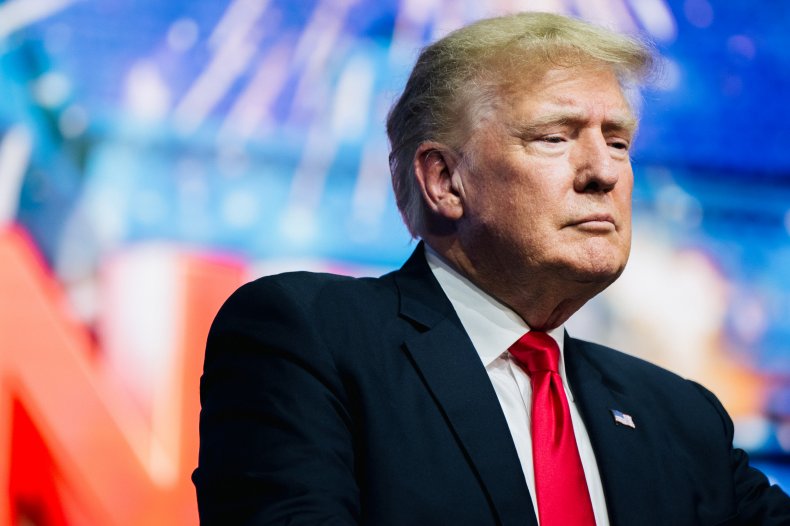 It's unlikely many Democrats would vote for Trump and Republicans would vote for Biden in a 2024 matchup, making the need for voter turnout and appeal to independents vitally important. Nearly nine months into Biden's presidency, independents appear to be souring on the president's handling of his job and a September Gallup poll found a 14 point decline in Biden's approval rating since January. His approval rating among independents has been declining since June, according to Gallup, and fell to 37 percent in September.
Incumbent presidents generally run for reelection and only five have decided not to run after assuming the office, so it's likely that Biden will choose to run for a second term. It's unlikely Harris will make a bid for the office if Biden is also looking toward being the Democratic nominee for president, but there's speculation she'll run if he doesn't.
"I think ultimately in 2024 President Trump does run again. At least that is my hope," former Trump advisor Jason Miller said on Fox Business on October 8. "But I don't think it will be against Joe Biden. I think it will be a [Vice President] Kamala Harris or maybe a [California Governor] Gavin Newsom."
Harris' approval rating is still underwater, but polls indicated it may be rebounding and the Gallup poll found she had a 49 percent approval rating, six points higher than Biden's. Her approval rating was higher than Biden's among Independents, at 46 percent.
A poll from McLaughlin and Associates, a polling firm that Trump used during the 2020 campaign, found Trump came out on top of Harris in a hypothetical matchup. When asked who they would vote for if their choices were between Harris and Trump, 49 percent of those surveyed picked Trump and 47 picked Harris. Nearly the same split, 50 percent to 47 percent, would vote for Trump over Biden if they were the two nominees.
While a president is essentially campaigning for his reelection from his first day in office and the 2024 election is in the back of everyone's minds, both parties are more heavily focused on the 2022 midterms. Trump vowed to help Republicans who align with his vision to win in 2022, with the hope being that Republicans regain control of Congress.
Trump's candidates winning the 2022 midterms bode well for his potential reelection and give him leverage over those in the GOP who want to move past the former president. Mary Trump, the former president's niece, believes it'll give him the confidence to mount his own campaign and that Republicans losing in 2022 could spell an end to Trump's bid for another term in office.
Update - 10/11/2021- 4:45 PM ET - This story's headlines was updated to reflect that this story is focused on results from multiple polls.