Could Doug Jones Kill GOP Tax Bill After Winning Alabama Senate Seat?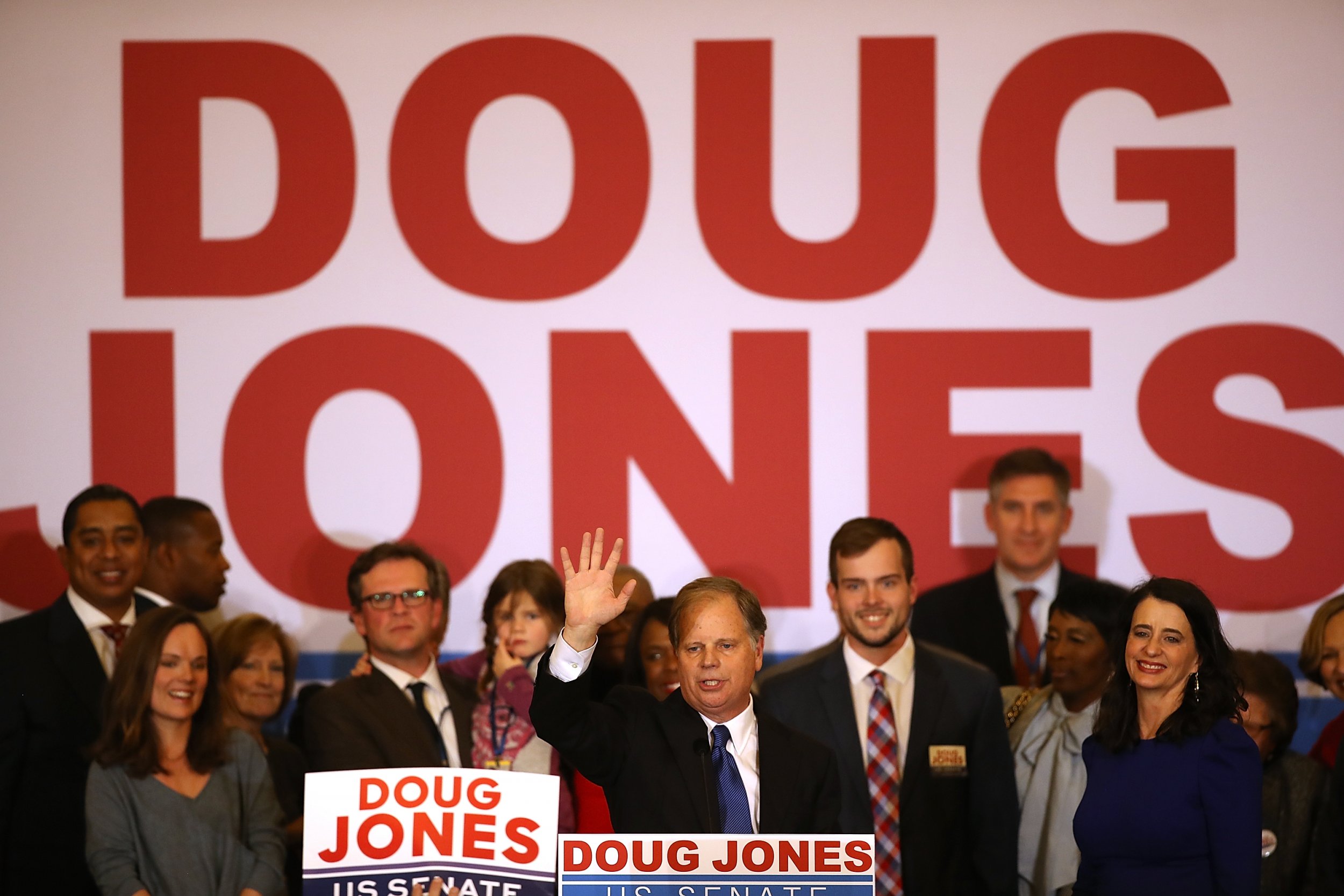 Following his historic upset Tuesday night, could Doug Jones, the Alabama senator-elect and Democrat, kill the GOP tax bill?
Less than 12 hours after the Democrat defeated Republican Roy Moore, at least five senators have called on Senate Majority Leader Mitch McConnell to seat Jones immediately and delay a final vote on the legislation until he is sworn in. That number will grow Wednesday morning, with Democratic Minority Leader Chuck Schumer planning a press conference "to urge GOP to slow down Republican tax bill in Senate," according to Frank Thorp of NBC News.
"The people of Alabama have spoken. Republicans and the administration must drop their partisan attempts to rush a corporate handout through Congress until Senator-Elect Jones is sworn in. #GOPTaxScam," tweeted Oregon Democrat Senator Ron Wyden.
Such a request by Democrats is not without precedent, as they afforded their Republican colleagues such a courtesy in 2010 when they held the majority, allowing former Republican Senator Scott Brown to take his seat after he won a Massachusetts special election. Following that election, then–Senate Majority Leader Harry Reid said, "We're going to wait until the new senator arrives until we do anything more on health care."
Expect Schumer to invoke this exact example at his press conference.
So what is the timeline on the GOP tax bill?
The House and Senate have passed different versions of the legislation and are currently in conference ironing out their differences. The tentative plan is for Republicans to unveil their consensus bill Friday, bring it to the Senate floor Monday, and then have the House take its vote either Tuesday or Wednesday.
The original Senate version of the tax bill passed 51-49 at the start of December, with GOP Senator Bob Corker joining all 48 Democrats in opposition. However, recent indications are that GOP Senator Susan Collins, who authored an amendment restoring property tax deductions and was promised the passage of separate health care legislation in exchange for her vote, is not a definitive yes. A no vote from Collins would bring the vote to 50-50, a tie that Republican Vice President Mike Pence would have to break.
Jones has not declared which way he would vote on the legislation, but Democrats and Republicans alike expect he would join every member of his party in opposing the tax plan.
With a 51-49 majority, instead of the current 52-48 legislation, two Republican no votes would sink the legislation, which is why McConnell is highly unlikely to replace current Alabama Senator Luther Strange, a Republican, until tax reform is on the president's desk.
Tuesday, prior to the election, McConnell said as much. "Sen. Strange is going to be here through the end of this session," the majority leader said when asked by reporters about the tax bill.
So no, Jones is unlikely to change the calculus on the GOP tax bill—but if negotiations between the House and Senate hit a snag and progress is delayed, look out.