Could Gavin Newsom Beat Trump in 2024? His California Status Could Be His Downfall
It's been 40 years since an American presidential candidate won in a landslide and a hypothetical 2024 matchup between former President Donald Trump and Governor Gavin Newsom would likely be a hard-fought race.
Having survived the effort to remove him from office in a decisive recall victory, Newsom is headed for a successful bid for reelection in 2022. If he wins, that'll be the end of his gubernatorial road, as he can't run for another term, and with the necessary resume and charisma behind him, Newsom's name has entered the conversation as a potential formidable presidential candidate.
However, the same quality that could help him win voters over—his leading the most populous state—could also be his downfall.
"People look at him and see him looking like your classic, good looking, smart, technocratic Californian," Spencer Critchley, a communications adviser on both of former President Barack Obama's campaigns, told Newsweek.
A born and bred Californian, Newsom will have to fight the narrative that he's out of touch with the plight of those in middle America. California lost a seat in Congress for the first time because of population decline and while the percentage of Californians who actually left is small, according to data from the state, an estimated 180,000 people moving away fuels the narrative that residents are leaving California en masse.
As a state that's been considered a mecca since the mid-1800s Gold Rush, the population decline has opened a door to attacks on California's wildfires, which have prompted power outages, homelessness and the high cost of living.
The question of why people are leaving California would likely be on the minds of voters in middle America and swing states, including the key one of Pennsylvania, according to Mark Weaver, a Republican strategist. The answer, Weaver predicted, would be Newsom, which poses a problem for him as a presidential candidate who needs to win over voters in those states.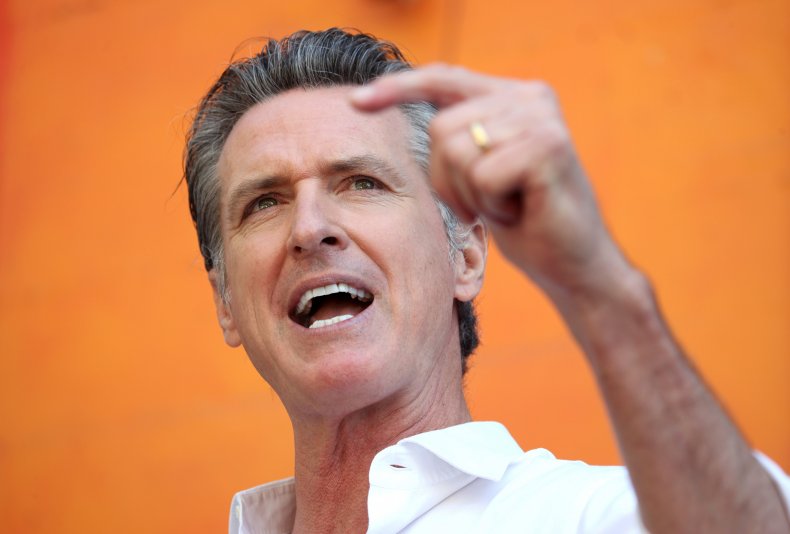 Being a "coastal elitist" wasn't a problem for Trump, a born and bred New Yorker. A billionaire who lived in a New York City penthouse, Trump connected with the "forgotten men and women" of America in rural areas. In 2016, he was the candidate who understood their problems and had the potential to solve them.
It was also one of the strengths that drew voters in states Trump won in 2016 to President Joe Biden. With a "natural gift" for communicating with people in an authentic, emotional way, according to Critchley, Biden marketed himself to voters as a moderate Democrat who understood the needs of the middle class, having grown up in a Scranton, Pennsylvania, family that felt the effects of a local economic downturn.
Newsom would have to tap into that same emotional connection Biden evoked with voters, according to Michael Hopkins, senior vice president of Firehouse Strategies, but he can't try to run the race Biden did. He would have to find a way to "tell his story," which Hopkins noted could be difficult to do if he's up against Trump because the Republican firebrand "sucks the air out of everything."
The California governor seems focused on securing another term in office and at this point in time, there's no reason to believe that Biden and Vice President Kamala Harris won't run for reelection. Every expert Newsweek spoke to couched their comments on Newsom's potential around the hypothetical situation that Biden and Harris weren't vying for a second term in office. While their not running could open the door for Newsom's candidacy, Weaver said the California governor would have to overcome a despondent Democratic voting base.
If Biden doesn't run, Weaver said it's likely because of one of two "devastating things"—he's not up to the job or the economy has tanked. In the economic scenario, Trump could play up America's pre-COVID economy, although it would require him to stay on message, which Weaver acknowledged is difficult for the former president to do.
Regardless of why Biden hypothetically isn't running, Weaver said a one-term president means "something went wrong" and discouragement among Democratic voters could impact voter turnout.
Trump's known to rally voters to the polls, both because they support him and oppose him, but since America's not a "landslide country" anymore, Democrats staying home could give Trump a nose over Newsom.
"I'm not sure Newsom can beat Trump," Michael Gordon, a Democratic strategist, said. "Biden won as a moderate, appealing in large part to swing voters in swing states. Newsom is easily painted as a Californian who eats at the French Laundry and who is out of touch with the Midwest, Southern and Western voters who will decide the next election."
Newsom dining out at French Laundry, a northern California restaurant, during the pandemic sparked criticism that he's a hypocrite and it's likely to follow him to the 2024 election. But, it wasn't enough to get California voters to oust him from office. Winning the recall could give him an "underdog status," according to Hopkins, and the narrative that a candidate is a "survivor" is often beneficial.
Having served as the mayor of San Francisco, lieutenant governor and governor, Newsom has the resume and Hopkins said he could tout his experience as an entrepreneur in courting small business owners. Hopkins also saw him having a "Kennedy-esque" appeal to voters, sharing the charisma and political background of former President John F. Kennedy.
Trump also hasn't officially announced he's running for president and is likely to wait until after the midterm elections. However, he's consistently teased the possibility of a return to the campaign trail since leaving office and Hopkins advised Democrats against underestimating the former president or chalking up his potential run to a "joke."
"Trump could take back the White House no matter who his opponent," Critchley said, although he believes a Biden, Harris ticket would make it "really hard" for Trump to win.