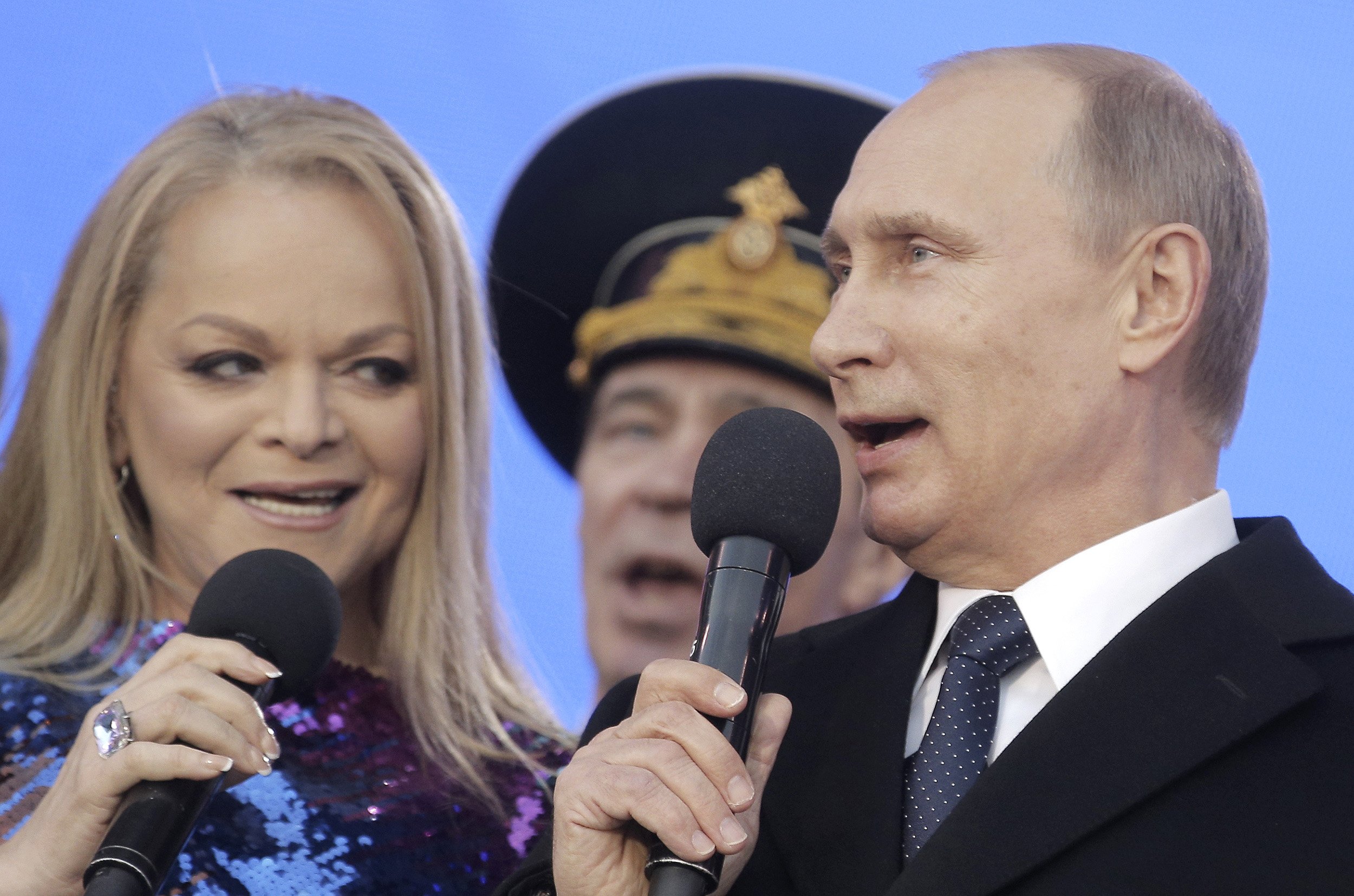 Mockery of Russia's national anthem could soon be a criminal offense that may land you a year-long jail sentence, Russian state news agency Itar-Tass reports.
Three members of Russia's upper house of parliament and one of Russia's lower house of parliament drafted a bill to increase punishments for desecrating Russia's "musical symbol." Currently, desecrating the national anthem of Russia is an administrative offence and anyone seen or heard mocking it can be fined between $45 and $2,200. However, the members are seeking to push the bill through after an incident in Russian-annexed Crimea in April.
During a public gathering of experts in Crimea's Simferopol, the group were due to sing the Russian national anthem, but a screen on which the lyrics were projected featured a changed text reportedly referring to Russia as a "mindless country."
The new bill, which was submitted for a parliamentary vote earlier this week seeks to apply the ban on parodying the national anthem not only in public performances but also in recordings online.
It defines the offense of mocking the national anthem as acts of "deliberate distortion of the musical arrangement or lyrics of the national anthem of the Russian Federation during its public performance or when published in the media, in the press, including on electronic and telecommunications networks such as the internet."
Vadim Tyulpanov, one of the parliamentarians behind the law, said it was intended as a defense of Russia's national symbols. "We are proposing changes to the penal code that would allow us to legally defend all state symbols of Russia, because any mockery of them is hurtful for the nation and the country as a whole," he said.
An exact date for the vote has not yet been scheduled, though Russia's Supreme Court has already voiced approval of the bill.
Russia's current national anthem has retained the music originally adopted as the Soviet national anthem by Joseph Stalin in 1944. The lyrics have varied considerably, having gone through a handful of changes after Stalin's death and in the decades after the collapse of the Soviet Union.
The anthem was scrapped in 1990, two years before the Soviet Union ultimately devolved into the Russian Federation and other sovereign republics. However, with Russian President Vladimir Putin's election the bombastic theme was reinstated as Russia's national anthem in 2000, albeit with new lyrics commissioned.
Mentions of the "indestructible union" and the "immortal ideas of Communism," were lifted out and instead the anthem came to hail the "sacred" and "beloved" Russia.