Could Newt Gingrich Help GOP Win 2022 Midterms as Party Turns to Him for Guidance?
Republicans are turning to Newt Gingrich to help them adopt a 2022 agenda that can help the party win back control of Congress.
The Washington Post reported Thursday that the former speaker of the House of Representatives was teaming up with Minority Leader Kevin McCarthy to come up with a list of policies to prioritize during the upcoming election cycle.
"[McCarthy] really does want to drive home that we can't just have a negative anti-Biden campaign — we need a positive message, too," Gingrich told the newspaper. "I think that's clearly what McCarthy wants to do and I've offered to look at stuff and offer advice. There's lots of people in the House working on it. It will be a widespread commitment."
Susan Del Percio, a Republican strategist, told Newsweek Republican leaders likely selected Gingrich because of his "historical background of coming up with good messaging that was very helpful to Republicans."
As the Post noted, Gingrich's "Contract with America" helped Republicans take over Capitol Hill in the 1994 elections. It was the first time the GOP took control in roughly 40 years, and Gingrich was elected as speaker of the chamber.
"Among base Republican voters, Newt Gingrich is a known quantity," Mark Weaver, a veteran GOP consultant in Ohio, told Newsweek. "And many of our base voters have fond recollections of the 1994 revolution that brought Republicans back into the majority for the first time since the 1950s."
The "Contract with America" outlined legislation that was to be enacted by the U.S. House in the first 100 days if Republicans were in charge. The proposals included tax cuts, a balanced budget amendment, rolling back government regulations and stopping violent crime. Many of the initiatives were later passed.
"He probably will go back to some kind of fiscal restraint," Del Percio predicted. "That actually was very high on his agenda back in the 90s, and it does still resonate with Republicans and independents."
Del Percio also guessed that the party may also spend a good amount of time discussing immigration and critical race theory, the latter of which saw some success for the GOP in the 2021 elections.
But strategists say Republicans should stick to kitchen table policies like the economy.
"They should probably use inflation, inflation, inflation as their one, two and three issues," Del Percio said.
Weaver argued that there's nothing more important in the general election than pocketbook issues.
"This is what most Americans are angry about," he said. "Average Americans feel let down by this president and it is hurting them right in their wallet."
Inflation is at a 40-year high amid supply chain constraints and significant demand from consumers. The Consumer Price Index rose seven percent in the year through December, according to the Department of Labor. Americans say Biden bears responsibility for the increase in prices, polls have shown, and he has received low marks on the economy overall.
Newsweek reached out to McCarthy's office for comment on working with Gingrich but didn't receive a response before publication.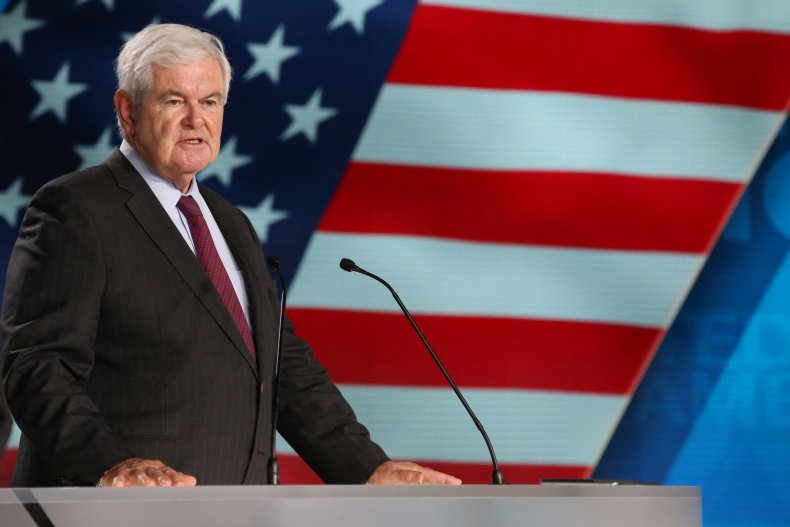 Del Percio said one potential hiccup with the policy priorities coming from McCarthy and Gingrich is former President Donald Trump.
Trump has vowed to play an influential role in the 2022 midterm elections. He's already issued dozens of endorsements in federal, state and local races around the country, backing candidates who are supportive of him and his presidency.
"The biggest problem in all of this planning is that no one knows what Donald Trump's gonna say," Del Percio said.
The report of Gringrich joining House Republicans to create a roadmap for 2022 comes just after President Joe Biden questioned what the GOP's agenda is besides obstructionism.
"I did not anticipate that there'd be such a stalwart effort to make sure that the most important thing was that President Biden didn't get anything done," Biden said during a press conference on Wednesday. "Think about this: What are Republicans for? What are they for? Name me one thing they're for."
Biden also asked how Trump, being out of office for a year now, could "intimidate an entire party?"
McCarthy disagreed with Biden's statements that the GOP has blocked his agenda and listed some of the things the party supports during their weekly press conference on Thursday.
"We want to answer that question for him," McCarthy told reporters. "We're for kids in school. We're for food on the shelves. We're for America independence in energy, lowering the gas price so it doesn't harm us. We're for stopping runaway spending so we don't create runaway inflation like they have."