If Omicron causes less-severe COVID-19 cases than Delta in the U.S., it could help prevent surges in hospitalizations, but large numbers of people with even mild cases could fuel spikes in people who feel the lasting effects of the disease.
Post-COVID clinics across the country are predominantly seeing patients who are young, generally healthy and only had only a mild case of COVID-19. While they were able to successfully fight off the infection, these post-COVID patients can struggle with fatigue to the point that they can't hold a job, and it's possible the highly infectious nature of Omicron could mean more people seek out post-COVID care.
"If Omicron infects a lot of unvaccinated people, we will have a flood of post-COVID patients," said Dr. Panagis Galiatsatos, a pulmonary physician and professor at Johns Hopkins Hospital. "This is a massive argument to get the vaccine. It seems to be the best weapon to fight it."
The bulk of America's earliest Omicron infections have involved vaccinated individuals, so the variant has shown it reduces the efficiency of the COVID-19 vaccines. Although more data is needed to know for certain, health officials don't expect the variant will render vaccines useless, but the diminished efficiency means booster doses are increasingly important.
Vaccines may help prevent a person from experiencing post-COVID symptoms, which would give America an advantage in the coming surge that it didn't have in the pandemic's first year. However, almost 30 percent of adults still aren't vaccinated, putting themselves at an increased risk of contracting COVID-19 and potentially needing care for post-COVID.
Post-COVID patients generally fall into two categories: those who need additional therapy because they were in intensive care units and those who had a mild case but are dealing with long-term effects. Galiatsatos told Newsweek the latter is a cohort of patients that surprised experts, but clinicians at post-COVID clinics across the country say they account for a larger percentage of patients.
"We're seeing a lot of frustrated patients. They all have the same kind of complaints, but [it] seems like there's nothing wrong with them," Rany Condos, the director of the post-COVID program at NYU Langone Health, said. "The problem is we may identify a symptom but have no clear-cut way of how to help."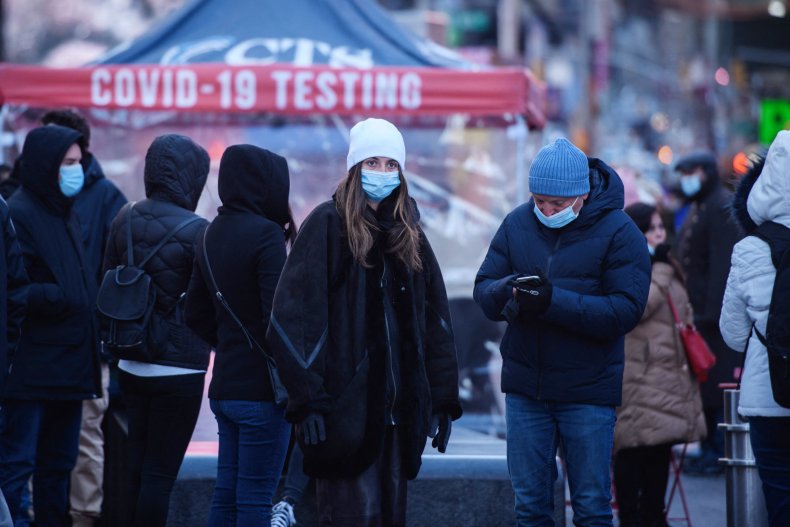 Galiatsatos said some of his patients, who are generally young, healthy men, have had such bad fatigue that they lost their jobs and saw relationships ruined. He's even had to help some people apply for disability payments because their post-COVID symptoms are so severe they can't work.
The Social Security Administration doesn't have exact numbers for the number of applicants who have sought disability payments because of COVID-19, but it said 16,000 applications have mentioned COVID-19. This might not be the primary reason for applying, though, and the department did not have data on how many applications were denied.
It's difficult to quantify how many people who contract COVID-19 experience post-COVID, and, of those people, how many find it debilitating. However, Dr. Catherine Le, a director at the Cedars-Sinai Medical Center's COVID clinic, said that even if only 10 percent of COVID-19 patients experience post-COVID, it's a "huge number" of people.
Paul Palazzi, 71, who spent five days in the hospital with COVID-19, was still significantly fatigued seven months later. He used to be able to get by on five or six hours of sleep, but after recovering from COVID-19 he's sleeping about 10 hours and needs a nap during the day.
"There are 10 steps between the basement and the first floor. I can go down those steps no problem to throw clothes in the washing machine. Then, if I can do four or five steps coming up, I'm ecstatic, because there were times I made it two or three steps and I had to sit on the steps and wait it out until I could breathe again, " Palazzi said.
After months of finding he's no longer able to be the active person he was just a year ago, Palazzi said, he's "tired of being tired" and knows some doctors brush it off as something that could improve with time. He knows they're right, that it will get better, but he asked, "What is the definition of better?"
"You don't realize how precious a breath of fresh air is until you can't take one," Palazzi said.
Along with fatigue, brain fog is one of the most common symptoms clinics see in younger people who weren't hospitalized with COVID-19. Le said that it's enough to affect their lives and that increased cases could create an "aftershock" of post-COVID patients that the health care system will have to deal with.
There's no one-size-fits-all treatment plan for post-COVID, which can require a patient to work with several doctors at one center to address the varying symptoms. While several experts see the coordinated approach as an example of how medicine should be handled, pandemic or not, it means people can have to wait months to start their treatment.
Dr. Fernando Carnavali, who works at the Mount Sinai Health System's post-COVID care center, said he doesn't think Omicron will cause a crisis for post-COVID care because infrastructure is in place now that wasn't present after the first surge of cases. He's starting to see a slight decrease in demand for post-COVID care and is confident more patients can be absorbed if warranted.
Just because Omicron may cause milder disease doesn't necessarily mean the number of people who will need post-COVID care will increase, Carnavali said. However, he said it is necessary to continue training health care workers to treat people with post-COVID and to keep centers in place so America is "ready to go instead of being caught off guard."