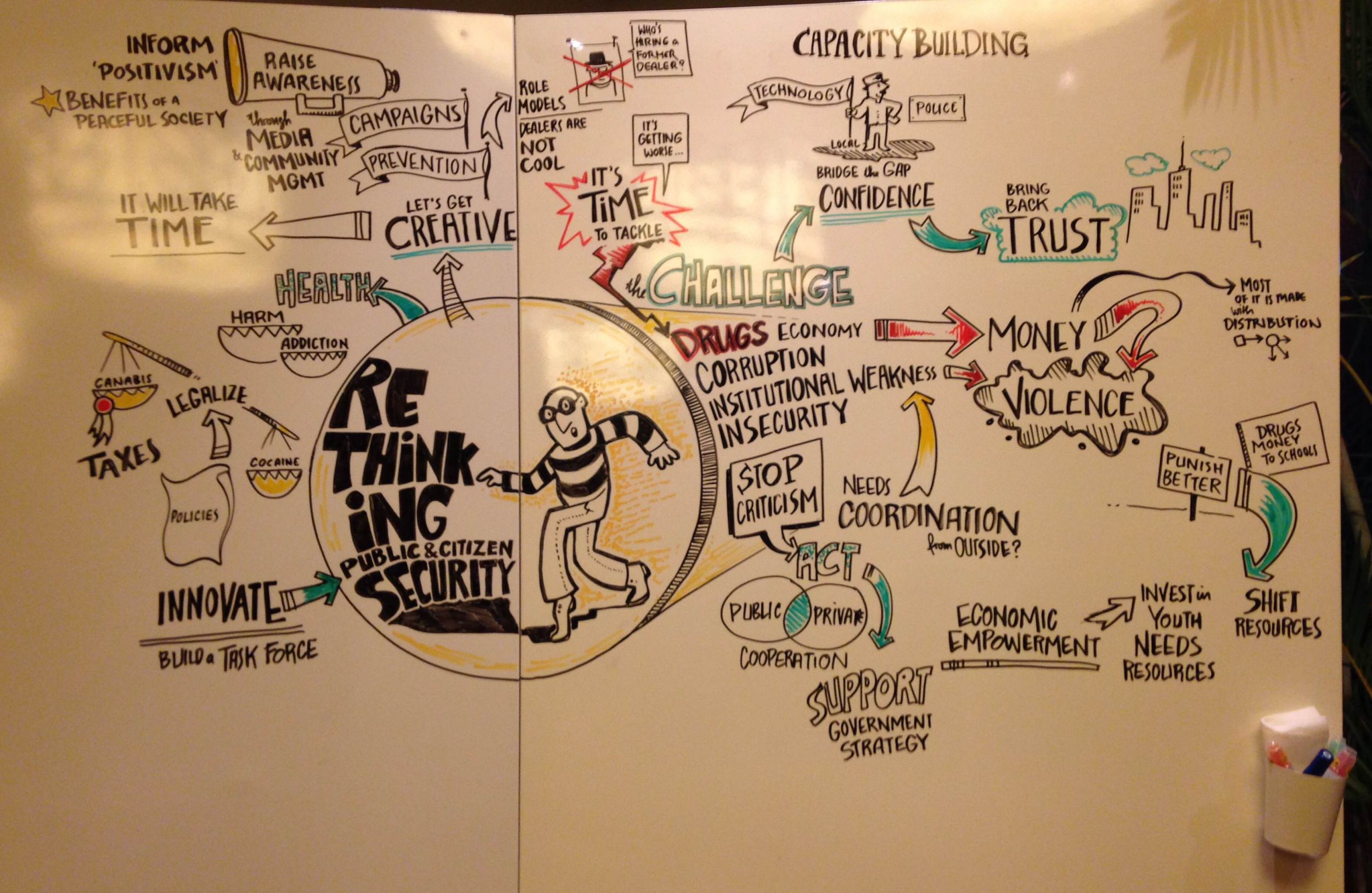 PANAMA CITY - If a reality show can reduce teenage pregnancies, why couldn't you make one to do the same for drugs? That was one of the ideas put forward at a forum on drug policy in Panama on Wednesday.
16 and Pregnant, the American reality show about the hardships of teenage pregnancy, led to a slight reduction in teen births in the 18 months after its debut, said Andrea San Gil, referencing a recent study by economists from Wellesley College and the University of Maryland. So why, she wondered, can't a similar show be created to deter people from indulging in drugs?
Around 650 people have gathered at the World Economic Forum Latin America in Panama City, Panama, to discuss drug policy, insufficient investment in infrastructure, climate change, and other issues affecting the region.
For Guatemalan President Otto Perez Molina, the drug trade and its violent fallout top the list of the greatest challenges affecting Latin America. Prohibition has failed, he says, and the only ones who have adapted to the ever-evolving landscape have been drug traffickers. "We have to think outside the box, we have to be creative, we have to be innovative," said Perez Molina.
A debate on drug decriminalization is sweeping over the region, which has been plagued by a deadly drug war and high unemployment. In December, Uruguay became the first country in the world to legalize the cultivation, sale, distribution and consumption of cannabis. Colombian President Juan Manuel Santos and former Mexican president Vicente Fox have called for the legalization of marijuana. In Mexico City, small amounts of pot for personal consumption are legal.
During a session on "Rethinking Public and Citizen Security" at the three-day conference, San Gil and the other participants said one of the first steps in countering the illicit drug trade—which is often glorified in Mexican music, novels and film—is taking the glamour out of it.
Selling drugs "should not be a socially acceptable job," said Gustavo Murillo Lopez, from Culiacan, Sinaloa, the cradle of the drug trade in Mexico. "Narcos should not be admired."
Other participants suggested limiting soap operas that exalt narco-traffickers to late night programming, and expanding programs for young people to visit prisons and meet those behind bars for drug offenses. As people split into different focus groups—economic empowerment, innovating policies and current best practices, raising awareness through media and community management, and solutions and examples of public/private cooperation—an aide drew cartoon versions of the suggestions on a whiteboard.
Among the more creative ideas: legalize pot and exploit the "cool factor." Members of a group talking about economic empowerment suggested that rather than let its production and distribution descend into a mass-market "Marlborization," governments could promote a model based on microbreweries.