Could Russia Have Stopped the U.S. Strike on Syria?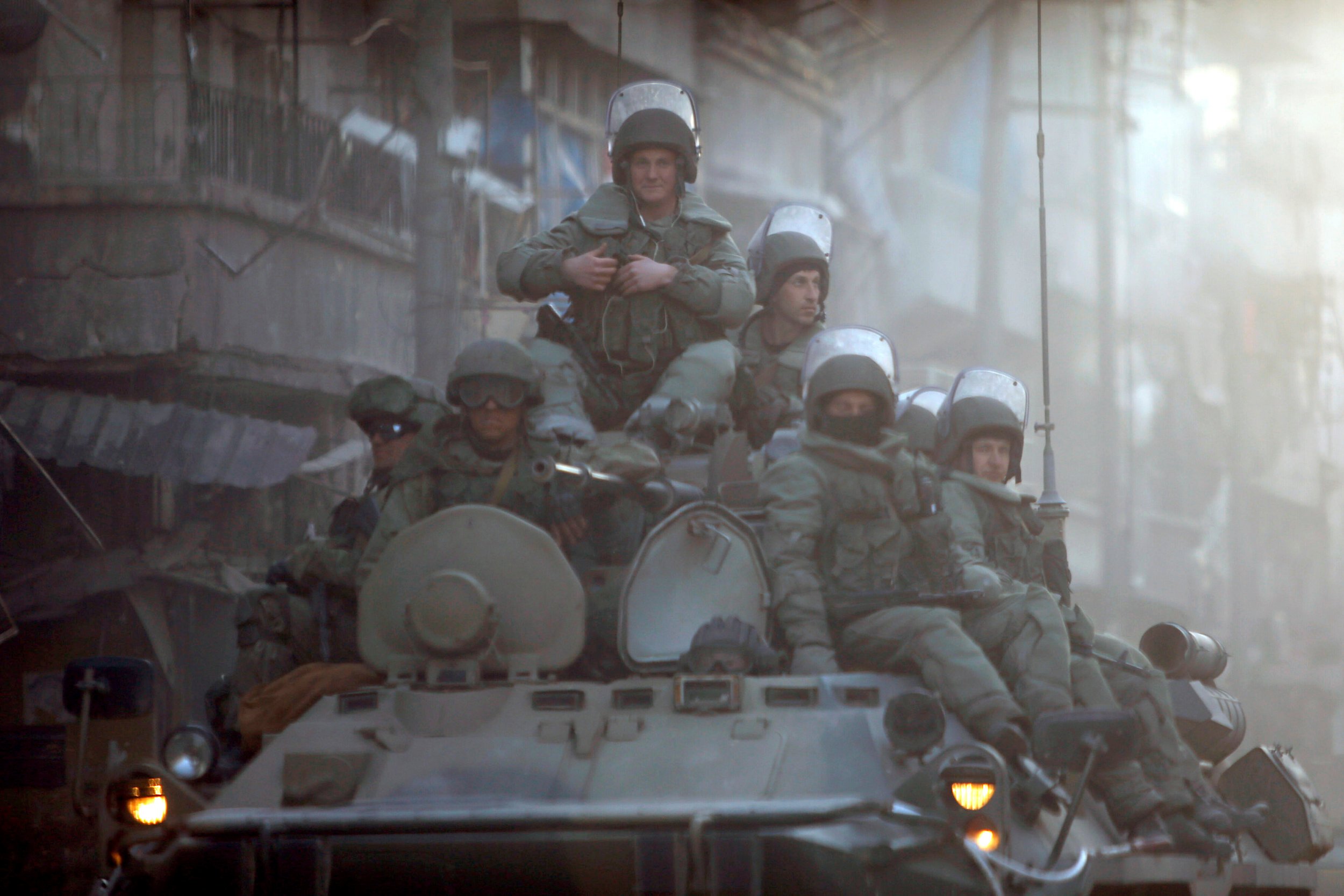 Russian officials have led the criticism against the U.S. decision to strike a Syrian airfield Thursday with cruise missiles despite admitting they received advance notice of the military attack.
"Yes, this information was provided… via the existing channels," Dmitry Peskov, spokesman for Russian President Vladimir Putin, told state news agency Itar-Tass. Peskov refused to comment when asked by journalists why Russia did not intervene to stop the airstrike.
His silence was telling of crucial details that highlight Russia not only could have but perhaps was able to act with what CNN is reported to have been an hour's notice prior to the strike. Its aftermath, with Russia accusing the U.S. of violating Syria's sovereignty and a scrapped deal to prevent air clashes with U.S. jets, also puts Russian under more pressure than before to reign in Syrian President Bashar al-Assad's regime.
Minimising Casualties
The low casualty count, relative to the size of the missile deployment (59 Tomahawk missiles) at the Homs base, indicates Russia and Syria both had time to remove personnel from the area, says Sim Tack, senior analyst for private intelligence firm Strafor.
While Russia's forces are concentrated on Syria's western coastal region, focusing around the Khmeymim airfield and the Tartus port, Russian personnel have been embedded in Syrian ranks as training staff for years prior to the 2015 intervention. A strike on a significant Syrian defence facility risks hitting Russian forces, even if it is not one of the bases under direct control of Russia's military.
The fact that no Russian personnel were reported harmed and, according to Syria's Army spokesman Ali Mayhoub, only six Syrian personnel were killed, in the multiple missile strike on the high capacity base, indicates both sides had notice to empty the facility.
"The U.S. alerted Russia to make sure their own personnel or equipment were not hit and it would be fair to assume Syria was warned" Tack says. "If only six were killed, as is reported, then that is quite a low number. I think it is likely that Russia did warn Syria."
Shooting Down The Tomahawks
Russia's own military facilities in Syria are equipped with S-400 anti-aircraft defense, which are nominally capable of repelling cruise missile attacks, as well as jets and drones. They can track multiple targets simultaneously, and the Homs base is within their 400km (249-mile) range. Assad's military does not possess this capability, so even with prior warning, Russia was likely the most formidable potential adversary for the U.S. Tomahawk.
Of course, the Russian system has not squared off with the U.S. cruise missile before to test how effectively it can take it down, Tack warns, and it may be that Russian troops had a military rather than political reason that prevented them from firing at the U.S. missiles.
Though Alex Kokcharov, analyst at IHS Maarkit, believes that the S-400 is plenty capable of repelling such an attack, but a "political" decision on Moscow's part was the difference.
"I think Russia chose to avoid direct military confrontation with the U.S., even in a third country such as Syria, as it could have led to uncontrollable escalation of events," he says. "Russia was warned by the U.S. of the upcoming attack, it explains why there were no Russian casualties at the targeted airbase. Russia had the capability to intercept Tomahawk, but chose not to."
The designated purpose of the S-400 in Syria is to protect the Russian facilities there, not all of Russia's allied facilities, which could explain the decision not to activate them.
Russia still opened the door further for potential confrontation with the U.S. by pulling out of the air cooperation memorandum in response to the strike, which could be temporary, Tack says.
But until reinstated "it increases the risk of mishaps" between the two countries in Syrian airspace.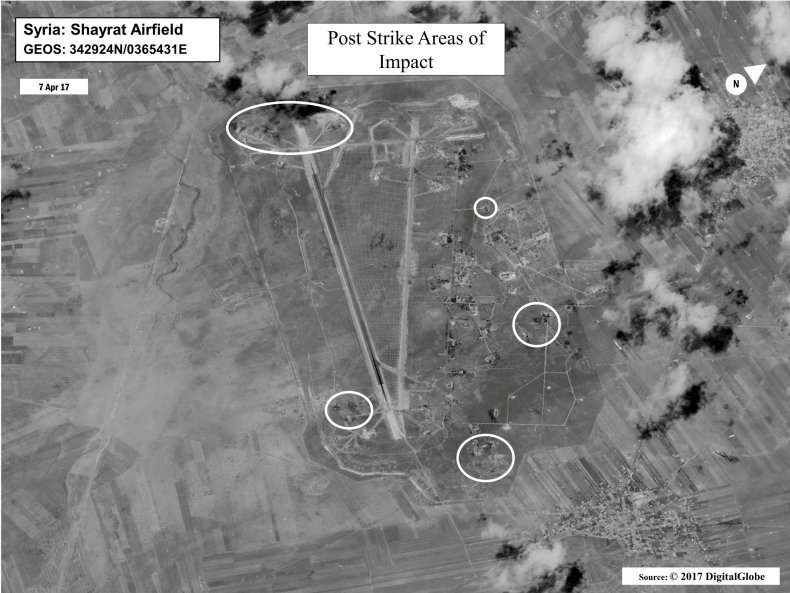 Looking 'Foolish'
The strike put Russia in a difficult situation, facing surprising assertiveness which it did not expect from the U.S. in Syria, least of all from a president that spent the better part of the last year dreaming about cooperating with Russia in Syria.
Russia's military response to the strike so far has not been bombastic. Its Ministry of Defense vowed to "increase the effectiveness" of Syrian forces' air defences, without giving specifics. This could see Syrian forces combat Israeli airstrikes more easily, Tack says, but this would depend on how Moscow intends to boost Syria's effectiveness in anti-aircraft combat.
One of Russia's navy frigates is reportedly on its way from the Black Sea to the Mediterranean, equipped with cruise missiles, though where it will dock and how it will deter the U.S. from further action, if at all, is also not clear.
According to Tack, the U.S. attack has "limited Russia's options in working with the U.S.," though according to former U.S. ambassador to Ukraine John Herbst it has "without a doubt" put Russia in a weaker position for the time being.
"The U.S. response to the chemical attack was rather mild—we targeted the unit which we think was involved, we didn't take out runway," he says. Rather, Russia's response is so strongly worded not because of the severity of U.S. actions, Herbst argues, but because "Putin has been so used to having his way that he finds even a mild response unacceptable."
In Herbst's view, Russia's decision to predict a worsening of U.S.-Russia ties and halt the deconfliction agreement was "a foolish reaction" and possibly due to officials not expecting such a heavy-handed response from the U.S.
"You can't rule out future inconsistency in U.S. policy on Syria but Assad will now have to think that use of chemical weapons will be met with a stronger response," he adds.