Could There Be a Daily COVID Pill? What We Know About Pfizer Drug Trial
Pfizer is working on a pill to help fight COVID-19 that's designed to keep people out of the hospital, and if effective, it could help reduce the strains health care systems have experienced over the past 18 months.
On Wednesday, Pfizer announced that its first participant had entered the second of a three-phase study of the oral antiviral that's intended to keep people who aren't at risk of developing serious illness after contracting COVID-19 out of the hospital. A similar study for people who are at an increased risk began in July. While the antiviral could mark another milestone in the COVID-19 pandemic, it'll likely be months before it's available to the public.
The potential treatment is designed to be administered in 12-hour increments for five days in people who are symptomatic but not hospitalized. A total of 1,140 participants will be enrolled, and they'll be given either the oral antiviral or a placebo.
The antiviral is intended to block SARS-CoV-2 from replicating. By taking it in conjunction with ritonavir, an antiretroviral agent often used to help treat HIV, the goal is to slow the breakdown of the oral antiviral so that it can remain in the body longer and work continually to combat the virus.
Pfizer spokesperson Jerica Pitts told Newsweek the plan is to have a readout in late 2021 of the results of the Phase II trial of people who were at increased risk of developing serious illness. Based on that timeline, the readout of the Phase II trial for how the oral antiviral works in people who are at low risk could be expected in early 2022.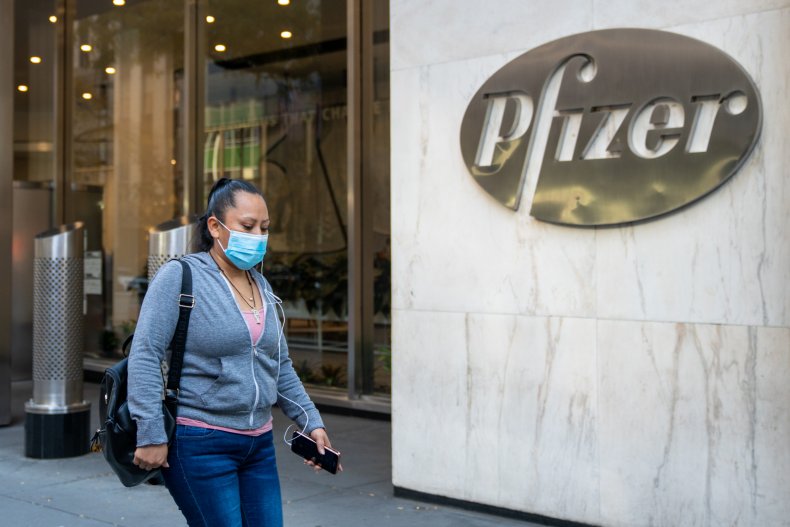 Neither of the studies involve vaccinated individuals, according to Pitts, but Pfizer CEO Albert Bourla said that combating the pandemic is likely to include both treatments and vaccines.
Pfizer's vaccine received full approval from the Food and Drug Administration in August, about eight months after the FDA granted it an emergency use authorization. Vaccines have proved to be safe and effective at preventing people from contracting the coronavirus and preventing them from getting seriously ill if they test positive.
Hospitals across the country are seeing disproportionate numbers of unvaccinated people being admitted to the intensive care unit, stretching systems to their limits. In some areas, people arriving at the hospital for any number of ailments have had to wait hours or even days for a bed, are treated in a hallway or are turned away because the hospital was at capacity.
If Pfizer's oral antiviral is successful, it could help reduce the number of people who are hospitalized, thereby alleviating the strains on health care systems.
While therapeutics have the potential to save lives, vaccines are considered key to ending the pandemic. Along with helping to keep people out of the hospital, vaccines help prevent a virus from spreading, thereby reducing its ability to mutate. If a virus has fewer opportunities to mutate, it's less likely that a variant will emerge that is resistant to a vaccine.
However, vaccine hesitancy remains significant in the United States, and there's a global concern about the lack of vaccinations in countries around the world. Given the virus's ability to travel across borders, officials have warned that large swaths of unvaccinated people anywhere pose a threat to the world's ability to control the pandemic.
With any virus, there are going to be people who can't get inoculated because of medical and religious reasons and others who remain opposed to it for any number of reasons. Combining large-scale vaccinations and effective outpatient therapeutics is one of the best paths forward in combating the pandemic and returning to normal life because fewer people will contract the virus. And when people get infected, the chances of overwhelming hospital systems to the point of collapse will be lower.