Could Trump Lose Texas? Poll Shows Biden In the Lead
As President Donald Trump's polling numbers have dropped across the country, Democratic presidential candidate Joe Biden has taken a narrow lead in the traditionally Republican stronghold of Texas, new polling has shown.
The Texas survey, which was conducted by Public Policy Polling and Emily's List from June 24 and 25 and published Thursday, showed Biden narrowly ahead of the incumbent president by 2 points. Trump was backed by just 46 percent of Texas respondents while his Democratic rival was supported by 48 percent. An additional 5 percent of respondents were "not sure" who they'd vote for.
Trump's approval rating in Texas also appears to be unimpressive, with the poll showing that 51 percent of voters disapprove of the job the president is doing. Meanwhile, 46 percent said they approved and 5 percent are "not sure." The survey data additionally showed that 50 percent of respondents supported Trump in the 2016 election, while just 41 percent supported former Democratic presidential candidate Hillary Clinton.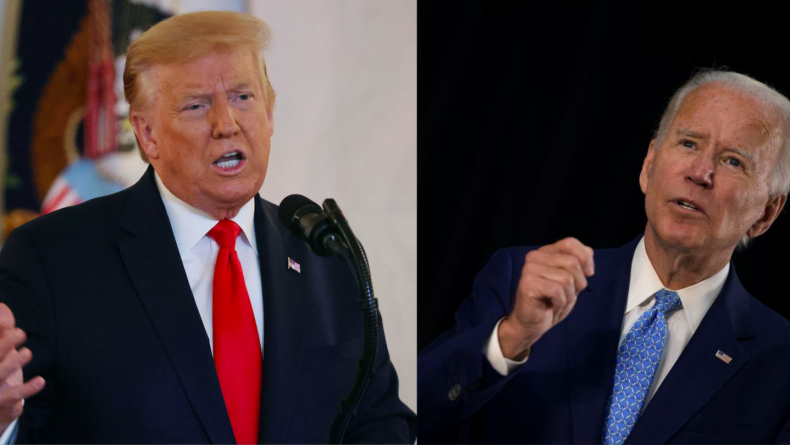 Newsweek reached out to the Biden and Trump campaigns for comment, but they did not respond by the time of publication.
Texas has gone for the Republican presidential candidate in every election going back to 1980. Both of the state's senators are Republicans as is its governor, meaning it has typically been viewed as a safe GOP stronghold. But changing demographics and the president's declining popularity has given Democrats hope that they could possibly see a Biden victory come November.
A Fox News poll conducted from June 20 to 23 showed Biden narrowly ahead of the president by 1 point. The former vice president was backed by 45 percent of respondents while Trump was supported by 44 percent. However, a Quinnipiac poll carried out from May 28 to June 1 showed Trump with a lead of 1 point, or 44 percent to Biden's 43 percent. A new poll released Thursday by the University of Texas (UT) and the Texas Politics Project also showed Trump up 4 points over Biden, with the president supported by 48 percent of respondents compared to 44 percent who backed his Democratic rival.
But even the fact that Trump's leads were narrow in the Quinnipiac and the University of Texas survey suggest that the Republican president's support in Texas has waned significantly. In 2016, Trump easily carried the southwestern state, winning 52.2 percent of the votes compared to Clinton's 43.2 percent.
The slump in Texas aligns with how voter sentiments appear to be shifting in many states across the country. The current average of national polls compiled by Real Clear Politics shows Biden ahead by about 9.3 points. Several recent national surveys have shown the former vice president double-digits ahead, and polling out of key swing states suggests Biden has the advantage in many of them as well.
The Trump campaign has repeatedly dismissed negative polling numbers in previous comments to Newsweek and other media outlets. The campaign officials say that public polling is often biased and does not adequately sample Republican voters. They have also pointed to 2016, when Clinton was widely projected to win but ended up losing by a significant margin in the Electoral College.