Could the U.S. Currency Get a Feminist Face Lift?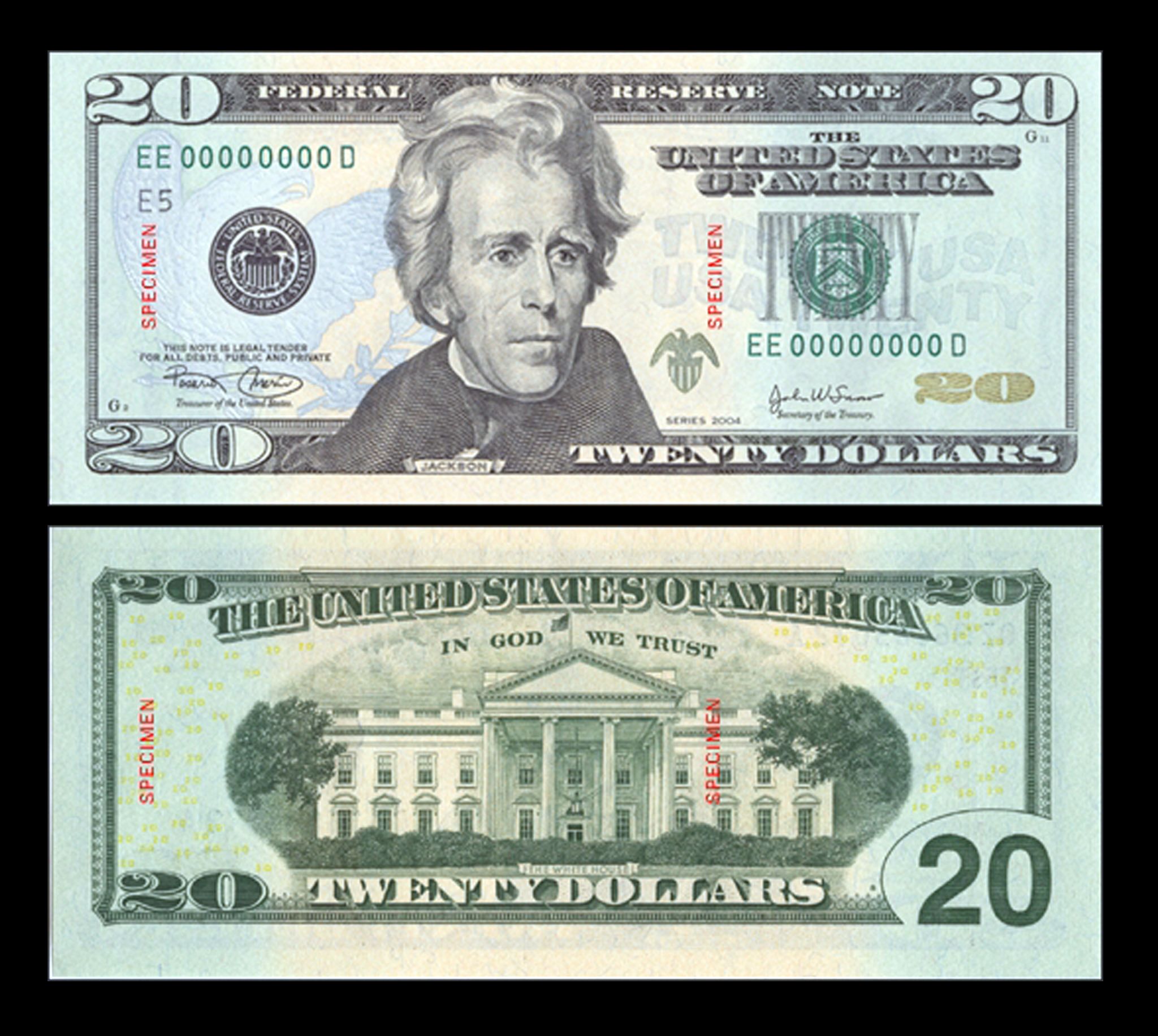 Move over, Andrew Jackson. News has spread of abolitionist Harriet Tubman winning the nonprofit "Women on 20s" initiative, which advocates for a historically influential female as the new profile on the $20 U.S. currency bill. But just how likely is it that paper money will get a face lift in time for the centennial of women's suffrage in 2020?
South Africa and Britain are among the countries that have updated the images on their bank notes in recent years, but the United States has very rarely made changes to the profiles on its paper currency since the first U.S. Secretary of the Treasury Alexander Hamilton introduced the dollar in 1785.
"What better way to modernize our currency than make it reflect who we are today, the diverse culture that we have become, and to use the platform of our paper currency to promote gender equality and greater recognition of women's contributions?" says journalist Susan Ades Stone, who together with small-business owner Barbara Ortiz Howard has spent the last year working on a strategy to ask Americans which woman should replace Andrew Jackson on the $20 bill. The two women leading the initiative have sent a written petition to the White House asking President Barack Obama to direct Secretary of the Treasury Jacob Lew to fulfill their goal.
Howard and Ades Stone asked Americans to vote in an online primary election of 100 candidates for the bill's facade, which yielded 15 winners ranging from Patsy Mink, the first Asian-American woman elected to Congress in 1964, to Clara Barton, a pioneering nurse who practiced during the Civil War and founded the American Red Cross. The winner was Tubman, a conductor of the Underground Railroad who died in 1913, followed by former first lady Eleanor Roosevelt and civil rights leader Rosa Parks.
The campaign initially selected 2020 as the goal for the bill's face lift because it is the 100th anniversary of the first time women were allowed to vote nationally in the United States. But Howard and Ades Stone soon realized it was an even more appropriate choice because Jackson, who has emblazoned the $20 bill since 1929, has a legacy as a fierce opponent of the central banking system and supporter of gold and silver coins. As the seventh U.S. president, Jackson helped gain congressional approval of the Indian Removal Act of 1830 that drove Native American tribes in the southeastern part of the country from their land to make room for white European settlers. The choice of Jackson for the $20 bill came in the last round of the portrait changes on U.S. currency in 1928.
Last week, White House Press Secretary Josh Earnest called Tubman a "wonderful choice," but he didn't comment on whether Obama supported the initiative. When Sofia, a 9-year-old girl from Massachusetts, sent Obama a letter suggesting a list of women to include on U.S. currency last year, the president indicated his approval when he said he thought it "was a pretty good idea." The Treasury Department hasn't addressed the effort since Tubman won. But when Lew discussed the 2016 budget in March, he spoke broadly about the department's role to "modernize our nation's currency."
So far, the campaign has inspired at least three congressional bills in the House and Senate. Representatives Luis Gutiérrez of Illinois and Joyce Beatty of Ohio, and Senator Jeanne Shaheen of New Hampshire, have introduced separate measures directing Lew to convene an advisory panel to choose a woman candidate for paper money.
"There is a tremendous amount of excitement for finally having a woman on our paper currency that is going to be very hard to ignore. This is an idea whose time has clearly come," Shaheen tells Newsweek.
"I believe that if there is a country that truly believes in equality, it's time to put our money where our mouths are," Gutiérrez recently told his fellow House members. "This isn't just a woman's issue, it's an American issue."
Some have rallied against the campaign for wanting to change something engrained in American culture for 90 years, while others have criticized "Women on 20s" for being superficial, saying that changing a picture on a bill won't do much for women's rights. It's important to render women relevant in another aspect of society other than in mass media, argues Deborah Johnson, professor of women's studies and art history at Providence College. But the initiative, she adds, is window dressing.
"I'm ambivalent about it because I think there are many ways that we have to change the status of women in American society...but we can't legislate attitudes," she says, adding that she wishes people simultaneously focused on more concrete and substantive issues regarding women's health, safety and salaries.
Michael O'Malley, professor of American history at George Mason University and author of Face Value: The Entwined Histories of Money and Race in America, says there is one main factor for the success of the project: confidence in paper money, which may be affected by a change in a bill's illustration. "Money doesn't work unless people have confidence in it," he tells Newsweek. Tweaking a bill's design may make it "seem like a decline in standards of the integrity of the money is being messed with," he says.
But, O'Malley adds, present-day government regulation and support of a central system should give people confidence, compared to before the Civil War, when at least 9,000 different kinds of paper money existed.
Allegorical figures representing traits like liberty, prosperity and progress appeared on U.S. currency before the Civil War, O'Malley notes. But actual female historical figures have been absent since the Bureau of Engraving and Printing began manufacturing all U.S. paper money in 1877. Former first lady Martha Washington briefly appeared on the $1 silver certificate in 1886. Social reformer Susan B. Anthony and Native American interpreter Sacagawea both are featured on coins currently in circulation but not in production. No paper bills showcase a woman's face.
Changing the portrait on paper money doesn't require an act from Congress, but rather an order from the treasury secretary or direction from the president to the secretary to make the change. It takes 100,000 votes to petition the White House for executive action. The campaign submitted 600,000 votes backed by names and email addresses. The campaign hopes public support of the initiative will spur the Treasury into making changes.
During a recent monologue, comedian Ellen DeGeneres said "it's about darn time" for this initiative, adding that women can "do more than feed meters." Democratic presidential front-runner Hillary Clinton and her daughter, Chelsea, both have thrown their support behind Women on 20s.
But it doesn't stop with just women. Actor Mark Ruffalo was among the men who engaged in conversation about it on Twitter. More than 600,000 voters participated in the online election, and men comprised at least one-third of the site's visitors, Ades Stone says.
Beatty said she recognizes the challenges that supporters of the initiative will face, but also understands the reality of those hurdles historically aren't new to women. "When you look back through history, this is the way most great things start," she says.
And if the future advisory panel doesn't come up with a bill candidate for Lew? They could create an entirely new paper currency, she says.