Could Vladimir Putin Order Russian Sports To Boycott the Olympics?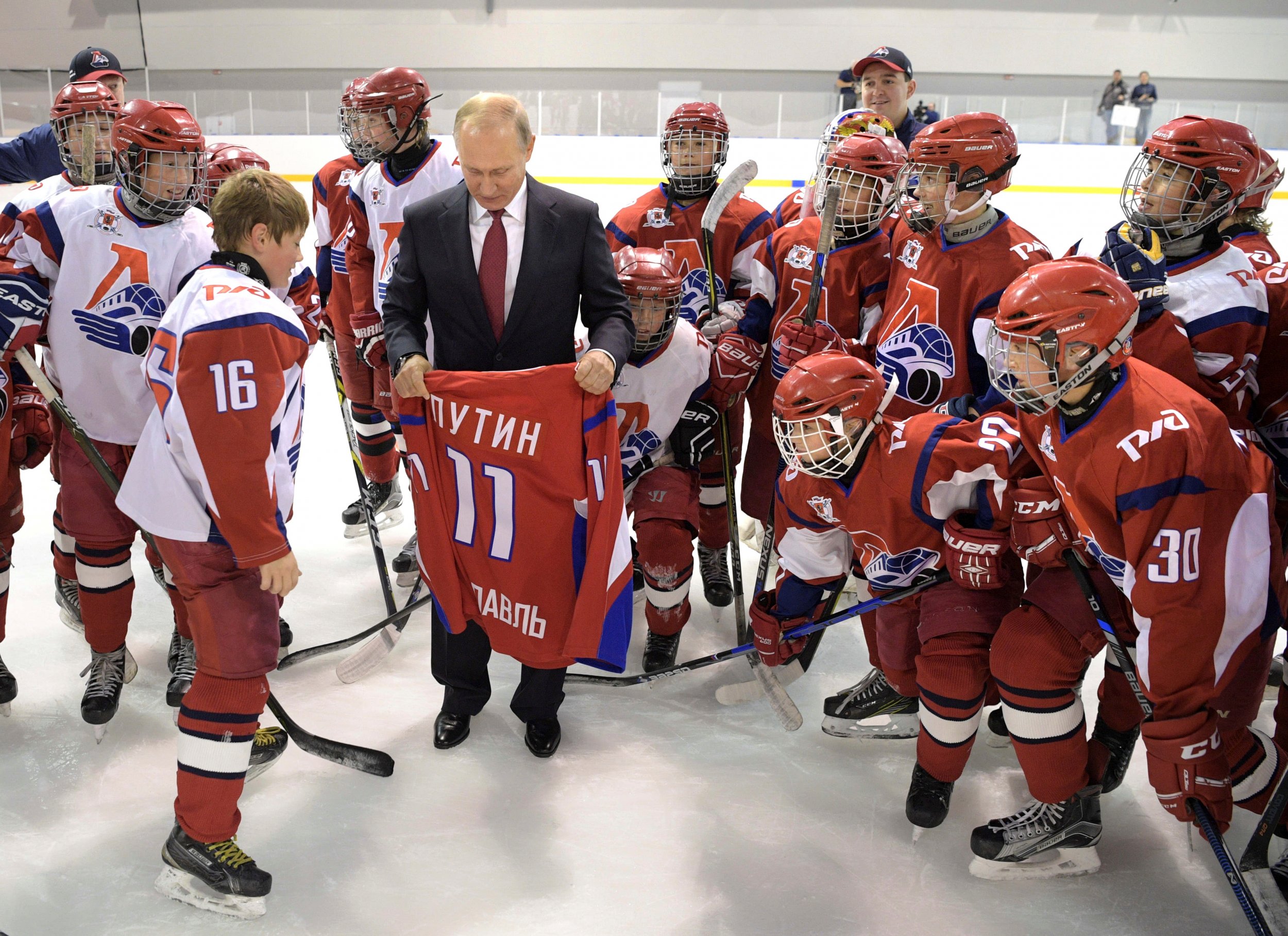 The Russian doping scandal, which resulted in all bar one track and field athlete being banned from the Olympic Games in Rio de Janeiro last year, is threatening to overshadow the Winter Olympics scheduled for South Korea in February.
There is increasing speculation that the entire Russian team may not participate, or that individual athletes who do compete will do so in neutral colors. It would mean that any medal wins would be celebrated without the raising of the Russian flag and without the country's anthem being played, measures that have incensed many in the country.
Some officials are calling for a boycott, evoking memories of the showdown between Washington and Moscow in the 1980s.
"If the International Olympic Committee (I.O.C.) decides to ban the playing of Russia's anthem at the 2018 Olympic Games in PyeongChang or the participation of our athletes in the opening ceremony, our country is unlikely to go to the Olympics," Svetlana Zhurova, a former Olympian who is now deputy head of the International Affairs committee in Russian parliament's lower house, told Interfax earlier this month.
The move is reportedly one of several the I.O.C. is discussing as a compromise to avoid a wholesale ban of Russian athletes but also punish the country for its dysfunctional anti-doping body. But Russian officials have already expressed their displeasure with the proposed measures.
"This is unacceptable," Zhurova, a speed skating gold medalist, said. "How can this be? There are athletes but the country does not exist."
RUSADA, Moscow's discredited anti-doping agency, was suspended in 2015 for allegedly allowing a state-sponsored program of doping. As a result, scores of Russian athletes were unable to provide sufficient evidence that they were eligible for last year's Rio Games. On Thursday, the World Anti-Doping Agency ruled that RUSADA had still failed to follow its program in order to become compliant again.
Read More: Russia beats China in 'Tank Olympics,' hailing its kit as the best in the world
The I.O.C. has less than a month to decide on any conditions for Russia's participation and rumored restrictions are already causing a pushback.
"We are ready for any scenario," an incensed Mikhail Degtyarev, head of the Sports, Tourism and Youth Committee in Russia's lower house, said last week. "In the eventuality of the International Olympic Committee taking a negative decision such as inviting only a fraction of Russia's team, barring them to compete under the national flag, then of course going to an Olympic Games with such conditions is something we should not do under any circumstance."
"We should organize our own alternative games and prepare each other for a better scenario," Degtyarev told the Moskva news agency. The reaction is typical of Russian lawmakers, whenever politicians the country are felt hard done by in any competition with the West.
After Conchita Wurst, an Austrian drag queen, won Europe's song contest Eurovision in 2014, Russia was set to reboot its Soviet-era rival Intervision for its conservative audience. However, the show's relaunch has been on permanent delay since.
The doping scandal is far more controversial in Russia and the stakes are much higher. Every senior Russian political figure, including President Vladimir Putin, has cried foul over the allegations and Russia's Sports Ministry has insisted that athletes are now fully compliant with doping regulations. The state-dominated media is overwhelmingly skeptical of the allegations and the Russian public is equally incredulous.
Last year 71 percent of Russians told independent pollster Levada Center that the report's allegations were either not very convincing or entirely unconvincing. Skeptics believe the "true" motivations of the report include a desire to punish Russia for its political standoff with the West over the past few years or a simple wish to push Russia down the medals leaderboard.
Earlier this month, Russia's Sports Minister Pavel Kolobkov played down calls to pull out of the competition in protest.
"I don't like the word 'boycott'," Kolobkov said, after outrage in Russia that its athletes would be forced to compete, stripped of signs showing their nationality. "Lots of countries have previously turned down competing in the Olympics in 1980 and 1984. This affects sports development in general in a very negative way. I do not want us speaking about this, since I consider such a sequence of events impossible."
Related: Vladimir Putin ponders no show at his favorite Olympic event after doping scandal
A boycott would also be inconsistent with the Kremlin's ambitions for the country's prestige. In May, Putin hinted that after hosting the Winter Olympics in 2014 and following the soccer World Cup next summer, Russia is ready for a summer Olympics bid.
In written comments made available to the Associated Press, Putin said: "Apart from the capital of our country, we have a number of cities which could potentially host Summer Olympics. There is Sochi, of course, but also St. Petersburg and possibly Kazan.
"We are not going to make any specific statements, yet. In 2014, our country successfully hosted the Winter Games in Sochi. However, I do not rule out the possibility that Russia will decide to enter in bidding process for the right to host another Olympics."
Putin also suggested Russia is still committed to working within the system, rather than subverting it with its own rogue competitions, underscoring the "irreversible" progress officials have made to combat doping. Speaking about the mutual boycott of back-to-back Olympics by the U.S. and Soviet teams in the 1980s, Putin said: "No-one benefited from this."
The I.O.C. has said it will decide on Russia's situation at its next board meeting, scheduled for early December. Any appeals or protestations that follow from Russia must be quick as the Winter Games begin in South Korea shortly after, on February 9.
Whatever the final verdict, Russia's presence, or otherwise, will provide an unfavorable comparison with the team's last Winter Games outing. Then, hosting the competition and having reportedly splurged a record $50 billion on the Games, a dominant Russian team won 29 medals, including 12 golds. Russia topped the leaderboard for a feel-good finale, broadcast to the whole world.
This time round, Russians are nervous if they will even take part in the opening act.