Counting Down the 50 Craziest Moments of the Election Cycle: Nos. 20-11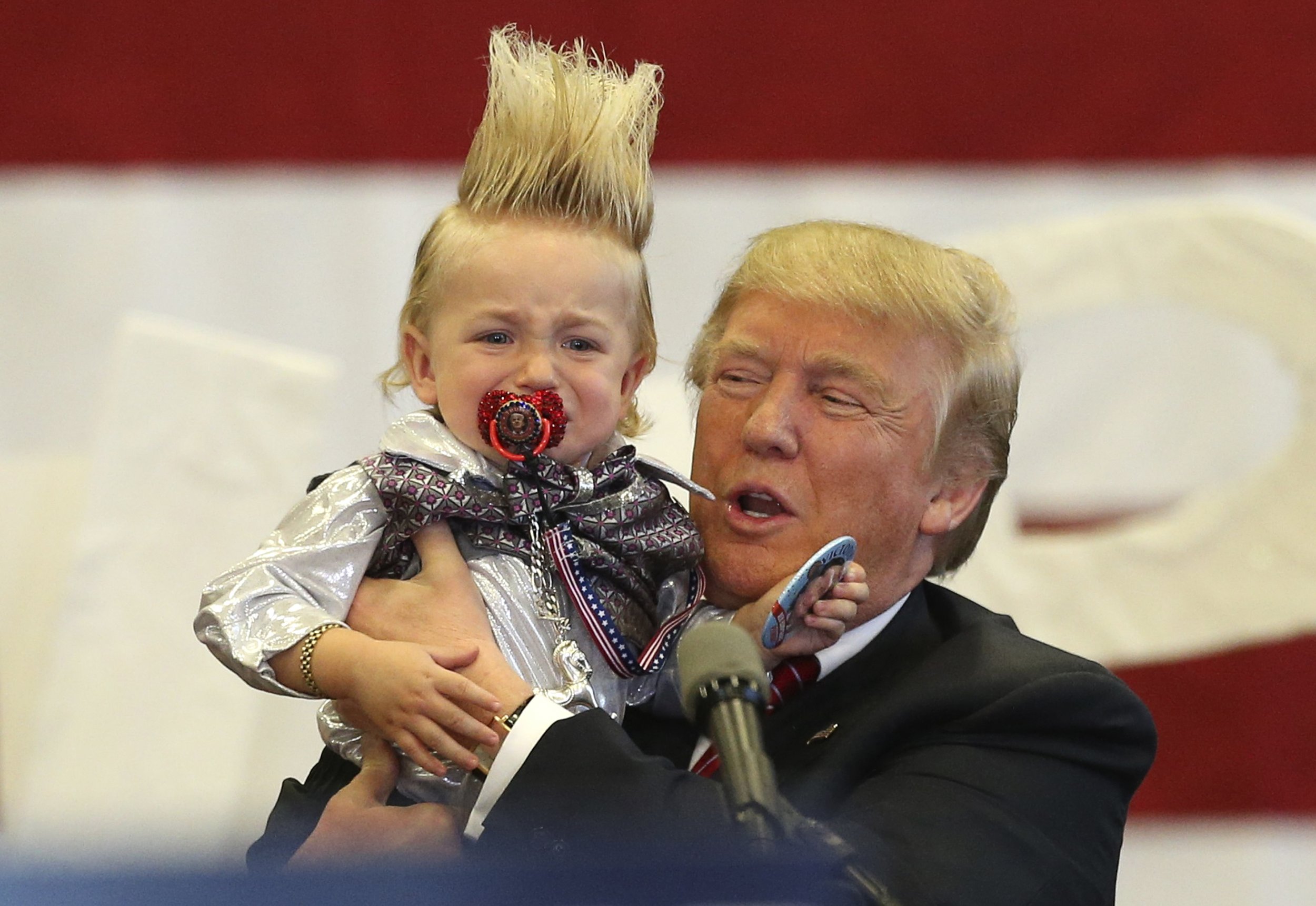 After dropping out of the race for the Republican presidential nomination last February, former South Carolina Senator Lindsey Graham, an attorney and former Air Force colonel, said this at a congressional dinner: "My party has gone bat-shit crazy."
We agree wholeheartedly, and we're here to count the ways—while recognizing that the GOP candidates have not had a monopoly on insanity this election cycle. Check out Nos. 50-41, Nos. 40-31 and Nos. 30-21 from earlier this week. The crazy train rolls on:
20. Viva Las Vegas
If you've never encountered an old celebrity's angry mob of fans on the Las Vegas Strip, then you've never been in the lobby at Bally's when Wayne Newton canceled. In May, however, irate fans of Bernie Sanders revolted at the Paris Las Vegas hotel during the Democratic State Convention.
The cause of their ire? It appeared that, just as a few Hillary Clinton delegates were beginning to feel the Bern and switch their support, party leaders abruptly ended the convention. If this were the NBA, the Nevada Democratic Party leadership would have issued a report that following morning admitting to errors made the previous night.
19. Good Mourning Vietnam
At an event in Iowa in July, Donald Trump dismissed the notion that 2008 GOP presidential candidate John McCain, who spent more than five years as a POW in Vietnam, is a hero. "He's not a war hero," Trump said, disagreeing with the moderator. "He's a war hero because he was captured. I like people who weren't captured."
Months later, video emerged of Trump, who was granted both student and later medical deferments from serving in Vietnam, appearing on the Howard Stern show in 1997. "I've been so lucky in terms of that whole [dating] world," Trump told Stern at the time. "It is a dangerous world out there—it's scary, like Vietnam. Sort of like the Vietnam era. It is my personal Vietnam. I feel like a great and very brave soldier."
18. Speaking of Heroes
During last September's GOP undercard debate in Simi Valley, California, Senator Rick Santorum compared notorious marriage-license withholder Kim Davis to a brave young female victim in the Columbine shootings. "Sixteen years ago, this country was tremendously inspired by a young woman who faced a gunman in Columbine and was challenged about her faith, and she refused to deny God," Santorum said. "Today, someone who refuses, who defies a judge's unconstitutional verdict, is ridiculed and criticized, chastised, because she's standing up and denying—not denying—her God and her faith. That is a huge difference in 16 years."
Asked Santorum, "How many bakers, how many florists, how many pastors, how many clerks are we going to throw in jail because they stand up and say, 'I cannot violate what my faith says is against its teachings'?"
Asked for his response, former New York Governor George Pataki said, "My response is kind of, 'Wow.'"
17. PC Overreaction of the Year
The non-troversy of the year? Trump Campaign Manager Corey Lewandowski versus reporter Michelle Fields. Granted, the Second Amendment affords citizens a right to bear arms as opposed to a right to grab arms, but a battery charge? Really?
Fields wrote that Lewandowski "aggressively tried to pull her to the ground." If he were trying to do that, he would have succeeded.
16. Law & Order: Special War Crimes Unit
Last December's San Bernardino, California, shootings, which may have been inspired by the Islamic State militant group (ISIS), left 14 innocent people dead. In the wake of the tragedy, the following day Trump proclaimed, "The other thing with the terrorists is you have to take out their families. When you get these terrorists, you have to take out their families."
Not to be outdone, two days later Ted Cruz told an audience in Iowa that "we will utterly destroy ISIS. We will carpet bomb them into oblivion. I don't know if sand can glow in the dark, but we're going to find out."
Pressed on his pledge two weeks later at the next GOP debate by CNN's Wolf Blitzer (a name that sounds like code for a carpet bomb attack), Cruz hedged, saying, "You would carpet bomb where ISIS is—not a city but the location of the troops." Which, of course, is the polar opposite of carpet bombing.
15. Sticker Boy
In Iowa, how bizarre was it to see Hillary Clinton get upstaged by a man who was not her husband? Millennials who watched this happen live had to be wondering what Bumper from the Pitch Perfect films was doing there.
14. Owns Miss Universe, Practices Misogyny
Match the woman below with the sexist or demeaning comment:
A) Hillary Clinton B) Carly Fiorina C) Megyn Kelly
1) "Look at that face! Would anyone vote for that? Can you imagine that, the face of our next president? I mean, she's a woman, and I'm not supposed to say bad things, but really, folks, come on. Are we serious?"
2) "You could see there was blood coming out of her eyes. Blood coming out of her wherever."
3) "I think the only card she has is the women's card. She has got nothing else going. Frankly, if [she] were a man, I don't think she would get 5 percent of the vote. And the beautiful thing is, women don't like her."
The correct answer to all of the above is D) Rosie O'Donnell.
13. (Please Stop) Dancing With the Stars
On separate appearances on The Ellen DeGeneres Show, Bernie Sanders danced in the wings, and then Hillary Clinton attempted to learn to whip and nae nae.
12. It's Miller Time
In May, The Washington Post ran a story, complete with audio, of Trump pretending to be his own publicist, a man named John Miller, in the early 1990s. Miller is heard using the word tremendously and bragging to a People magazine reporter about Trump's sexual popularity. When the reporter asked Miller where he worked before working for Trump, he replied, "I basically worked for different firms. I worked for a couple of different firms, and I'm somebody that he knows, and I think somebody that he trusts and likes."
11. The Pork Item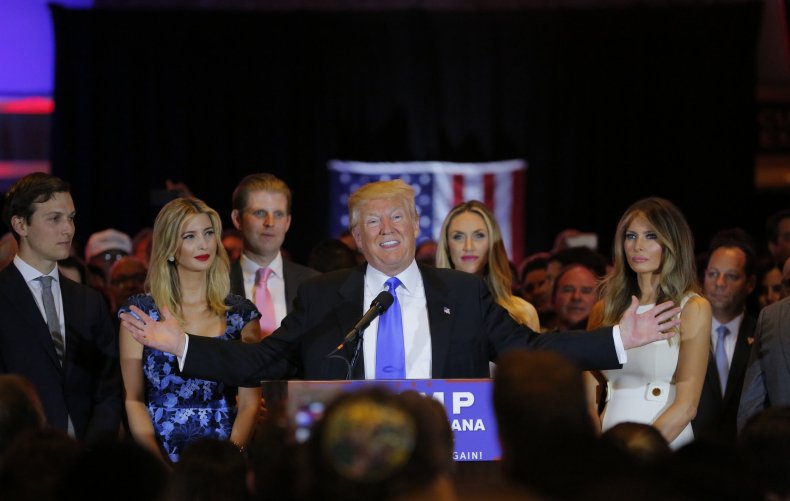 You know how politicians fill legislative bills with unrelated appropriations simply in order to get them passed? Consider this our political pork item, in which we dump all the other items we had no room for before we hit you with our top 10 tomorrow.
So please, let's take a moment for "New York values" and "Who's doing the raping?" and "The pyramids were used to store grain." Let's also not forget "I'm sick and tired of hearing about your damn emails," and Trump hosting Saturday Night Live, and Carly Fiorina breaking into song after being named Cruz's running mate. File away Trump relating that someone in his audience called Cruz "a pussy" or Trump parroting a National Enquirer story about Cruz's father hanging out with Lee Harvey Oswald. Or that time Trump told Chris Matthews that if abortions were illegal, women who have them "should be punished." And above all, let's…"Make America Great Again!"