Counting Down the 50 Craziest Moments of the Election Cycle: Nos. 30-21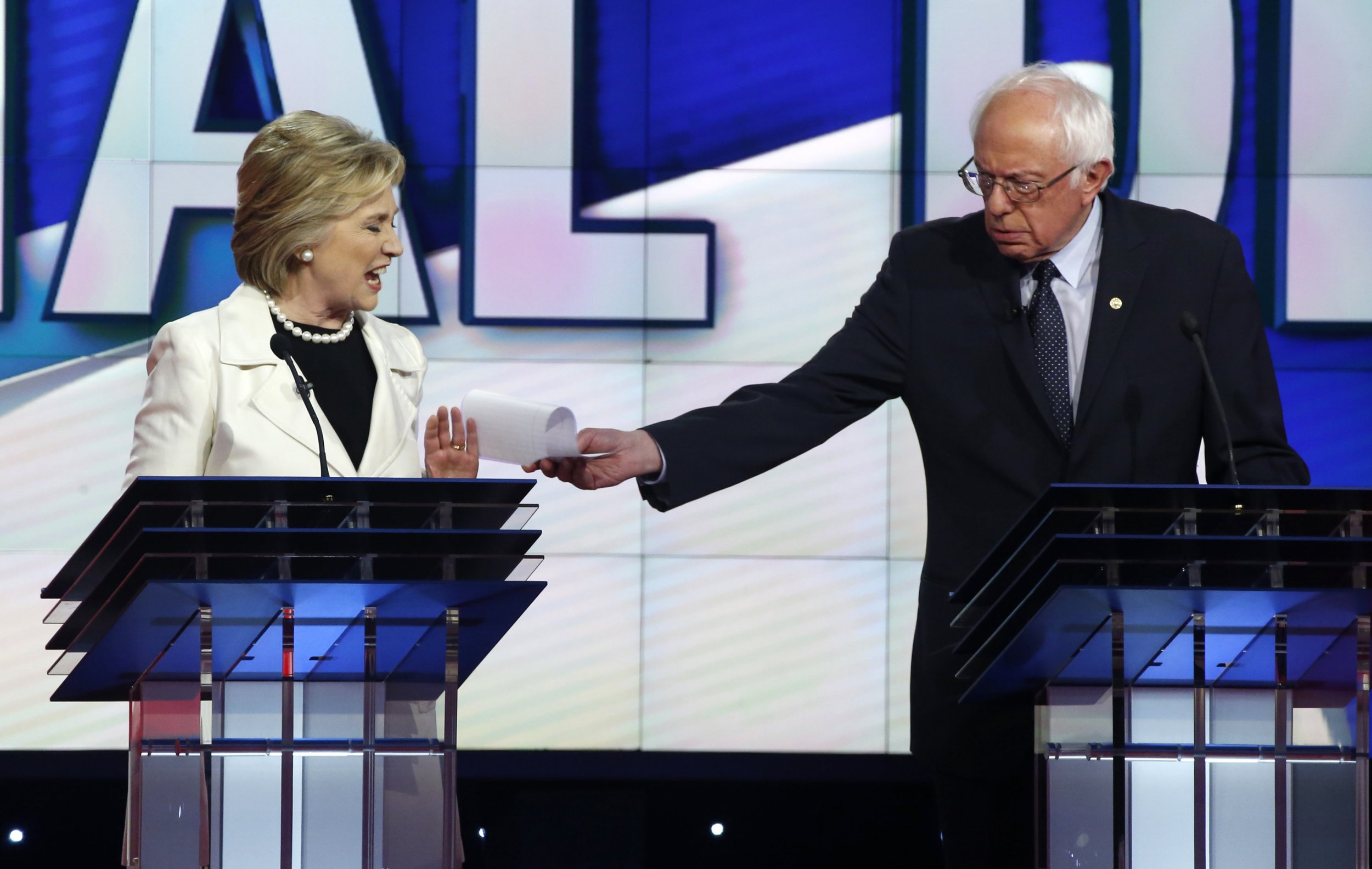 Baby Hitler. Miracle Max. Popeye's organization. Basketball ring. The 2016 presidential election is like a Joseph Heller novel mating with a Kurt Vonnegut Jr. novel and then being raised by Hunter S. Thompson. If you need a refresher on where we're at in our countdown of the 50 Craziest Moments so far, check out the first two installments, Nos. 50-41 and Nos. 40-31. Below is our third, Nos. 30-21.
30. It Really Is No Country for Old Men
At first it appeared that the February 1 Iowa Democratic caucus devolved into Anton Chigurh's favorite parlor game ("Call it") as six precincts finished in a dead heat between Hillary Clinton and Bernie Sanders. At all six, it was initially reported, Clinton won the coin toss, a 1-in-64 probability.
The truth, as this NPR story reveals, was far more complicated than that, and Clinton's 49.9 percent to 49.6 percent victory over her 73-year-old opponent involved more than just a cruel twist of fate.
In fact, there's probably as much validity to the claim that a series of coin tosses decided the outcome as there is to the concatenation in this Saturday Night Live parody, "Bern Your Enthusiasm," having decided the winner.
29. "Have Fun Storming the White House!"
With little prodding, Republican candidate Ted Cruz was eager and willing to reenact the Miracle Max scene from The Princess Bride on the campaign trail. By March, his campaign was "not dead, it was just mostly dead."
28. Sarah Palin Endorses Donald Trump
A palindrome is a word or phrase that reads the same backward as forward. For example, boob.
A Palin-drone is a trail of words that have a sing-songy appeal but may or may not be gibberish, such as when the former Republican vice presidential candidate endorsed Donald Trump for president last winter: "You rock and rollers, and holy rollers!...How 'bout the rest of us? Right-wingin', bitter-clingin', proud clingers of our guns, our God and our Constitution, tell us that we're not red enough…"
As someone tweeted, "Former politician turned reality TV star endorses former reality TV star turned politician."
27. Thug Life With Ben Carson
Suge Knight or Ben Carson? "I have had a gun held on me when I was in a, uh, Popeye's organization," the Republican candidate told Sirius XM's Karen Hunter as his street cred was being challenged after he had advocated rushing the gunman in a mass shooting.
This happened after Carson wrote of attempting to stab a friend—or was it a cousin?—with a knife as a teenager and rushing his own mother with a hammer.
None of these stories have been verified and in fact, police in Baltimore where the "Popeye's organization" was allegedly located had no incident report of an armed robbery for that time frame.
26. That Time You Attended a Trump Rally and It Became UFC 198
It doesn't matter what aging rocker's music Trump plays at one of his campaign rallies, you'll always get the hits. Like here in Tucson…
or here in North Carolina…
or here in Alabama...
or here in Chicago, where it morphed into WrestleMania:
25. Newphemism: Basketball Ring.
Noun, an iron cylinder placed 10 feet above the court through which a player tosses the basketball sphere. A term coined by Ted Cruz ("Tell me, how tall is that basketball ring?") while speaking at a rally at the Hoosier Gym Community Center in Knightstown, Indiana. In fairness to Cruz, who are we Americans to question him? Cruz was born in Canada, as was James Naismith, the inventor of basketball.
24. Previous Republican Nominee Destroys Current Republican Nominee
Remember the good ol' days when your party's presidential candidate from the previous election attacked the current presidential nominee from the opposition party? GOP chairman (a) Rience Preibus (b) Reince Preibus (c) Reince Priebus or (d) Does it really matter? probably longs for those days. (Correct answer, C)
In early March, Mitt Romney, who as the Republican nominee lost the 2012 presidential election to Barack Obama, called a press conference to vigorously denounce the candidacy of GOP front-runner Trump. "Here's what I know: Donald Trump is a phony, a fraud," Romney said. "His promises are as worthless as a degree from Trump University. He's playing members of the American public for suckers: He gets a free ride to the White House, and all we get is a lousy hat."
You're wrong, Governor Romney. It's a fine red baseball cap.
23. Everybody Hates Ted (Part II of a Recurring Tragedy)
Screenwriter Craig Mazin, Ted Cruz's freshman year roommate at Princeton, made it his personal crusade to destroy Cruz on Twitter. For example, "Ted Cruz thinks people don't have a right to 'stimulate their genitals.' I was his college roommate. This would be a new belief of his."
22. John Kasich's Chronic Mastication Problem
As March slid into April and Ohio governor John Kasich's bid for the Republican nomination became less and less likely, his eating habits during photo ops became more and more uncouth. Even Donald Trump got on his case: "I have never seen a human being eat in such a disgusting fashion…. Honestly, it's disgusting! I never saw bites this big."
21. The Baby Hitler Conundrum
In late October, The New York Times polled its readers, "If you could go back in time and kill Hitler as a baby, would you do it?" The catch-22 query quickly went viral, as GOP candidates were seemingly asked to choose between infanticide and the Holocaust. In early November, PFT Commenter approached Dr. Ben Carson, who is pro-life, and asked him, "As the most anti-Hitler and perhaps the most anti-abortion candidate, would you be in favor of aborting baby Hitler?"
"I'm not in favor of aborting anybody," Carson replied.