Counting Down the 50 Craziest Moments of the Election Cycle: The Top 10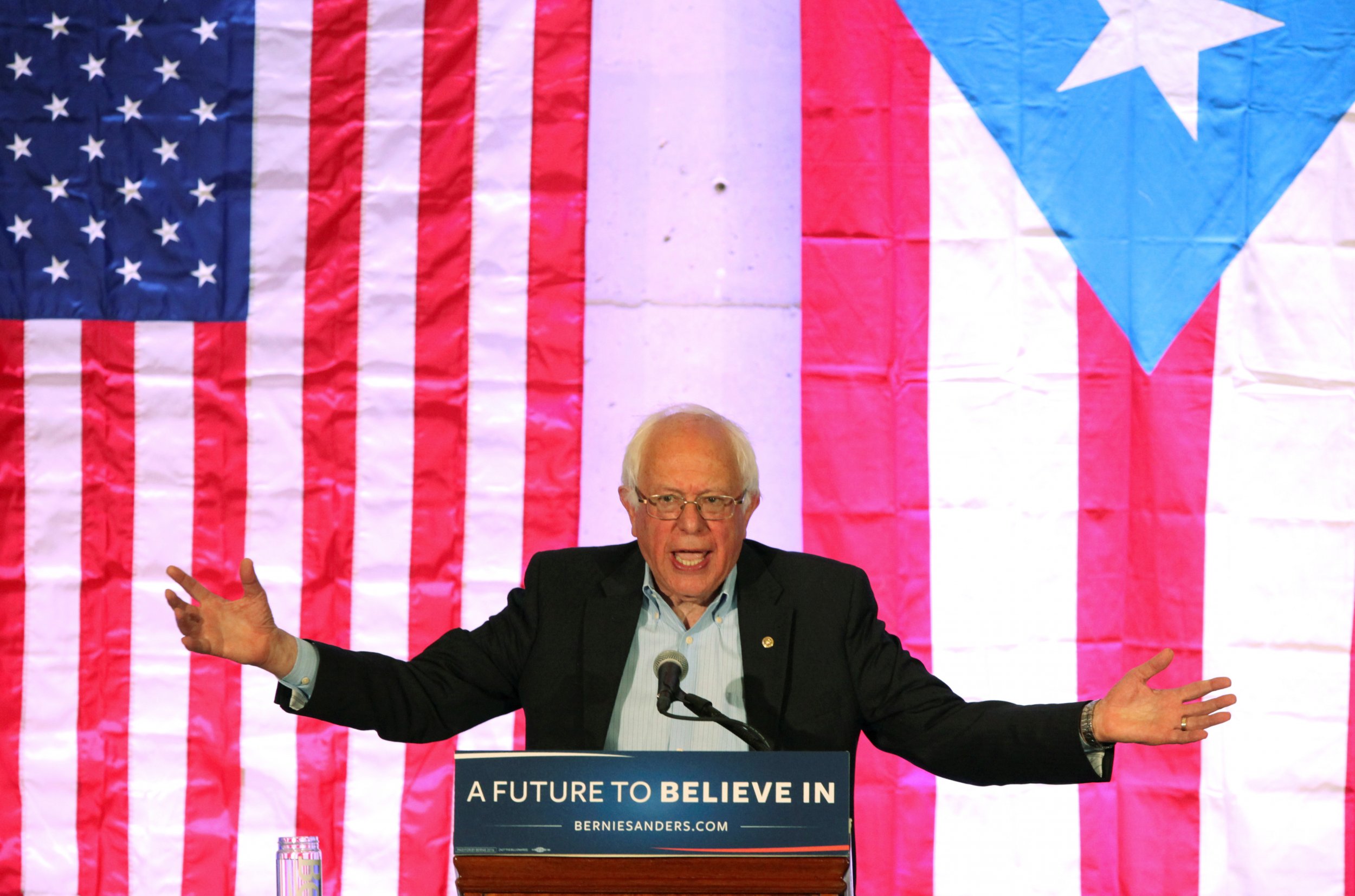 Jim Gilmore. Lincoln Chafee. Jim Webb. Scott Walker. They were all once candidates in this presidential race. If we don't mention them here, they will have completely failed to make our list of the 50 Craziest Moments of the 2016 Election Cycle. Gentlemen, the stage was yours, for the briefest of moments. Check out Nos. 50-41, 40-31, 30-21 and 20-11, and then read on for our final installment:
10. Coming Soon on Season 3 of Serial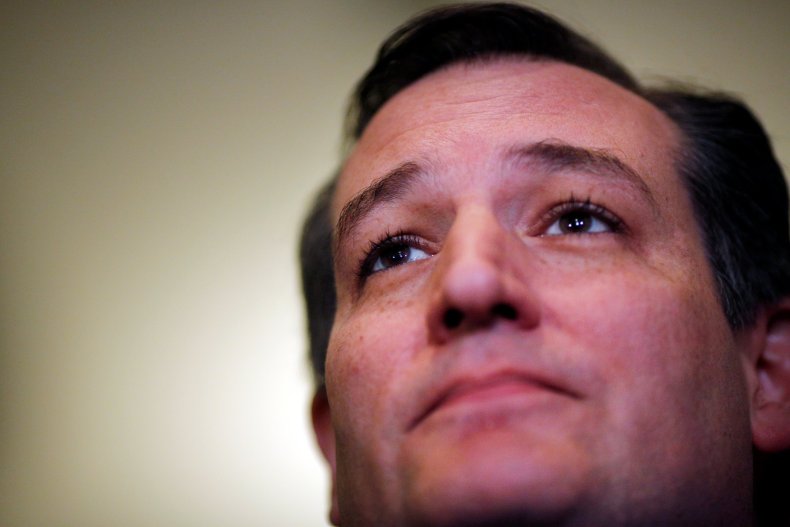 Ted Bundy was a serial killer. Ted Cruz is not. Or is he?
The "Ted Cruz is the Zodiac Killer" meme, which launched three years ago, actually became a topic of discussion during his campaign. In late April, Cruz's wife, Heidi, even addressed the rumor that her husband was the serial killer who haunted the Bay Area more than 40 years earlier. "Well, I've been married to him for 15 years and I know pretty well who he is, so it doesn't bother me at all," said Heidi Cruz. "There's a lot of garbage out there."
That is not actually a denial. Heidi, we are here for you. Blink twice if the answer is "yes."
9. Trump's "I-Know-You-Are-But-What-Am-I?" School of Political Enlightenment
"Crazy" Bernie Sanders. "Crooked" Hillary Clinton. "Lyin'" Ted Cruz. Donald Trump's march to the Republican nomination took the "civil" out of civilization. Every potential threat to Trump's path to 1600 Avenue was given a demeaning nickname. And in March, when a Super-PAC called "Make America Awesome" released a nude photo of Trump's wife, Melania, from her modeling days in an attempt to slut-shame her, Trump blamed Cruz and tweeted, "Be careful, Lyin' Ted, or I will spill the beans on your wife!"
During a town hall the following week, CNN's Anderson Cooper asked Trump about his vitriolic reaction directed at Cruz (who claimed to have no role in the ad), which including tweeting a photo of his wife next to "an unflattering photo" of Heidi Cruz. "I didn't start it, I didn't start it," huffed Trump.
"Sir, with all due respect," countered Cooper, "that's the argument of a five year-old."
8. American Gothic (Horror?)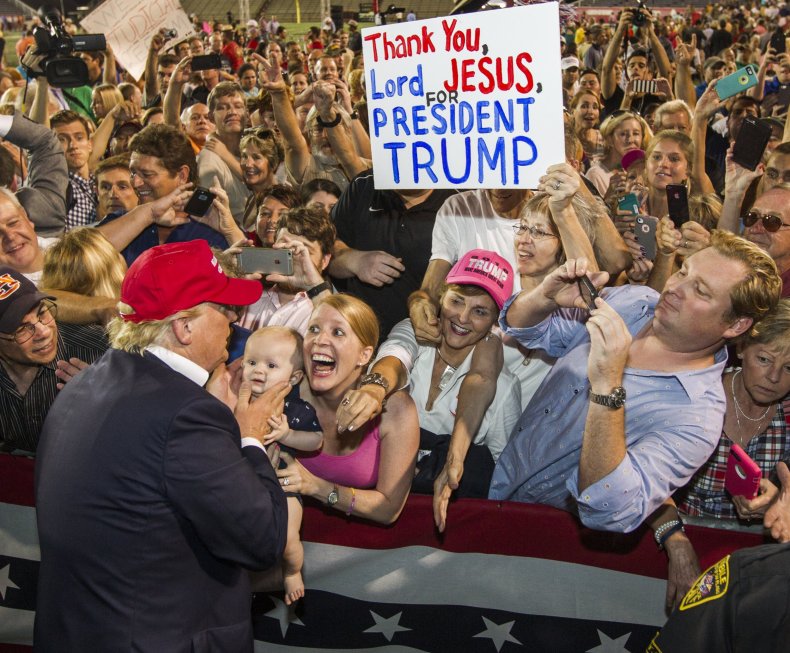 Last August, Donald Trump appeared at a rally in Mobile, Alabama, and the above photo was snapped by Mark Wallheiser, a 61-year-old freelance photographer from Tallahassee, Florida. The photo, equal parts Norman Rockwell and Kid Rock, immediately went viral because it perfectly captured the zeitgeist of the summer's Trumpnado.
Here's a link to a story on Wallheiser and here's another about Sydnie Shuford and her infant son, Jackson, that clarifies why that look of rapture was etched on her face.
7. Papal Bully
On a flight home to Rome after visiting Mexico in March, Pope Francis XI was asked by journalists about Donald Trump's proposals to deport illegal immigrants and to build a wall on the border of Mexico and the United States. ""A person who thinks only about building walls, wherever they may be, and not building bridges, is not Christian," the Holy Father said. "This is not the gospel."
"For a religious leader to question a person's faith is disgraceful," Trump replied. "If and when the Vatican is attacked by ISIS, which as everyone knows is ISIS's ultimate trophy. I can promise you that the pope would have only wished and prayed that Donald Trump would have been president."
What does the pope know about Christianity, after all?
The pope never expressly advocated for or against any particular candidate, but that did not assuage Liberty University president Jerry Falwell Jr., from admonishing him. "I think the pope is mistaken," said Falwell. "I think John F. Kennedy would be rolling over in his grave right now if he could hear what the pope was saying."
6. Let's Taco 'bout Hispanics
Donald Trump celebrates Cinco de Mayo, a.k.a. Mexican Independence Day, by posing behind a taco bowl and tweeting, "The best taco bowls are made in Trump Tower Grill. I love Hispanics!"
Asked about this photo op later, GOP chairman Reince Priebus grinned painfully and said, "He's trying."
5. The Walking Jeb, Part II
The end of a presidential campaign in two words or less? "Please clap."
4. I, Carly
On the morning of Monday, April 25, Ted Cruz's campaign announced that he would be making "a major announcement at 4 pm." That gave social media wiseguys at least five hours to crack jokes about how the GOP candidate would finally confess to being the Zodiac Killer.
At the appointed hour, Cruz announced that former candidate Carly Fiorina would be his vice presidential running mate, which was not unlike the Atlanta Braves announcing their postseason pitching rotation. Fiorina took the stage and belted out a song (to be fair, she definitely has a good enough voice to have earned a yellow ticket on American Idol).
One week later at a campaign event in Indiana, Fiorina introduced Cruz at an event and fell off the stage. Cruz failed to help her up, providing the perfect metaphor for both candidates' bid for the presidency.
3. Ted Cruz Goes Down Swinging
In May, after Ted Cruz announced that he would suspend his campaign, he inadvertently poked his wife, Heidi, in the right cheek. Then, as Heidi literally—if not biblically—turned the other cheek, he elbowed her in that one as he went to hug his father. You have to give Trump this much: he only abuses women verbally.
2. "Feel the Bern"
Democratic candidate Bernie Sanders proposed making college tuition-free (Was Mexico going to pay for it?), which sounded like the working premise for Old School 2. How many Americans would not consider returning to campus, perhaps even remaining there? A Sanders presidency could foster an entire new deadbeat subculture known affectionately as "Second-Degree Berns."
1. "We're Gonna Build a Wall…."
...and Mexico's gonna pay for it!" Giving new meaning to "borders on the insane," Trump proposed building a wall across the southern border of the United States in order to halt illegal immigration. "When Mexico sends its people, they're not sending their best," Trump said in June at the launch of his candidacy. "They're sending people that have lots of problems, and they're bringing those problems with us. They're bringing drugs. They're bringing crime. They're rapists. And some, I assume, are good people."
Trump's declaration coincided with his ascent to the top of the Republican polls against a field that was nearly as crowded with hopefuls as the starting gate at the Kentucky Derby. A few months later, HBO's John Oliver examined Trump's proposal from a pragmatic standpoint, with predictable results. That it takes a Brit to expose the absolute idiocy of the most popular idea of the Republican front-runner makes you wonder if we've finally come full-circle from the Second Continental Congress.