Countless Lives Have Been Cut Short by Marijuana | Opinion
Andy was a young man with a happy upbringing. He was the class clown and helped friends with mental health and substance abuse issues. But as a teen he began drinking and taking drugs to fit in. For a time, he functioned at a high level. He held down jobs, earned an associate's degree and completed three years of active duty in the Army's 82nd Airborne Division, including a tour of duty in Iraq.
Like so many other kids, Andy was convinced his pot use was not disturbing his life. He was "fine."
But things changed. Over the course of five years, Andy suffered a downward spiral in life due to his crippling addiction to marijuana. Those years were punctuated by calls to suicide hotlines, hospitalizations in at least five different mental health facilities and two sentences of court-ordered mental health treatment.
In 2014, at the age of 31, Andy was found hanging from a tree, dead by suicide. He left a note that said, "My soul is already dead. Marijuana killed my soul + ruined my brain."
During the last week of his life, Andy told his parents and a social worker that he was addicted to marijuana and had to quit, but was unable. He stated that when he tried to quit, he had horrible nightmares.
Some might suggest, in this case, that pot had nothing to do with Andy's death—after all, he was a victim of the horrors he witnessed while serving in Iraq. But it's very possible those experiences and the regular use of highly potent marijuana were mutually reinforcing. Several studies, such as one conducted by researchers at Yale, have found that marijuana exacerbates PTSD symptoms.
To this day, Andy's mom Sally fights to bring to light the real effects of today's high-potency marijuana. Sally cofounded Moms Strong, a support group intended to educate and raise awareness about the mental health risks of mari­juana. Each day, she carries a glossy photo of Andy, looking chiseled in his Army beret and uniform. Under his steady gaze are the printed words, "Andy served our country. But marijuana took his freedom."
Andy's story is a heartbreaking one, and sadly his family is not alone in suffering such tragedy. We hear these stories every day. Take, for example, the plight of Kevin, a young man from a small town outside of San Francisco.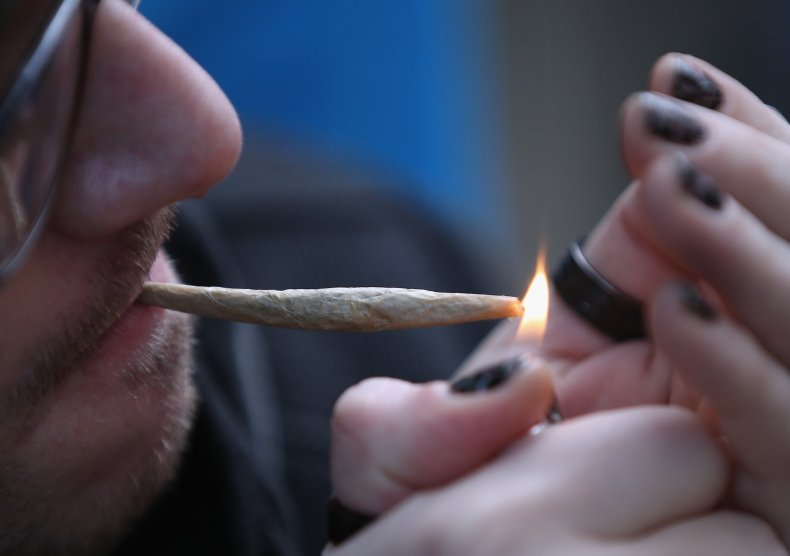 Kevin was 15 and suffering from depression when he started using marijuana. When he couldn't stop, he admitted to his parents that he was afraid. But his fear gave way to dependency, obstinacy, fits of rage and threats, followed by rehab and hospitalizations until, over the years, it all became too much. He was spending about $400 a week on marijuana, ingesting capsules filled with a tarlike oil containing high doses of THC.
Kevin's parents—a retired elementary school teacher and an insurance broker—were told incessantly that marijuana wasn't addictive. But their son's use proved otherwise. At one point, Kevin admitted that marijuana had "ruined his life," but he kept demanding that his parents buy him his "medicine." They refused. Subsequently, after numerous failed suicide attempts, he took his life on August 14, 2018, at the age of 29.
The victims of marijuana aren't solely those who develop a use disorder, either.
Kayla Nicole and her husband Daniel were celebrating their six-month anniversary on Valentine's Day in 2016. On their way home from lunch, a Toyota Camry jumped the centerline and hit their car head on. Daniel died on the scene and Kayla passed away the next morning. The driver of the Camry was charged with homicide after she was found to be under the influence of marijuana at the time of the crash.
These are but a small sampling of the countless tragic examples of lives cut short because of marijuana. Among them are Corrine, whose daughter Jennifer lost her life to a stoned driver plowing through a traffic light; and Karen, whose son died of a drug overdose after his marijuana use led him to abuse harder substances. The list goes on and on.
In the discussion of whether marijuana legalization and commercialization is a policy change worth trying, these stories are something the marijuana industry doesn't want you to know. The pot lobby, much like its predecessor big tobacco, has spent millions to perpetuate the lie that marijuana is harmless, and that the only results of its commercialization are revenue, social justice and the end of drug dealers.
Exposing these lies and elevating the voices of the families who have seen their lives torn apart are the reason I wrote my new book, Smokescreen: What the Marijuana Industry Doesn't Want You to Know.
The personal accounts contained in Smokescreen come from real people—some who have sold marijuana "legally"; some who have sold it illegally; some who have used it and barely survived ordeals associ­ated with it; some who love and have cared for people whose health has been compromised or whose lives have been lost to a marijuana incident or addiction; some who have witnessed gross negligence and malpractice on the regulatory side of the business in states where the drug is legalized; some who have been victims of the social injustice that results from it all; and finally, some who see how major corpora­tions and their investors are sowing widespread misinformation and chaos for the sake of enormous profit.
You will hear from brave whistleblowers, people of conscience, people with sincere regrets and people with only Americans' well being in mind. And by way of an expansive appendix, Smokescreen includes the perspective of many others whose exhaustive research corroborates the dangers our contributors' accounts reveal.
Collectively, we believe it's high time the spin ends, and the truth be told.
Dr. Kevin Sabet is a former senior drug policy advisor to the Obama Administration and currently serves as president of Smart Approaches to Marijuana (SAM). His latest book "Smokescreen: What the Marijuana Industry Doesn't Want You to Know" was published on April 20th by Simon & Schuster and is available everywhere books are sold.
The views expressed in this article are the writer's own.