Countries Consider Alcohol Bans and State of Emergencies to Prevent NYE COVID Infections
As 2020 comes to a close, governments around the globe are urging people to ring in the New Year at home amid rising coronavirus infections.
"We know it's the end of the year, it's a time where people traditionally want to celebrate. But it's absolutely vital that this year, everybody continues to follow the guidance by staying at home and not mixing," Stephen Powis, England's National Health Service's medical director, said during a press conference on Wednesday.
France announced it would deploy 100,000 police and gendarmes to prevent parties, gatherings and potential public violence. The interior minister, Gérald Darmanin, said the officers would also enforce the nation's strict 8 PM to 6 AM curfew.
On Wednesday, Yasutoshi Nishimura, Japan's economy minister, said the government may declare a state of emergency due to the rising number of COVID-19 cases ahead of the New Year.
Japan surpassed 4,000 new cases on Thursday, a single-day record for Japan, according to a local media outlet, The Japan Times. Single-day records were also set for Toyko as the metropolitan capital reported over 1,337 cases.
Japan's Imperial Household Agency has already canceled its annual New Year's event typically scheduled for January 2. The event included Emperor Naruhito and other imperial family members greeting people and giving them well-wishes for the upcoming year.
"I want to emphasize again that there is no New Year holiday for the coronavirus. I urge people to spend quiet holidays staying home with families," Tokyo Governor Yuriko Koike told reporters from Kyodo news agency on Thursday.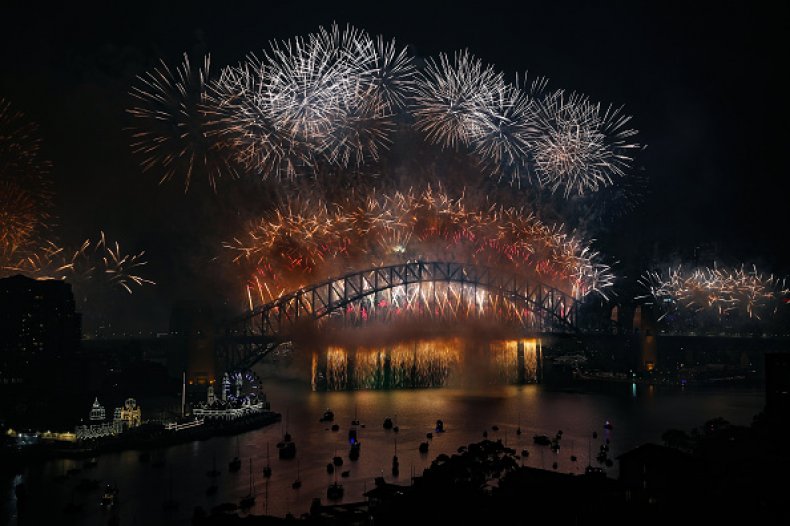 South Africa has enacted tougher COVID-19 restrictions on the eve of the holiday with the aim of mitigating the virus's spread. President Cyril Ramaphosa announced them on Monday, which included a ban on alcohol sales prior to New Year's Eve celebrations. Under the new restrictions, all indoor and outdoor gatherings, with the exception of funerals, are also prohibited.
The new restrictions came as the nation became the first in Africa to surpass a million cases of coronavirus. South Africa has reported over 1,039,000 COVID-19 cases and 28,000 deaths since the start of the pandemic in March, according to data from John Hopkins University. The nation's scientists believe the new variant, 501.V2, is driving the surge of infections in the area.
In the U.S., Times Square, where the iconic ball drop welcomes the New Year in New York City, will be closed to the public. However, people are encouraged to watch from home on television and commemorate frontline workers during an honorary ceremony.
As of Thursday, over 342,400 COVID-19 deaths have been reported in the U.S., according to John Hopkins University. The Institute for Health Metrics and Evaluation (IHME) at the University of Washington predicts the U.S. could see as many as 347,446 deaths before the end of the year.
"We are seeing a rise in cases and mortalities above what we expected," Dr. Ali Mokdad, a member of the IHME's senior faculty and a former official at the U.S. Centers for Disease Control and Prevention (CDC), previously told Newsweek.
Mokdad added that of all the winter holidays, he is most concerned about New Year's Eve, which, unlike Christmas and Thanksgiving, is often celebrated with friends and outside of the immediate family. Mokdad said this could create another surge in virus cases and mortalities if people are not cautious.
New Year's Eve has marked one year since the World Health Organization (WHO) first announced a mysterious pneumonia in China, which was later identified as COVID-19.
Newsweek reached out to Japan's prime minister's office, South Africa's office of the president and France's interior minister's office, but didn't hear back in time for publication.