3 Countries Starting Coronavirus Vaccine Trials in Global Race to Stop COVID-19 Before End of Year
In the three months since the COVID-19 pandemic started, scientists around the world have raced to create the first vaccine against it, with trials either starting or poised to in the U.S., China, and Europe.
Among them are researchers at Oxford University in the U.K., who will begin testing their vaccine in animals next week in the hope of launching trials in humans by next month, The Guardian reported on Thursday. That will be followed by trials of the preparation named ChAdOx1 to see if it can protect against COVID-19. The research is focused on the protein that the new coronavirus uses to infect its victims, and using a harmless virus that doesn't replicate to insert genetic material of the COVID-19 bug into the body.
On Monday, scientists at Kaiser Permanente Washington Health Research Institute started the first vaccine trial for the virus that causes COVID-19, named SARS-CoV-2 (not to be confused with the bug which causes SARS). The jab, mRNA-1273, was developed by biotech company Moderna, and uses a segment of the virus' genetic code rather than a piece of the virus, which they hope should make it faster to develop.
A day later on Tuesday, Chinese biopharmaceutical company CanSino Biologics announced its vaccine Ad5-nCoV had been approved to start a phase 1 clinical trial in humans. Co-developed by the Beijing Institute of Biotechnology, it is the first COVID-19 vaccine to reach this stage in China, according to a statement by the firm. The team hopes to spark the creation of antibodies against SARS-CoV-2 by taking a piece of its genetic code and combining it with a harmless virus.
"Results from preclinical animal studies of 'Ad5-nCoV' show that the vaccine candidate can induce strong immune response in animal models. The preclinical animal safety studies demonstrated a good safety profile," CanSino Biologics said on Tuesday.
Arcturus Therapeutics, Johnson & Johnson and Inovio Pharmaceuticals in the U.S.; Germany's BionTech and CureVac, and GlaxoSmithKline in the U.K. have vaccines which are meanwhile in the pre-clinical stages of development. According to The Guardian, some 35 companies have a horse in the race.
Finding a vaccine for COVID-19 is being treated as a matter of urgency as the virus has killed over 10,000 worldwide since it was first detected in China late last year, according to Johns Hopkins University. There have been over 245,000 confirmed cases, and more than 86,000 recoveries, as indicated in the graph by Statista below accurate as of March 17.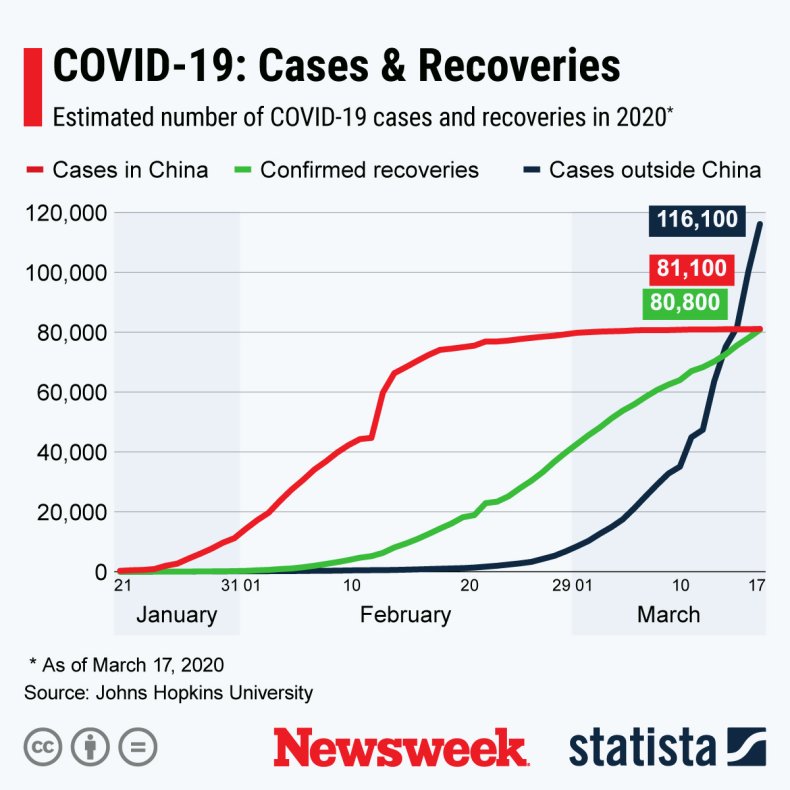 Despite the unprecedented efforts, Anthony Fauci, a member of the White House task coronavirus task force and director of the U.S. National Institute of Allergy and Infectious Diseases, said earlier this month: "It will take at least a year to a year and a half to have a vaccine we can use."
However, Prof Adrian Hill, director of the Jenner Institute at Oxford, told The Guardian his team are aiming to create a vaccine "much earlier."
He told the newspaper: "We are conscious that a vaccine is needed as soon as possible and certainly by June–July, when we expect a big peak in mortality.
"This is not a normal situation. We will follow all standard trial safety requirements, but as soon as we have a vaccine that's working, we anticipate there will be an accelerated pathway to get it deployed to save lives. The more vaccine we can provide sooner, the better."
Richard Hatchett, CEO of the nonprofit the Coalition for Epidemic Preparedness Innovations which is helping to fund vaccine development, explained to The Guardian "The speed with which we have [produced these candidates] builds very much on the investment in understanding how to develop vaccines for other coronaviruses."
Professor Stefan Elbe, director of the Centre for Global Health Policy at the University of Sussex, told Newsweek: "Vaccine development work is proceeding faster than ever before—due to scientific advances in sequencing viruses and new vaccine technologies.
Elbe, the author of Pandemics, Pills, and Politics: Governing Global Health Security, added: "Over the past decade new public-private partnerships have also been built to quickly develop vaccines during health crises—through organizations like the Biomedical Advanced Research and Development Authority (BARDA) in the United States, and the Coalition for Epidemic Preparedness Innovations (CEPI) internationally."
However, he cautioned: "Timelines are still considerable, however, because the development challenges for each new vaccine are unique, because regulators need to ensure that vaccines are safe and effective before they are rolled out, and because scaling up production to meet global demand is very challenging.
"Even once a new vaccine becomes available, there will still be difficult distributional decisions about who will receive them on a priority basis, and how limited supplies will be shared globally."
World Health Organization advice for avoiding spread of coronavirus disease (COVID-19)
Hygiene advice
Clean hands frequently with soap and water, or alcohol-based hand rub.
Wash hands after coughing or sneezing; when caring for the sick; before; during and after food preparation; before eating; after using the toilet; when hands are visibly dirty; and after handling animals or waste.
Maintain at least 1 meter (3 feet) distance from anyone who is coughing or sneezing.
Avoid touching your hands, nose and mouth. Do not spit in public.
Cover your mouth and nose with a tissue or bent elbow when coughing or sneezing. Discard the tissue immediately and clean your hands.
Medical advice
If you feel unwell (fever, cough, difficulty breathing) seek medical care early and call local health authorities in advance.
Stay up to date on COVID-19 developments issued by health authorities and follow their guidance.
Mask usage
Healthy individuals only need to wear a mask if taking care of a sick person.
Wear a mask if you are coughing or sneezing.
Masks are effective when used in combination with frequent hand cleaning.
Do not touch the mask while wearing it. Clean hands if you touch the mask.
Learn how to properly put on, remove and dispose of masks. Clean hands after disposing of mask.
Do not reuse single-use masks.